M A I N N E W S

Long handshakes and dosas, Indo-Iran relations back on keel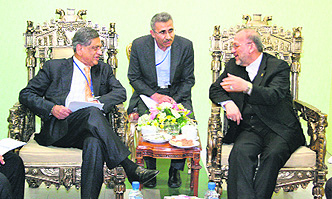 Indian Foreign Minister SM Krishna (left) with his counterpart Manouchehr Mottaki in Tehran on Tuesday. Photo: Mehdi Farahmand

When External Affairs Minister SM Krishna landed in Tehran to attend the G-15 summit, India's relations with summit host Iran were not exactly friendly.
Last November, Iran had written a "nasty" letter to India expressing its disappointment about New Delhi's decision to vote in favour of a resolution by the International Atomic Energy Agency that proposed a fresh round of UN sanctions. Relations between the two countries turned frosty till Foreign Secretary Nirupama Rao paid a visit to Tehran in February and brought some thaw.
However, when Iranian Foreign Minister Manouchehr Mottaki didn't seem to find time to meet Krishna even though he landed a day before the summit began, these were seen as signs that the Iranians hadn't really made up with India. Even the request to meet Iranian President Mahmoud Ahmadinejad hadn't been confirmed and Indian officials accompanying the minister looked decidedly uncomfortable. But then soon after the summit, Mottaki had a 30-minute meeting with Krishna that, according to India's official spokesperson Vishnu Prakash, was "extremely cordial and warm".
Mottaki, who studied in Bangalore, even told Krishna that he missed eating masala dosas and was looking forward to some the next time he was in India. Krishna, a former chief minister of Karnataka, invited him home for a real South Indian meal!
The two seemed at ease with each other as they discussed a range of pending bilateral issues. They agreed that the Indo-Iran Joint Commission, the overarching body guiding relations, would meet in the first week of July to speed up decisions. The commission last met in November 2008 and the year-and-a-half hiatus was a reflection of the drift in relations.
Then, early this morning, Krishna met Ahmadinejad and the Iranian President made sure that their handshake was unusually long. According to an official present in the meeting, Ahmadinejad was well briefed and spoke freely to Krishna on a range of issues, including Afghanistan and Pakistan. The nuclear issue or India's vote was not brought up. Perhaps, it was also because Iran had just signed a major deal with Brazil and Turkey to swap 70 per cent of its stock of low enriched uranium for fuel for its Tehran research reactor — a move expected to ease international pressure on it and avoid sanctions.
So, as Krishna boarded the Indian Air Force Embreaur jet to return to Delhi late this evening, relations between Iran and India seemed back on an even keel. As he told The Tribune: "The talks were free and fair and held in a very good atmosphere. This was regardless of a couple of instances in which India had to take a position that was not to the liking of Iran and Iran, too, had taken some that was not to our liking. But on the whole, our relationship has not been upset. That's because we have an enduring relationship, which apart from civilization links, has major trade links and people-to- people contact. So we are quite even now."
There were no illusions among officials that there was still plenty of work to be done. Iran is India's second largest supplier of oil next only to Saudi Arabia. India imported from Iran crude oil valued at $10 billion last year making it the third largest market for Iranian oil exports. When the joint commission meets, it would need to finalise projects that include a long term annual supply of 5 million tones of LPG from Iran, development of the Farsi oil and gas blocks, South Pars gas fields and an LNG project. Also on the table is the contentious Iran-Pakistan-India gas pipeline; India has expressed major concerns over its security and pricing.
There are also several joint ventures in shipping, refineries and fertilizers that need to be reviewed. A bilateral air services agreement awaits ratification. Apart from that, the two countries are in the process of finalising a bilateral investment promotion and protection agreement and a double taxation agreement to improve business relations. So, there is plenty on the plate. With the rancor almost gone and the distrust considerably diminished, the two countries can look forward to moving relations at a much faster pace.