'Misperception in Pak about India's role in Afghanistan'
Ashish Kumar Sen in Washington DC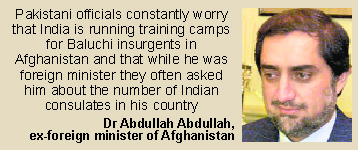 Dr Abdullah Abdullah, a former foreign minister of Afghanistan, says there is a misperception in Pakistan about India's role in his country. Describing India's involvement in rebuilding Afghanistan as significant, Abdullah told an audience at the US Institute of Peace in Washington on Monday that no country should have a veto over Afghanistan's relationship with a third country.
"In Pakistan, there is a misperception of what India is doing (in Afghanistan)," Abdullah said. He said Pakistani officials constantly worry that India is running training camps for Baluchi insurgents in Afghanistan and that while he was foreign minister they often asked him about the number of Indian consulates in his country. "They had a problem with the number of these consulates... they often had the number of consulates and the RAW agents at these consulates wrong," he said.
Abdullah said Afghanistan had also received significant support from Pakistan and needs the help of India and Pakistan. "But no country, whether big or small, should have a veto over our relationship with another country," he said. "It is for Afghans to determine their national interests."
Abdullah accused former Pakistani president, Gen. Pervez Musharraf, of playing a double game in Afghanistan-on the one hand positioning himself as a key ally in the US-led war on terrorism, while at the same time providing support for militants in Afghanistan. Abdullah hoped that a democratically elected government in Pakistan and rising public opinion against the Taliban would turn the tide against the extremists.
Abdullah dropped out of a runoff election with Afghan President Hamid Karzai last year amid widespread accusations of election fraud. He warned that a rigged parliamentary election in his country will be much more catastrophic than the discredited presidential election in August.
Explaining that he had dropped out of the runoff contest with Karzai last year because he was worried that Afghans would be subjected to the "same painful process" that would disappoint them and the friends of Afghanistan, Abdullah said he had urged his supporters not to protest in the streets. But, he added, in the event of a rigged parliamentary election, hundreds of candidates would find themselves in a situation similar to his which, he said, could lead to a security crisis. Parliamentary elections in Afghanistan are scheduled for September.
Abdullah said it was imperative for the international community to prevent a repeat of the previous election fiasco because "your taxpayers are paying for our elections, and your soldiers are providing security."
"This is a big test for the people of Afghanistan and our friends," he said.
"What is at stake for you is much more than the fate of one person, so your investment has to be in the people of Afghanistan," he added.
He described as a "missed opportunity" a US decision to back a second term for Karzai after the August 20 election, which international monitors said had been rigged in the president's favour.
"You are a big nation. You can recover from mistakes. But can we?" he asked, adding, "If we fail, you fail."