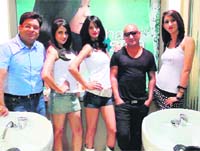 In the city, celebrity hairdresser Aalim Hakim shares what it takes to give 'that' look
Salman Khan, Hrithik Roshan, Sanjay Dutt, Ranbir Kapoor, Saif Ali Khan, Ajay Devgn, Amitabh Bachchan, Bobby Deol, Abhishek Bachchan… what is common between them? Yes, of course, they are actors and stars in their own right, they've seen ups and down in their career, they are credited for giving strings of flops and an equal number of hits.

Aalim Hakim (second from R) poses with modelsThanks to the marketing vision of various brands, the next model staring out of billboards could be you

You and I can become a model! Just about anybody, rather anyone, shall we say, random and sundry! Courtesy, the fashion labels, the marketing visions.About a month ago, Benetton finished finalising 20 faces for their next fall winter campaign. Came summer and Levi's promised to change the world of 15 youngsters who'll get a shot at fame, by getting a Levi's produced music video, a three-city tour. Was it perhaps Dove, that a while ago, asked you to get a picture of your natural hair at the nearest mall?

Six-yard-route to Cannes
She has often been criticised for favouring western couture over Indian ensembles during her much publicised stints on the French Riviera but Aishwarya Rai Bachchan will be seen in a traditional outfit for Raavan's launch at Cannes.The Bollywood actor, who is one of the best known Indian faces across the globe, has shied away from wearing ethnic outfits ever since her debut at Cannes in 2003, when she was criticised for wearing a green sari.

Baby blues
Hollywood star Elizabeth Hurley, who is married to Indian businessman Arun Nayar, is trying to conceive but hasn't had any luck so far.The British model turned actor, who is already mother to eight-year-old son Damian with ex-boyfriend Steve Bing, is hoping to expand her family with a new baby.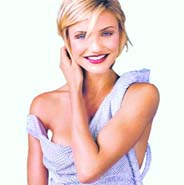 Low-key affair
Not everyone can understand the allure of big weddings and Hollywood superstar Cameron Diaz is one of them.My Best Friend's Wedding star says does not see the appeal in having a over-the-top ceremony and would prefer a low-key wedding if she ever ties the knot."The mystique and the romance of a big wedding are lost on me," said the actor who says that she cannot imagine herself as a Bridezilla obsessed with her big day.The 37-year-old, who is reportedly dating baseball star Alex 'A-Rod' Rodriguez, says that she would probably have a 'quickie' wedding."I don't think that I could ever do something that extravagant.
Honour bound
Acclaimed Indian director Mani Ratnam will be honoured with Jaeger-LeCoultre Glory to the Filmmaker Award at the Venice Film Festival to be held in September.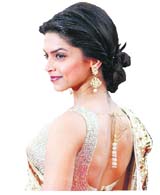 Wrapped up
As a starry-eyed teenager, she wanted to represent her country at an international event, wearing the national costume. On her very first red carpet appearance at the Cannes International Film Festival, actor Deepika Padukone did just that and with style that wowed one and all."Long ago, when I had started modelling I had promised myself that whenever I attend an international event I'd wear a saree because I'd rather represent my country in the national costume than in western clothes. I get enough opportunities at home to wear western clothes. When I'm seen at an international event, I'd rather be fully Indian," Deepika said.
Strip tease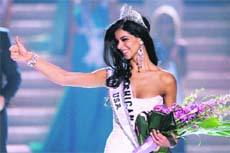 Lebanese-born Rima Fakih, who became the first Muslim Miss USA, seems to have landed in trouble after news surfaced of her winning a pole dancing contest at a strip club in Detroit in 2007.Fakih, 24, was photographed sliding up and down a stripper's pole in a blue tank top, hot pants and high heels.Other photographs from the competition showed her wearing a bra stuffed with dollar bills.These were posted on the website of a Detroit-based radio show following her triumph at the beauty pageant Sunday in Las Vegas where she had beaten 50 other contestants.


Cool splash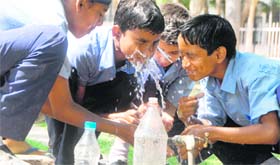 School kids devise an ingenious method to beat the heat.Lifestyle photo:Vinay Malik

Ticket collector
Hollywood beauty Gemma Arterton says she has become something of a ticket collector because of her run-ins with traffic warden. The actor, who played agent Strawberry Fields in Bond film Quantum of Solace, believes that her famous role in the superhit franchise has led to more parking tickets, Daily Express reported.

Namita Jaspal, an art conservationist from the city, says it's a combination of scientific and creative instincts
If art is an expression, painting propagates it. When an artist paints, he or she puts a portion of his heart out on the canvas. And so when appreciating art, it becomes important to preserve those feelings expressed in colours."Anybody who appreciates art understands the importance of art conservation. Its an interesting combination of scientific and creative instincts," says Namita Jaspal, an art conservationist from the city.

Velvety touch
Akzo Nobel India Pvt Ltd launches two new innovative products Dulux WeatherShield Sun Reflect and Dulux Velvet Touch Colours of the World . Dulux WeatherShield SunReflect is an innovative new product which helps reduce the temperature of walls by up to 5 degrees and Dulux Velvet Touch Colours of the World is Inspired from 6 of the most beautiful destinations in this world.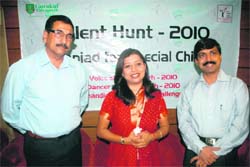 Something special
Riding on the success of their mission - promotion of music and dance - under the aegis of S-4 Trust and the Gurukul Vidyapeeth, prominent educational institutions in collaboration with the Social Welfare Department of the city are all set to hold the "Cultural Olympiad for Special Children".CA Manmohan, Ashwani Sharma and Rinku Kalia of Sa Re Ga Ma fame, at a press conference held at the UT guesthouse, said their noble venture is an effort to explore the hidden talent in specially-abled children.

The exhibition, has block printed material from Rajasthan, Lucknawi chikan, Chanderi, Maheshwari and appliqué work
Fab of India', the ongoing exhibition at Kisan Bhavan-35, apart from offering traditional cotton and silk fabrics from all over the country, is a huge hit with visitors as there are live demonstrations of Lucknawi chikan and appliqué work by master craftsmen from various parts of the country.Final-year comes to an end, the days of masti on Panjab University campus are over and its time to bid adieu. Manpriya Khurana catches up with some students on their way out
It's the exact opposite of a heavy-hearted, finger tugging kid being forcibly dragged to playschool. When you pack up the luggage and there's excess baggage of a different kind. The session has ended, farewell is done with, exams are over and herein comes the toughest part. Time to exchange addresses, make promises of keeping in touch, say adieu and leave. Final-year students at the Panjab University share their sob stories, as also the things they'll miss the most about not being a student.

Blame it on exams

Scoring high in exams is the biggest worry among students these days. Three out of ten young adults aged 18 to 24 worry about exams and gaining qualifications - only second to relationship and money woes."Exams can bring with them a whirlwind of emotions: panic, anxiety, fear of failure and fear about the future - getting into university or finding a job, following the recession," a publication quoted Dr Mike Shooter as saying. Shooter is Samaritans' trustee and youth mental health expert.
Advantage adventure
Teenagers who indulge in dangerous activities have a more mature brain as compared to their less adventurous peers, according to a new brain imaging study. The study, which focused on teen behaviour, found that adolescents with risky behaviour have frontal white matter tracts that are more adult in form than their more conservative peers.
Close study
AC Joshi Library at the Panjab University stands out as a vast repository
Don't they say a varsity is a collection of buildings around the library? A place where the serious become the studious, where the studious become scholastic and where all the academic activity takes place unabashedly!
Hair stress
Do you keep changing your hairstyle at regular intervals? Well, then you're probably a little too stressed, according to a new study. Stylelist.com has said that women who constantly go from cropped bob to long extensions and from blond to brunette may be stressed out or feeling overwhelmed.