M A I N N E W S
280 fishermen missing as Laila batters Tamil Nadu coast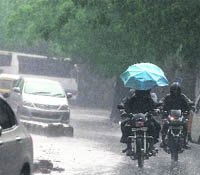 Heavy rain lashed Chennai on Wednesday as cyclone Laila hit the coast. — PTI
Rameswaram (TN), May 19
As many as 140 boats anchored along Mandapam coast in Ramanathapuram district were damaged in strong winds triggered by cyclonic storm Laila even as 20 of the 300 fishermen reported missing returned to shore from Katchathivu island, officials said.
According to fisheries department officials, 40 country boats anchored along Mandapam coast and 100 boats in Mandapam, including an Indian Coast Guard Vessel and two boats of coastal security groups were damaged.
Twenty of the 300 fishermen, who were traced to Katchathivu (an islet ceded to Sri Lanka by India), have returned to Mandapam, they said.
The fishermen had put out to sea in 100 country boats, fitted with outboard motors, on May 17 night.
Various coastal areas of Tamil Nadu have been experiencing rains and gutsy winds as the cyclone, "Laila", lay centred in the Bay of Bengal, 190 km east-northeast of Chennai, and is likely to cross Andhra Pradesh coast tomorrow.
A 52-year-old fisherman drowned in sea current at Tirupalakudi village near here while trying to retrieve his boat, which got snapped from its mooring following heavy wind. — PTI
Laila: Thousands evacuated in Andhra
Hyderabad, May 19
Nearly 30,000 people were evacuated today from low-lying areas in coastal Andhra Pradesh as cyclone Laila packing wind speed of 125 kmph is said to slam the state.
Andhra Pradesh Chief Minister K Rosaiah tonight spoke to Prime Minister Manmohan Singh on phone and requisitioned the armed forces to help the civil administration in rescue efforts as the Met department warned of six-foot high tidal waves and disruption of communication and power supplies.
Three persons were killed when a shed collapsed in a village in Nellore district of Andhra Pradesh while a fisherman drowned in rough sea in Tamil Nadu as the two states were lashed by heavy rains under the influence of Laila which lay centred 200-km from Machhlipatnam expected to be the landfall point of the cyclone.
Authorities moved hundreds of residents of 777 villages in four coastal districts of Andhra Pradesh to schools and government buildings for temporary shelter and alerted the emergency teams.
The coastal regions of Andhra, including Guntur, Nellore, Prakasam, East and West Godavari districts experienced heavy rains throughout the day under the influence of the storm.
Warning number 10 (high state of alert) has been issued to all major ports in Andhra Pradesh and Reliance Industries supended crude oil and gas production from its Krishna Godavari basin MA fields in the Bay of Bengal as a precautionary measure.
The cyclonic storm is likely to trigger heavy rains at some places in south and north Orissa tomorrow.
Weathermen also predicted heavy rains in Gangetic West Bengal from tomorrow evening.
Rosaiah apprised the Prime Minister of the steps taken by the state government to prevent loss of lives and property. — PTI
May impact western coast
Mumbai: Cyclone Laila, which is expected to make landfall at Andhra Pradesh in the early hours of Thursday, could impact weather conditions in peninsular India, including the Western coast, according to the Indian Meteorological Department.
"Rainfall has been reported in coastal Tamil Nadu and Andhra Pradesh already," IMD officials from Pune said. If Cyclone Laila continues in intensity, coastal Andhra Tamil Nadu and Karnataka is likely to be severely affected, IMD officials say.
Some amount of rainfall is also expected in coastal Maharashtra on Friday, according to the weather department officials. However, IMD officials dismiss reports of monsoons being affected. "There may be slight variations, but we don't think monsoons will be severely affected," Dr RV Sharma, Deputy Director-General, IMD, said here.— TNS