M A I N N E W S
Pak bans Facebook over Prophet cartoons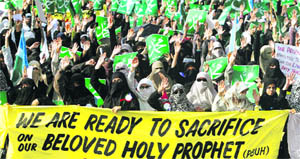 The Facebook page that 'encourages' users to submit caricatures of Prophet Mohammed has sparked off protests in Pakistan. — AP
Islamabad, May 19
The Pakistan government today directed all Internet service providers to block Facebook in line with the Lahore High Court's order to temporarily cut off access to it over a page encouraging users to post caricatures of the Prophet Mohammed on the popular social networking site.
The High Court issued it order in response to a petition seeking a ban on Facebook for hosting a page with a competition on blasphemous caricatures of Prophet Mohammed.
The Pakistan Telecommunications Authority said in a statement that it had directed Internet service providers to block Facebook in compliance with directions issued by IT and Telecom Ministry in view of the High Court's decision.
Facebook users across Pakistan were unable to access the website on their computers by late afternoon.
However, some users were able to log in to Facebook using their smartphones.
Yesterday, PTA had issued instructions to all operators to block only the link or URL on Facebook for the page hosting the competition for the blasphemous caricatures.
The PTA said it had established a "Crisis Cell" to monitor objectionable contents on websites. Meanwhile, Religious Affairs Minister Hamid Saeed Kazmi strongly condemned the competition for blasphemous caricatures on Facebook.
In a statement, he said the blocking of such websites would only provide a temporary solution as "anti-Islam elements have been hurting the sentiments of the Muslims in the past too." An effective plan of action should be devised against the perpetrators of such acts, he said.
He asked Islamic countries to join hands for devising an effective policy so that nobody could dare publish such caricatures in future.
Kazmi asked Prime Minister Yousuf Raza Gilani to convene a conference of religious and foreign ministers of all Muslim countries for making a permanent policy against such "anti-Islamic moves".
He called on oil producing countries to stop the delivery of oil to nations who have been facilitating "anti-Islamic elements" in fulfilling their nefarious designs against the religion. — PTI