Dancing maidens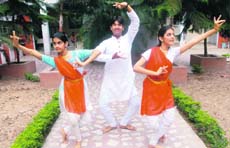 Ten girls from the city slums are pursuing their dreams through the dance form of Bharatnatyam
Cleaning up a dozen households, doing laundry and learning classical dance doesn't exactly fit in together…right? Are the hands that wash utensils all day long pretty enough to showcase the 52 mudras of bharatnatyam with graceful perfection?


Rahul with his students
Stuff dreams are made of
Punjabi singer Dolly Singh released her album Dream at the Chandigarh Press Club on Wednesday
For Punjabi singer Dolly Singh (of Batiyaan bujaayi rakhde diva balley sari raat fame) it was a question of pick and choose — family or passion. "Family will always be my first priority," she puts it in plain and simple terms. We guessed so.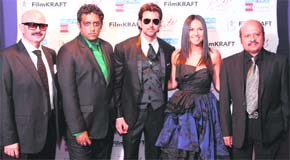 Nothing skintillating!
Mexican beauty Barbara Mori, who is paired opposite Hrithik Roshan in Kites, has been turning heads since the official teaser of the film came out but director Anurag Basu says the actor was not hired for her sex appeal.



L-R: Rakesh Roshan, Anurag Basu, Hrithik Roshan, Barbara Mori and Rajesh Roshan

Pole issue
Liam Hemsworth has come to the defence of girlfriend Miley Cyrus over a saucy video, insisting that she "has a good head on her shoulders".The teenage sensation, who shot to fame with her role in Disney's Hannah Montana series, was seen in a raunchy video, showing her dirty dancing with a movie producer. Miley has been dating the Australian actor since they met on the set of their film The Last Song. And last week, a video from the movie's wrap party sparked controversy, with footage of Cyrus showing her grinding up against a 44-year-old producer on the dance floor.

Gifting problems
Actor Anne Hathaway has made no claim over the gifts she received from her ex-boyfriend/scam-artist Raffaello Follieri. The stunner, 27, had until February to file a petition asserting ownership of her gifts from con man Follieri, but neither she nor any other "third parties" have staked a claim, prosecutors claimed.


Anne Hathway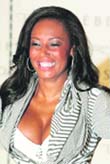 Brown-y point
Former Spice Girl Melanie Brown joined ex-partner actor Eddie Murphy for the US premiere of his animated film Shrek. The couple split a few months before the birth of their daughter, Angel Iris, in 2007 - leading to a public paternity spat but she supported him by attending the screening of Shrek Forever After in Los Angeles recently.It is the final film in the animated series about the loveable green ogre. Murphy, who lends his voice to Donkey, arrived on the red carpet with his family, joking, "It's crowded in the limo!" Brown kept a low profile and preferred to hug and chat with Murphy's family members

Pregnant pause
Lilly Allen has dismissed rumours of pregnancy, which sparked after she revealed that she was quitting her pop career. Following her exit, she had said: "I'd like to have a child within a year. I'd say it will be a minimum of four or five years before I make a record again." Also, recently she was spotted with a phantom bump when a gust of wind blew up her top. However, she has denied all suggestions of pregnancy. "I'm not pregnant. FYI", the Mirror quoted her as writing on Twitter.
Made of honour
Hollywood veteran Meryl Streep has been honoured with a top award from New York's Barnard College. The Mamma Mia! star was handed the Barnard Medal of Distinction.
Finicky Fox
Transformers star Megan Fox has in an interview revealed that she has Obsessive Compulsive Disorder. Fox, 24, revealed to Allure magazine in the June issue that she cannot stand dirt, which means that she cannot use public cutlery or enter a restroom without feeling uncomfortable."This is a sickness, I have an illness," she said.

This summer, Pogo's 'Smart Potato' camps offer fun with creativity
Is your kid a couch potato? Or worse, a mouse potato (hooked to the Internet)? Are all his summer vacations dedicated to the PS 2 or 3 or any other latest version of video games? If that's the case, here comes a breather for all you parents out there.

Foto finish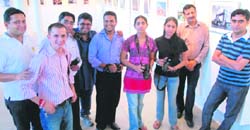 It's an exposition, an assortment; of talent, concepts, ideas, themes, frames and of course, the photographs. What brings them all together is the love for the lens. Stolen Moments, the photography exhibition by Chandigarh Fotography Club, presents 56 works by 14 photographers.

Artists of the Chandigarh Fotography Club
Print worthy
Samsung Electronics, the digital technology leader has enhanced its printer line-up with the launch of eight new, advanced printer models in the laser printer, multi-function printer and network printer categories, including the world's smallest laser printer-ML1666.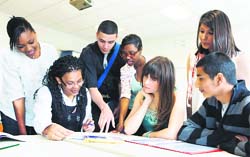 Work wise
Building positive relationships at the work place is an art one needs to master
Managing relationships is a challenge at home. And it is even tougher at the work place where people from different cultures come together and perform under high stress levels. We check out how city folks steer their way clear of controversies and manage a healthy balance.

Bond Wagon
Beyond time

Time out
Babies learn while asleep, an ability that is crucial for them to rapidly adapt to the world around them, a new study has claimed.The study by researches from Columbia University in New York suggested that the newfound ability of infants help them ensure their survival. For their study, the researchers carried out experiments with 26 sleeping infants, each just one to two days old.

Scientists find out how food cravings can be controlled
All of us must have felt that uncontrollable craving to have chocolates, potato chips, or any other specific food item.Now, researchers have delved deep to find out why do we get intense desires to eat certain foods. Psychological scientists Eva Kemps and Marika Tiggemann of Flinders University, Australia, review the latest research on food cravings and how they may be controlled in a recent study.

Renee Writes
Set boundaries
I am a woman in my 20's and have just moved in to this town and rented an apartment in a building. I have made friends with a colleague who also lives in the same building as me. I am attractive, smart and good looking whereas this girl is not very attractive and seems to suffer from low self-esteem. I find her intelligent, interesting and different and although she is sometimes rude. I feel sorry for her as she is not so attractive and let her to get away with nasty comments. But now it is beginning to get me and sometimes I feel that my self-esteem is getting affected. How do I get my point across to her without hurting her feelings? I would like to keep my friendship with her.
Colour palette

Wedding season is on. And how can there be a big fat Punjabi wedding without some shimmer and shine. We bring you the latest make-up stuff to jazz up your look

If you are looking for something in the blues, greens and purples, check out this colour cool imported kit. Rs 750
| | | |
| --- | --- | --- |
| This Cameleon make-up kit has all from compact to colours for eyes and lips.Rs 950 | The Colour Bar kit is a hit with buyers for its trendy shades.Rs 650 | A compact kit, pretty handy for make up on the go.Rs 950 |