Striking gold at Mullanpur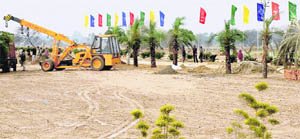 From a sleepy village with dusty roads to being the first proposed eco–town of Punjab, is indeed a transformation and a metamorphosis. This is what Mullanpur Garibdass, a tiny settlement located on the outskirts of Chandigarh, has gone through. Mullanpur is all set to become the first eco-town of Punjab.
Photo: Manoj Mahajan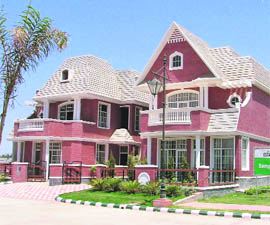 Western vistas
Western comforts in a house in Ludhiana. Sounds outlandish! But, it is soon going to be a reality for the city residents, as a number of builders are coming up with exclusive European and American-style villas thereby offering a new concept of housing in this industrial hub of Punjab. Cashing in on the Ludhianvis love to live a life of luxury, these developers are offering a taste of international lifestyle to them. The architecture, design and location of these houses promise to provide a relief from the mad rush and pollution of the city.

A European style villa in a township coming up on the outskirts of Ludhiana. Photos: Inderjeet Verma

TAX TIPS
Matter of WILL
Q. My wife has a plot in Panchkula (under construction). She wants to Will it in my name. Kindly let me know the procedure.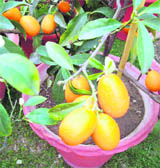 GREEN HOUSE
Lime & Lemony garden
Fruit-bearing plants are an essential part of a garden, be it the ancient Mughal, English or a Japanese garden. All these gardens all had fruit trees. In the home garden, the suitable fruit plant species specific to the geographical area are included.
HOME DECOR
Elegance in partition
The marriage of utility and style is the quintessential element of a functional and elegant home. There are several décor elements that serve this purpose, partitions or room dividers are one of these. Whether you want to divide the kitchen into separate cooking and dining areas, spice up the decor of the living room or hide the clutter in the study, partitions are the best choice. Partitions are an ideal solution to create an illusion of space and to help maintain privacy.
REALTY BYTES
New launches
New Delhi: The Paramount Group has launched Floraville, an Energy Efficient Project. This residential project is located at Sector 137, Expressway, Noida.