Punjabi antenna
Cultural bonanza
Randeep Wadehra


Randeep Wadehra

The Punjabi Diaspora in the UAE celebrates Baisakhi with great gusto. So, in April, the PTC network organised musical extravaganzas in Muscat, Dubai and Abu Dhabi. As expected, the homesick Punjabis living there lapped up the fare dished out by such big names of Punjabi popular music and entertainment as Jazzy B, Malkit Singh, Kaler Kainth, Mona Singh, Labh Jhanjua, Saleem, Sarabjeet Cheema and Sona Walia, with Satinder Satti doing what she does best — anchoring.
As expected, there were Rajiee M. Shinde, COO, and Rabindra Narayan, president, PTC News, PTC Punjabi & PTC Chakde, presiding over the entire razzamatazz. But this begets some questions: Is the channel promoting Punjabi music and culture, or merely feeding on them?
How come it always has almost the same set of artistes in its shows — whether held in India or abroad? And, why only pop music, without classical music, pray?
Last fortnight, on Zee Punjabi's Movie, Magic, Masti, there was a review of sorts of Mani Ratnam's Hindi movie Raavan. The anchor went hyper on the blasphemy and sacrilege bits, tut-tutting the manner in which the divine epic characters have been allegedly portrayed in the movie — the husband and wife are romancing on the screen, horrors.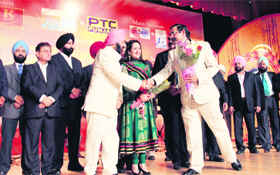 Did the chaste epic characters ever indulge in such carnal pleasures, she asked primly — apparently worried about the conservative Punjabis' reaction. Thank God, our ancestors never indulged in this type of crass prudery, otherwise we would have never had literary classics wherein sex has been treated as a natural activity, and erotica depicted in all its aesthetic glory.
Here, one is not talking of Kamasutra alone — there is plenty of literature in Sanskrit wherein liberal and healthy attitudes involving sex and sexuality have been portrayed/discussed (read Love, eroticism and female sexuality in classical Sanskrit literature, seventh-thirteenth centuries by Shalini Shah). Moreover, Mani Ratnam's movie is not a retelling/rehash of the Ramayana; it merely suggests that both good and evil dwell within us — only their respective ratios vary from person to person.
The main protagonists are not even named Rama and Sita. How dumb can a review be? Or, is it a case of simulated sensationalism?
Now that Captain Amarinder Singh has got a favourable verdict from the Supreme Court, the debate on vendetta politics has assumed a new dimension and vigour. Khabarsaar focussed on how the ruling coalition rode roughshod over the extant rules to remove a member on invalid grounds. Gobind Thukral, while lamenting the falling standards in politics, was emphatic in differentiating between the roles of ministers and MLAs even as he asserted that a member cannot be removed from the House for his omissions and commissions as minister, but only if he is guilty of delinquency as member of the legislature.
Chanchal Manohar Singh pointed out how politicians now want to bury the hatchet in order to escape public opprobrium that their corrupt ways deserve. Daljit Ami felt that the Supreme Court rightly reiterated the powers of the legislature in matters of disciplinary proceedings so that these may not be misused through brute majority.
The very fact that the ruling party sought to get away with such gross miscarriage of justice reflects the state of politics in our country where persons, and not ideas, have become the focus of debates (diatribes actually).
Thus, in this context it would be apt to observe that although Amarinder Singh, as MLA, may have been absolved of the charges against him, he has a lot to answer for as Chief Minister in the preceding regime — at least to his constituency, if not the law.
Postscript: While the mainstream news TV was at witter with the Kasab sentence on May 6 afternoon, the Punjabi channels eschewed the "breaking news" tweet. Passé, eh?