Elegant kurtis
Stylish and comfortable, this designer attire continues to be a rage, says Homai Sagar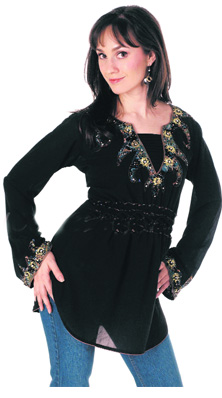 The latest clothes to have invaded the wardrobes of women across the country are kurtis. Team them with a pair of jeans, and you can exude a casual charm; or, don your kurti with a pair of formal trousers and an elegant stole, and you are all set to light up the evening with your formal attire.
With a little imagination, with kurtis, you can lend your clothes an aura of charm and plan a wardrobe that is trendy and flattering. It is your office party today, and you are faced with the dilemma of what to wear. A tough choice to make. Your favourite outfit seems too formal... or, maybe not. Familiar scenario? Fret not, for the Indian fashion world has just the right attire for you in the kurti.
From collarless babu cuts to V-necks and Mao collars, kurtis are being jazzed up with intricate resham (silk thread) embroidery in both tone-on-tone and contrasting. Colours this season are mauve, turquoise, ecru, magenta, red and black. Designers like Abu Jani and Sandeep Khosla are changing the look by focussing on the coordinates.
There are various types of kurtis coming into existence. Some of them are long kurtis, short kurits, cotton kurtis, raw silk kurits, printed kurits, georgette kurits and party- wear kurtis. Cotton kurtis are available in many colours and styles. Some have embroidery, or are embellished with beads, sequins and mirror work, while others have traditional Indian block prints, batik prints, tie-and-dye prints, or other prints on them.
Designer kurtis are becoming one of the latest trends in the fashion industry. They are not only elegant. Such garments are comfortable and easy to wear. These are usually embellished with stunning embroidery work, and are ideal for casual family gatherings and wedding ceremonies. The most ordinary kurtas are given a personal touch with the button. But for some strange reason, these fancy wood and bead buttons have remained the prerogative of men and are not as popular with women.
Special kurtis are mid-thigh length ones. These take a break from the usual ones through their asymmetrical cuts like diagonal, uneven cuts. Many of them are being offered in an overlapping cross-cut at the bottom and puffed sleeves. Indo-western kurtis in georgettes sport a bias cut with double and triple layering, which adds drama and romance to regular fit kurtis.
Then there are the Mughlai kurtis, which have acquired the reputation of being tents for the way they cover the body down almost to the ankles. Fashion maestro Bharti Rao opines that that kurtis are here to stay, and adds. "We have to plan new designs for kurtis every summer because women of all ages find them comfortable to slip into. Kurtis are easy to wear and suit Indian bodies."
Kurtis are available in different styles for different seasons. They gel well with the billowing Patiala salwars and with churidars or leggings, a tight-fitting variant of the churidaar. Designed adequately to team them with jeans or trousers or even with the latest Turkish pants, the best part of this apparel is that it is utilitarian and comfortable, camouflaging many flaws in my external figure, says Menaka Rao, couturier of Mumbai.
But in order to look fashionable in the kurti, you have to take into consideration your body. A large person should stick to the traditional kurta. It is advisable for overweight people to wear a kurta with a Chinese collar as it helps cut down on the volume.
A woman with an average body would look best in an elegant chiffon kurti (either self coloured or shaded), which is embellished with floral motifs or sequins.
A strapless kurta would look beautiful on a lean person. The strapless nature of the kurta helps you show off your collar bones and shoulders. It should be worn with a dupatta and, preferably, a churidar.
— MF