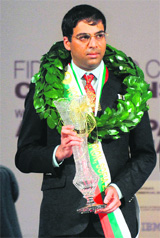 Chennai Super King
The final game was a battle of nerves, says Viswanathan Anand in an interview with N. Ravikumar
Hailed as the true Chennai Super King, Viswanathan Anand successfully defended the World Chess Championship with black pieces against challenger Veselin Topalov in Bulgaria. As a sporting accomplishment, this should rank as high as anything that any individual or team has managed so far in this country. Anand has certainly entered the annals of chess as one of the greatest masters. Coming out with flying colours in the acid test against Veselin Topalov at Bulgaria, Anand showed tremendous mental strength to win the world title for the fourth time.

Current world chess champion Viswanathan Anand poses with his award during the ceremony of the FIDE World Chess Championship at Sofia's Military Club recently. Photo: AFP

Crowning glory
Hours of preparation and thorough homework by his backroom boys shaped Viswanathan Anand's victory, writes M. S. Unnikrishnan
Viswanathan Anand made the right moves after a numbing defeat in the opening gambit to renew his lease on the world chess crown in a display of resilience and perseverance, which marked him out as a sportsman of exceptional class and talent. Anand's success at the highest echelons of chess has come after burning a lot of midnight oil, and shedding gallons of sweat and tears.
More than meats the eye

Laying all controversy to rest, the Commonwealth Games Organising Committee has clarified that beef will not be served during the Games scheduled to take place in the national Capital later this year. The organising committee replied with an emphatic "no" to a query by Right to Information (RTI) activist Subhash Chandra Agrawal, who wanted to know if beef was a compulsory item to be served during the Games, scheduled from October 3-14.
We have not received Bharat Thakur's column Fit Zone this week