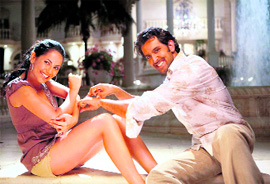 Barbara Mori in Kites
Fair deal
More and more directors are casting foreigners as their female lead
It was in the air for quiet sometime now, floating freely and we could only get a peek-a-boo. On Friday, we saw it in the clear sky, swaying and sashaying in the air. The kiss and tell story of Kites hit the theatres across the country on Friday.
Band of boys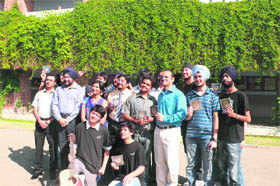 Two generations are coming together to celebrate the Golden Jubilee of their alma mater. The St John's school bands of the past nine years have come up with an album comprising 16 songs dedicated to their school life and the days spent as St John's boys. The album is the second edition from the school; the first one was released four years ago. "Out of the 16 songs, seven are original compilations and the rest are a mix of Bollywood and other songs. Compositions have been contributed by various bands, present and passed out, from the school," says Michaelangelo Francis, the man behind the concept, and the music and art coordinator of the school. He has also sung two tracks, "You are my No1" and "You are not alone", as a tribute to Micheal Jackson.
Fruit of labour


Post Class XII results, tricity toppers are ready for parties, gifts and much more
The Herculean task is over; the final battle won and books put to rest (even if its only for a month or two). The two-year-long exile has ended and its time to let the hair down, relax, party, shop and do what the rest of the world has been doing while they were busy remembering the theories in their textbooks!
Play act
Encouraged by the overwhelming response of the rural audience to theatre festivals in UT villages during 2008 and 2009, the Chandigarh Sangeet Natak Akademi is all set to repeat the feat this weekend.
Special stepsz SD Sharma
Shakhon se tuut jayen, voh patte nahin hein ham/ andhi se koi kehde ke aukaat mein rhe… Such was the confidence displayed by 80 odd specially-abled child artistes who participated in the S-4 Trust, UT Social Welfare and Gurukul Vidyapeeth's mega cultural Olympiad for differently-abled school students at the Bal Bhawan on Friday.
Digital delight
Microsoft has introduced an all new and cool Hotmail( www.hotmail.com ) that helps you integrate, share and cut the clutter in your inbox like never before. The innovative new Hotmail integrates Windows Live Messenger, other email accounts and updates from your social network all within a single intuitive interface that allows you to do so much more with your Hotmail be it on the Web, mobile phone or a PC.
Pen drive
How can you make any 'invention' sound intelligent? Simple, invent a complex abbreviation to describe it and an even more complex full form. So, Rohit Shekhar Sharma 'invented' a pen, named it as Photographic Memory Pen (PMP) and described it as a pen that helps improve memory.
Bon Appetit
Awesome Apricots

They arrive in the fruit market like a breath of fresh air and then, they are gone in a blink! The apricot season in India is really really brief. I always watch out for them like a hawk on alert since apricot jam is an absolute favourite with my husband. There have been a couple of tragic times when I've missed doing the preserve and believe me, I have neither been forgiven, or allowed to forget the horrific sin I've committed!
Star power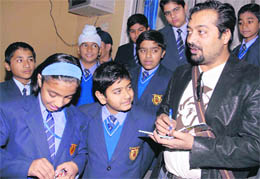 In between the not-so-intelligent questions -Who is your favourite female actor? Which movie do you like the most? What music are you fond of? - There came several intelligent questions as well - What all it takes to be a filmmaker? When did you decide you want to direct movies? Why do you make such off-beat films? - and Onir's purpose of holding an interactive session with students of Ryan International School a couple of weeks back was served.

Anurag Kashyap shares his @@experiences with students
Mann ka radio…


It is a tried and tested remedy for so many problems. The doctors too advocate it as a daily dosage. And now the celebrity RJ with Big 92.7 FM is promoting the same. Bhagwant Mann, the comedian, is all set up to brighten the mornings with Laughter Mornings on Big 92.7 FM. So, what is Bhagwant Mann whipping up - satire, comedy, jokes? "Everything. Laughter Mornings will be a good mix of entertainment made of news, spiced up with jokes and comments, all in a good humour." Adds the comedian, "My episode will be based on current news, something like examination results, water shortage. I will also take into account special days and days when something important happened."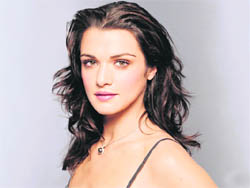 Playing Jackie
Actor Rachel Weisz is already feeling the huge responsibility of playing Jacqueline Kennedy in husband Darren Aronofsky's new film — because she's a Brit portraying an American icon. The Mummy star will be play the role of Jackie and the film will portray Jackie's life and how she coped with her husband President John F. Kennedy's assassination in 1963.
Rachel Weisz
Dolling up Bebo
Manish Malhotra says he has designed Kareena Kapoor's costumes for her stage performance at the International Indian Film Academy (IIFA) awards 2010 in the Sri Lankan capital Colombo next month."I am doing the finale fashion show there and also designing Kareena Kapoor's costumes for her performance," Malhotra said. Aamir Khan-starrer 3 Idiots has bagged the maximum number of nominations at the IIFA.

Saif act
Saif Ali Khan sketched cartoons in Hum Tum, and following in his footsteps is actor Tusshar Kapoor who will play a cartoonist in Rajsrhi Productions' next Love U...Mr. Kalakaar.Tusshar plays an artist called Sahil who derives his inspiration from everything, including nature, a scrap of paper or even a spider's web. Featured alongside him is Amrita Rao as Ritu, a management trainee whose world revolves around debits, credits, turnovers, profits and deadlines.
Screen presence
Bollywood actor Anil Kapoor is planning to screen his upcoming home production Aisha, starring daughter Sonam Kapoor and Abhay Deol, at the upcoming International Indian Film Academy (IIFA) awards."I am trying my best to complete the film. We are running against time. If we are done with it we might screen it at this year's IIFA awards," Anil said.