Enchanting tales
Reviewed by Aradhika Sharma
One Amazing Thing
By Chitra Banerjee Divakaruni
Hamish Hamilton, an imprint of Penguin Books.
Pages 224. Rs 450.

DO you remember Chaucerís Canterbury Tales? Geoffrey Chaucer describes a motley group of people going on a pilgrimage from Southwark to the shrine of Saint Thomas Becket at Canterbury Cathedral. On their way, share stories and tales that forms book that is now a classic. Chaucerís description of each of the characters is as fascinating as the tales that they tell. Chitra Banerjee Divakaruniís One Amazing Thing is what you may call, the modern ĎCanterbury Talesí. In fact, one of the protagonists, Uma, is carrying Chaucerís book in her backpack, a simple hint, in case anyone misses the allusion and the similarity.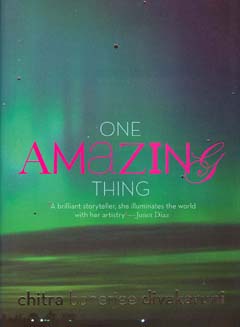 Divakaruni is a mistress of storytelling, as she has amply proved in her previous books, The Mistress of Spices, Sister of My Heart, Palace of Illusion, Vine of desire to name a few.
One Amazing Thing is an episode in the lives of nine disparate people. Trapped in a situation, where there is no way out but to wait for freedom, the nine characters must pass time thatís hanging heavy by telling each other stories about their lives. And thus, perfect strangers will share their most intimate secrets, their greatest fears, prejudices, heartbreaks and joys with each other.
It happens when a small group of people is sitting in a basement office of the Indian Embassy, probably San Francisco. They are all headed to India for different reasons and are waiting for their visa applications to be processed. And then, there is a tremendous earthquake that causes the Embassy building to collapse and the nine are trapped in the basement without electricity or supplies and with very little food and water. Some are hurt, some are fearful and some quietly resigned to the disaster. While they wait to be found and rescued, Uma suggests that they all share Ďone amazing thingí from their lives with everyone else. And surprisingly, after some resistance, they all agree.
Divakaruni has etched out her characters clearly. Sheís incorporated each of their individual as well as cultural differences in stories strange to themselves. Yet, all are woven together in the shared experiences that they volunteer to narrate in the microcosm of the devastated world that they share at the moment.
Itís an interesting and original surmise and Divakaruni has done well by each of her characters. Among them are Uma, a US-born Indian graduate student, deeply in love with her boyfriend who needs a visa to visit her parents now back to their roots in India. Then, there is the elderly Chinese woman, Jiang, returning home to Calcutta for the first time since she was forced to leave during the Sino-Indian War in the 60s. Jiangís is a particularly poignant story of love lost to cultural differences. And Divakaruni is obviously very conversant with the Chinese community in Calcutta. Jiang is accompanied by her teenage granddaughter, Lily, who didnít even know that her grandmother could speak English.
Divakaruni introduces us to Tariq, the young Muslim-American man who has recently rediscovered his Muslim identity and is coming to terms with the changes since 9/11. And the elderly white couple, Mr and Mrs Pritchett, who seem ill at ease with each other, trapped, as they are, in a dysfunctional marriage. Mrs Pritchett is quite dependent on the tranquilising drugs sheís addicted to; Mr Pritchett (admittedly) happiest when heís working with his numbers, which, "as long as he offers them his full attention, will never abandon him."
We are also offered vignettes of Malathi and her boss, Mangalam, the two office workers in the embassy. Malathi has only recently come to work in the US and works at a junior level. Before the earthquake, there has been some flirtation between Malathi and Mangalam, which could have grown into an adulterous affair.
The leadership of the group is assumed by Cameron, the African-American ex-soldier, dealing with his own personal demons. Having been in the army, and used to dealing with emergency situation, his is the unenviable task of organising the dissimilar group into some semblance of organisation.
Divakaruni has unfolded the lives of nine different people, while never losing track of the central theme of the story. The panic, animosity, heroism, pain that is experienced and displayed by the nine persons because of the common circumstances is the central theme. Yet, like the rays of light that they are waiting for to infiltrate the dark, damp underground space that they are forced to inhabit, the stories are of different lives, different times, and different contexts. And they transport them and the reader to world quite away from the dark dungeon. Yet, neither they nor the reader ever forgets their worry for survival and hope that they would be saved, under circumstances that are growing increasingly bleak.
The stories that the nine people tell are the reason for their survival as well and Divakaruni explores the power of storytelling in this slim book thatís just over 200 pages. The end, however, is a bit disappointing and inconclusive. Having got the reader totally involved in the protagonists present circumstances as well as the Ďamazingí slices of their lives, the ambiguity of the end leaves the reader wanting.