TÍte-ŗ-tÍte
Art through the lens
Nonika Singh

HIS presence as the chairperson of the Chandigarh Lalit Kala Akademi might make one forget who Diwan Manna really is. As he goes about extolling the qualities of invited artists at the akademiís hugely successful and exceptionally well-organised functions, only too happy to let others bask in the limelight, one is likely to overlook the eminence of Chandigarhís very own artist. Indeed, in recent times, Diwan the artist might have taken a backseat but make no mistake, he is first and foremost a gifted photo artist, who has not only made Chandigarh, his home for over three decades, proud but now also ensured that the CLKA emerges as one of the nationís best akademies.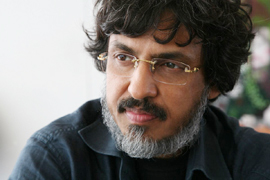 Diwan Manna

No wonder, as he looks back at the journey of a small boy who participated in Ramlilas in the mofussil town of Bareta in Punjab to the internationally accepted artist whose work now adorns galleries around the world he can only stand gratified. Yet, the satisfaction is laced with a grudging acknowledgement, "I could have been more prolific. It has been a slow journey." But more than meaningful and one whose resonance can be felt across several exhibitions in France, Poland, Italy and the UK etc and in a body of work that spans myriad realms of life. At one moment it freezes on the working class like dabbawallas, at yet another it is about the frenzied pace of life in the West. Whether it is the architectural marvels of Le Corbusier at Firminy and Ronchamp, France, or sublime questions of life, the spirit of enquiry and introspection remains imminent.
Interestingly, Diwan tasted success with his very first show when he was just a student of the Government College of Art, Chandigarh. Alienation reflected the life of peons is a series that is now part of the prestigious Museum of Asian Art, Berlin. He smiles and quips, "Of course, an artist evolves with time but his initial creative spurts can be of equal import." No wonder, his earlier series Violence, an artistís deep-felt response to turmoil in Punjab, elicited much appreciation. Only, he doesnít portray violence in its goriness, instead captures its sorrowfulness and often even sublimates it, as in the series After the Turmoil. Life and death is a leitmotif that recurs time and again in his art. So do bold nude figures. Unapologetic about using the human body as a tool, he reasons, "I am not here to titillate or offend sensibilities. I used the nude image for it was central to my series." Sadly, he rues that in India people often miss the context and fail to see what the artist wants to convey.
In the West, which he discovered early on in life, he says, "Visual literacy is a way of life and it will take us years to bridge the gap." Of course, when Diwan visited Europe he wasnít a naÔve ignoramus Indian but a fairly enlightened one with experience in multi-disciplinary arts like theatre, painting and photography, a fact that reflects amply in his works. So much so that he has no hesitation in calling himself the director of his photographs which combine several elements of theatricality and become a narrative.
In his most recent series on Benares, the city he calls a continuum of life, he has distilled more than many moments ó the tradition of several centuries at one go. "Benares", he muses "is a living embodiment of tradition no one can dare defy." But art in Diwanís world is most certainly meant to be taken out of a straitjacket. Bubbling with several ideas, he is toying with an exhibition of three-dimensional photographs. He has today, according to critics, gone beyond conceptual photography, too. Shores of the Unknown, it seems is not only the name of Diwanís engaging exhibition in which he has used his own body, but also entails the secret of his ability to transcend and transform. Unravelling the mystique of life, he also adds to its enigma, enriching both life and art in the process.