Keep it simple
Simple clothes with contemporary patterns are in vogue today, writes Ritusmita Biswas
INDIAN fashion does not need to mean exotic with a capital E any more. Fashion trendsetters seem to have taken a respite from the usual fare of jewel-studded lehengas and halter tops. The trend now seems to go for simple clothes — khadi or ethnic Indian silk — modernised with contemporary patterns. The quest for simplicity and innovativeness in designs seems to set the mood humming. Says designer Sujata Sarawagi, who prefers to be known as a textile designer rather than a fashion designer: "I never identify myself with the typical trends in fashion, and as a result I can't create such wares though they might be in great demand. True, the rich exotic look is immensely popular, especially in the bridal market, but it simply does not fit my sense of design and fashion. I would never be wearing them. So why create something which I will never wear?"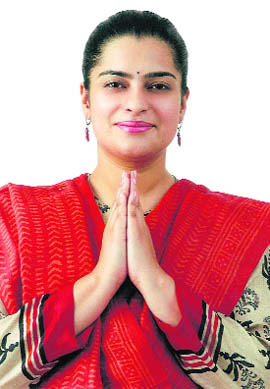 Clothes, which uphold Indian traditions, are being prepared by designers for the global market

Like Sujata, a large chunk of younger people now seem to be giving a pass to traditional fashion patterns. "Many of the garments from so-called fashion designers are so tacky and they are strictly pass`E9 like the K serials. In fact, the decorated saris, long open hair, large bindis and heavy ornate jewellery were essentially a look promoted by K soap operas. With this craze fading, the demand for such look is also waning," says advertising executive Ranjabati Sarkar, who feels she has her own unique sense of style. Her friend Nimisha agrees and says: "Besides, who can afford to buy them? Such clothes are definitely not for the common people."
Designer Jaya Misra, who specialises in bridal wear, however, disagrees. "There is and will always be a demand for such dresses, especially as a part of the trousseau. At weddings, people want to depict the rich exotic look, and so these dresses are in high demand," she says. Nonetheless, even Jaya agrees that often this demand for a similar look creates a challenge to the designer, and she has to find uniqueness while maintaining the same flavour. "Personally, I am well known for my rich bridal designs but at times even I need to take a break from the going trend. So some time back I had launched my collection that sought to capture the simplicity of Indian designs by making optimal use of Indian fibres like khadi," she adds.
Whatever be the mode of expression of the designer, each garment created should have a sense of purpose, and only then it can meet the expectation of audience, according to designer Rahul Mishra, who is hailed as the next Sabyasachi Mukherjee in the Indian fashion circuit. Known for his innovative ideas on traditional fabrics, Rahul feels that India has a rich repertoire of fabrics and patterns which are yet to be discovered.
As good as his word, Rahul endorses organic fabrics and slow processes and works with traditional rural textile designers promoting ethnic fabrics and patterns by imbibing in it a contemporary look. He reiterates that time has come for Indian fashion to be on its own. "India needs to find its own sustainable model of growth, and similarly, Indian fashion needs to delve into its own roots and find patterns which are acceptable globally, and yet which staunchly uphold their Indian-ness," he says.
"Indian fashion scene today is intensely boring — the same designs are being replicated again and again. Why does a traditional Indian pattern need to be an image of Krishna Radha, or a peacock, for example? Even offbeat motifs, like, say posters of B-grade Ramsay movies, or political pamphlets, can create images which are intrinsically Indian," Hussein says.
The brand Onseed which is run by a core team that has Fahd Hussein, Somil Vakharia, Shible Ali and Hamza Hussein as members, aims at creating designs that are not for "anybody boring." Indian youth, they feel, is ready for such "alternative fashion," and the Onseed members are confident that at least for most Indian youth in metros the traditional designer wear is losing relevance. — TWF