Ulta Pulta
Techno troubles
Jaspal Bhatti

THE Director-General of Police, Chhattisgarh, recently remarked that they had no technology and resources to de-mine the massive forest area where Maoists have set up landmines. We have to face the fact the law-breakers are always more advanced and well-equipped than the government forces. It seems the latest weapons first fall in to the hands of terrorists; the security agencies get to acquire them much later through a cumbersome process of floating tenders.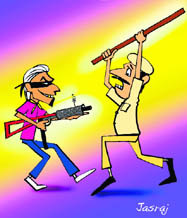 If I have to write a dialogue for an action flick where a police officer is chasing a terrorist, it will be, "Agar maa ka dhood piya hai to wait kar, kal hamare tender khulne walen hai, phir mere paas bhi tere jaisi gun hogi." (If you have got guts, I dare you to wait! Tomorrow we are going to open tenders and I will have the same gun as you do). No wonder, in Hindi movies dens of the dons are shown as technological marvels.
If we talk about hackers, they are far better versed with the IT technology than our defense experts. In printing technology, those who print fake currency notes seem to have better machinery than our government mints.
I asked a distant cousin what he did for living. He said, "I am an electricity meter expert and I get lot of respect for my expertise." "You design theft-free meters?" I asked. "No, I invent ways to tamper foolproof meters."