Against all odds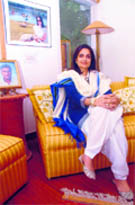 Former minister of state for tourism, forests and environment, Haryana, Kiran Choudhary was in the city for a mass marriage function organised by Choudhary Surinder Singh Memorial Club
The world may know Kiran Choudhary as the former minister of state for tourism, forests and environment, Haryana, the daughter-in-law of political heavyweight Chaudhary Bansi Lal and the widow of Surinder Singh. Perhaps, nay obviously, people can also see a beautiful woman. However, make no mistake, Kiran, MLA, is much more than just a lovely face who strayed into politics by virtue of her family antecedents.

Kiran Choudhary


No high flier this
This week's biggie is Kites, the long awaited (more than one-and-a-half years post production), over publicised, Filmkraft production that has ambitions of making it into mainstream international market riding on a Brett (Rush Hour) Ratner remixed version.
Tarot TALK


ARIES: The Empress takes you towards the fast and protective lane. Professional rapport with your superiors as well as your subordinates will be very smooth. Money matters may weigh heavily on your mind. You may pick up an argument over budget with your spouse. Tip of the week: You will not get away with wrongful doings so don't even try. Lucky colour: Peach.
Soulful notes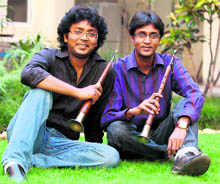 Shehnai exponents Sanjeev and Ashwini Shanker were in the city for a performance
Among Indian classical musical instruments, the Shehnai holds its own. And when this ancient mangal vadya was almost on the verge of extinction, Shankar bandhus — Sanjeev and Ashwini — restored its lost glory and carried forward the 400-year-old legacy.



Sanjeev and Ashwini Shanker

The Number Game
The city is vibrating with the force of population. All of us are engaged steadfastly in individual and gainful pursuits, too preoccupied to peek into the myriad lives around us. I am no different, always propelled by deadlines, and often missing the big picture and signs that are glowing and trailblazing a future that awaits India.
Beer it
The good-old position of the ale taster is being resurrected by a London market, which calls it the "best job in the world". The holder of the voluntary post will have to sample beers from London pubs to "test for quality".
Minissha's Mr Right

Bollywood actress Minissha Lamba, who is happily single, wants her Mr Right to be a self-made and quiet man. Although the 25-year-old star, who has previously been linked to actors Aftab Shivdasani and Abhay Deol, insists she isn't ready to mingle soon, she did not hesitate to share what qualities she is looking for in her guy.


Minissha Lamba

AccomplishedKat
Cricket is considered to be a gentlemen's game, but Katrina Kaif defied all rules when she played the game in a saree on the sets of her new film Raajneeti.
Some quality time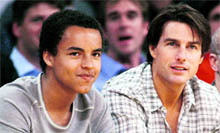 Hollywood actor Tom Cruise was recently seen spending quality time and enjoying basketball game with son Connor. The father and son team visited the Staples Centre in Los Angeles to watch the LA Lakers play basketball.



Tom Cruise

Made for each other
She is a globe-trotting Hollywood actress married to a equally busy singing star, but Nicole Kidman says that she and husband Keith Urban never spend more than three days apart.
Heavenly experience


Hollywood superstar Julia Roberts is a doting mother who loves to watch her children wake up every morning and thinks they are completely 'angelic and wondrous'.



Julia Roberts

Noble cause
Oscar winning actress Penelope Cruz has raised $333,000 for the Haiti earthquake victims by selling her designer dresses.

Working mum
Popstar Dannii Minogue has signed a deal worth USD 652,100 to return to the judging panel of the hit talent show The X Factor, just eight weeks after giving birth. The Australian beauty's role as a judge had been in question after she announced that she was expecting her first child during the auditions for this year's show.


Dannii Minogue

Simply Simpson


Singer-actress Jessica Simpson is back in shape after she employed fitness trainer Danny Musico, who created an exercise regime just for her. "It's a 60-minute, interval-based workout. The best part is the punching, it gets a lot of aggression out!" says Simpson.



Jessica Simpson

Do it in style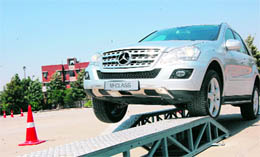 Just luxury is not enough, for the ultimate driving experience safety and strength are two major requirements. So, when Mercedes Benz put its ML-Class, GL-Class, C-Class and E-Class cars on road for test of 'spirit', fun seemed a lesser adjective to describe the package! Combining essential elements of driving on various road situations and highlighting safety features, the Stardrive at the Indradhanush Auditorium- 5, Panchkula, focused on the technological advancements and the dynamics of the vehicle.