Over 100 Doon valley students crack IIT test
Tribune News Service
Dehradun, May 26
The IIT Joint Entrance Examination (JEE) 2010 results were announced today and students of Dehradun come out with the flying colours. The city has witnessed the major transformation in the recent years where more and more aspiring students are getting qualified in the all-India entrance tests.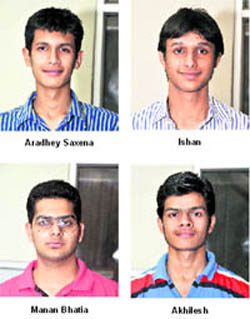 A total of 13,104 candidates have cleared the prestigious IIT examination while 4.72 lakh had taken the exam. Pulkit Mittal of the general category and Shubham Panchal of the ST are the toppers of the capital with 283rd and 61st rank, respectively. The exam was conducted by all IITs in April.
"Determination, focus on the qualitative studies, will power and right approach have brought me this accomplishment. I owe my achievements to Mishra Sir who helped me throughout the session for cracking the IIT-JEE. Nobody in my family is engineer but I aspire to pursue engineering," said Karn Vohra from Aakash Institute whose rank in the entrance result is 1841st.
On the other hand, Pulkit Mittal, a regular student of Dutt and Verma Coaching Classes, was calm for the All-India Entrance Examination. He was a student of St Joseph's Academy and scored 88.5 per cent in the ISC examination. "I prepared for the IIT test as well as for other competitive examinations with the help of faculty of the coaching. Due to my focus on maths, physics and chemistry, other subjects in my ISC got affected but at this stage the less percentage in class XII is of not much importance. I want to go to the IIT-Delhi and opt for electrical core," said Pulkit, who loves to play computer games in his pastime.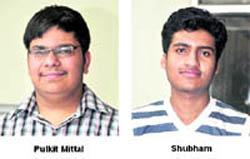 "We teach our students on the CBSE pattern and provide them with study materials. Regular tests and exercises followed on a regular basis. Instead of regular five-day classes, we are conducting classes for three days and on the basis of demand, helping our students to clear their doubts and perform well in their boards. In three days, we conduct tests as well as revisions," said Atul Verma from Dutt and Verma Coaching.
This year, nearly 18.3 per cent more candidates appeared for the JEE-2010 test. More than 100 students from the Doon valley have cracked the JEE. Students of Dutt and Verma Coaching Classes and Aakash Institute have again proven their calibre in the competitive exams.
"While only 30 students of my institute cleared the IIT/JEE in the past two years, apparently this time the result is somehow unsatisfactory with only 25 candidates qualifying the entrance exam," said Dhananjai Kumar Mishra, Aakash Institute.
Ranks of the students:
Shubham Panchpal (ST)-61, Vivek Singh Firmal (ST)-101, Akanksha Chauhan (ST)-208, Vaibhav Dabaria (SC)-401, Nitin Dhaania (SC)-1482, Aayush Verma (OBC)-1606, Aman Anirudha (SC)-1754, Karn Vohra-1841, Prashant Jha-2178, Shardul Goel-2430, Mohd. Tayyab Adil-3639, Anshul Rawat-3900, Rishi Mehan-4327, Ekaansh Goel-4535, Deepak Madan-5959, ASHISH PANT-6548, Anshul-6868, Pranjal Jain-7470, Utkarsh Tomar-7525, Prayas Mittal-7959 and Abhinav Kashyap-8723. Pulkit Mittal-283, Shekhar Rathore (ST)-329, Akhilesh-2222, Ishan-2645, Shubham Sandeep- 7547, Deepak Singh 2054, Aradhya Saxena-9501, Mannan Bhatia-7154 and Mohinish Joshi-8574, Shivam Mittal-482, Uttkarsh Aggarwal-2271, Arnav Mittal-3224, Shrishti Kumar-9086 and Shubham Tomar.