M A I N N E W S
Air India strike off, 15 union members sacked
Vibha Sharma
Tribune News Service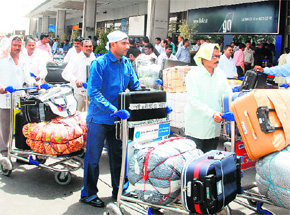 Travellers wait for information on Air India flights at the Indira Gandhi International Airport in New Delhi on Wednesday. Tribune photo: Manas Ranjan Bhui

New Delhi, May 26
Having lost all public sympathy after putting to test the patience of passengers and the government alike at a time when the country was trying to cope up with a tragedy of the magnitude of Mangalore air crash, striking Air India employees returned to work apparently after running out of options by the evening. Also, the services of about 15 striking union members have been terminated, it was learnt.
While the government had already made it clear that Air India management was free to act against the striking employees, the final blow came from the Delhi High Court, which restrained the employees from continuing with their strike. The court also imposed a stay on their proposed strike from May 31.
"After the intervention of the Chief Labour Commissioner, we have decided to return to work," union leaders later said, adding they would be joining back with immediate effect. Sources say the government's unrelenting stand had started having its effect much earlier with several factions in the union wanting to break away and join work.
The court stay meant that if the employees did not return to work, they could be held guilty of contempt. The stay also made it easier for the airline to terminate services of its employees. The National Aviation Company of India Limited (NACIL) filed a suit for injunction against the Air Corporation Employees Unions and All India Aircraft Engineers Association, which were leading the strike. Air India had also moved Mumbai High Court against the flash strike.
Sources said the management was willing to suspend operations if more people had joined the strike. In fact, the clearance for tough action came from the Prime Minister's Office itself.
Taking a serious view of the strike by a section of engineers and cabin crew, the clear message to the management was "strong and decisive action" against employees for their "irresponsible" behaviour, which had caused inconvenience to thousands of travellers and subsequently, financial loss to the airline.
Civil Aviation Minister Praful Patel met Prime Minister Manmohan Singh and also briefed the Cabinet about the situation after the employees proceeded on an unscheduled strike against a "gag order". Patel also denied that the airline had issued any new gag order over employees speaking to the media. "The order dates back to July 2009 and was only reiterated on May 24," he said.
The unions fell in line after the order of the Delhi High Court which turned the heat on them giving relief to the management of the cash-strapped state-owned airline which was given a free hand by government to take stern action against the striking employees.
The unions were protesting against a 'gag order' on members for talking to the media after Saturday's air crash in Mangalore and 'delay' in payment of salaries. The management, however, clarified there is only one general circular and that there was no 'gag order".