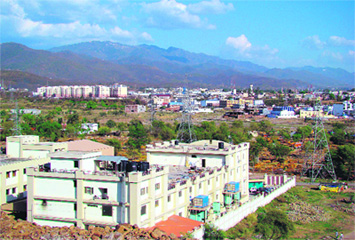 Baddi
Coming of age
Baddi, which remained a sleepy town in spite of the attractive industrial package offered by the government to stir development in the area, finally seems to be coming of age. Things seem to be looking up for the real estate sector with the coming up of several housing projects, and the first multiplex in this Tier-III township of Himachal Pradesh.
A view of the area. Photo by the writer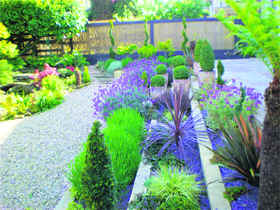 GROUND REALTY
Classy courtyard
A house builder is almost decided about the type of flooring he wants to provide inside his house. Earlier, the choice was among the terrazzo and marble flooring only. Now, vitrified tiles and wooden flooring are also considered. Mostly, a combination of different types of floorings is chosen. Real question is faced when the house has been built, inside flooring has been laid and the attention is drawn to the courtyard of the house.
Smooth deal
Vineet Singh on points to be kept in mind before sealing a property deal
The Real Estate Asia Pacific 2010 report states that India is among the top real estate investment markets in Asia with Mumbai ranked second only to Shanghai and Delhi at the fourth position.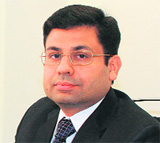 Vineet Relia

REAL TALK
Resurgent Amritsar
The realty sector in Punjab is emerging from the shadows of slowdown of the past over 18 months as can be gauged from the launch of new projects and hectic sale and purchase activity in different cities. Amritsar is among the most promising destinations for real estate development in the state. Though its proximity to international border with Pakistan has been the main reason for slow growth in the realty sector, the development is picking up pace now with a number of residential projects coming up in and around the city. Vineet Relia, COO, South Asian Real Estate (SARE)-India, a fully integrated Investment & Development Company, speaks about the real estate scenario in Amritsar.
TAX TIPS
Become co-owner to claim deduction
Q. I am a Central Government employee, and am living in Chandigarh (UT) in a rented accommodation alongwith my father, mother and sister. My father had retired as a Senior Assistant from Punjab and Haryana High Court, Chandigarh in 2008. After his retirement, a housing scheme was published in the newspapers for UT employees, including court employees, and my father applied under 'C' category (one-bedroom flat) costing Rs 17 lakh under 3 per cent quota for retired employees. The result of this scheme will be revealed by next month. Now his monthly pension is Rs 6,000 only. Therefore, for taking a loan for the above said scheme, I need to become a co-loanee, and half of my salary will go in paying the installment. Since I am paying almost the full amount of the loan, kindly let me know under which condition, I can seek exemption for home loan or under any other clause because it will be a double impact upon me as on one hand I have to show savings upto Rs 1,10,000, and on the other I have to pay the installment. How will I manage this as the pension of my father is very meager? Please suggest a way out for the same.