A Summer holiday
Sumitra Senapaty checks out various options — home and away —
for these vacations
Holidays are not quite what they used to be. Holidays, once an opportunity to get away from it all, are now often a chance to get away to it all.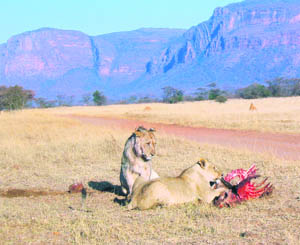 A holiday in Africa against the backdrop of its beautiful scenery and impressive wildlife is an unforgettable experience Photo by the writer
Somewhere out there is your dream summer holiday — all you have to do is decide what you would like to do and choose from a dizzying array of choices. Besides using a holiday to learn a new skill, it is a great way to gain a new perspective and meet people. The taste for adventure is always good for blasting away the cobwebs`85a clear departure from the preferred Indian holiday routine of air-conditioned room, cards, tambola, food, food and more food, with a bit of sightseeing included as dressing.
But inspired by the 'work hard, play harder' adage, today's young and not-so-young travellers are all striving to do something different, doing things they like to do, but never seem to have the time.
It is great to see people getting away regularly to unheard of places. They are willing to explore possibilities of simple village stays, treks in the wilderness, camping, besides just visiting traditional historical monuments. They are willing to go that extra mile to climb a rock or paddle down a river.
On the tea trail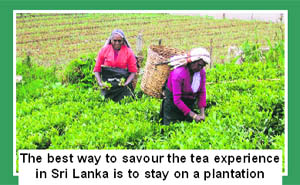 So a journey, tea trailing through Nuwara Eliya in Sri Lanka is not such a radical idea. A twist of the track, and there they are: the tea plantations — ranks of bushes cascading down the slopes in a carpet of green. It is like retreating into a time warp and much the best way to savour the tea experience is to stay on a plantation, in a sprawling bungalow with a library, attentive butler service and delicious, home-made food served on the terrace to accompanying birdsong. Here you can indulge the fantasy of being a successful, turn-of-the-century planter.
On these plantations, most majestic green is the tea bush, which is quite regal in its symmetrical planting. At a distance the tea pickers move in silence similar to an army. One can set a day aside for tripping over to Kitulgala and the story of its brush with celluloid, a kind of thing that can only happen in Sri Lanka. The Kelani river was the setting for the film Bridge on the River Kwai, but little remains now of the bridge built for the movie (and destroyed in its closing scenes). With names such as Head Chopper (for its overhanging branches) and Killer Falls, the grade-three rapids on this stretch of river sound more dangerous than they are. For those who prefer dry feet, the adjacent forest offers bird watching opportunities where you can spot giant monitors and flying squirrels.
Travel to taste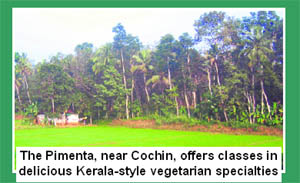 Or check out a genuine South Indian vegetarian gourmet-cooking holiday, an hour east of Cochin, Kerala. The Pimenta is primarily a family kitchen on a seven-acre spice plantation in the lush, forested foothills of the Western Ghats. With modest bungalows, and dinners round the family dining table, this is no marble-topped, five-star extravaganza, but what it lacks in glitz, it more than makes up for in authenticity, with classes in delicious Kerala style vegetarian specialties led by the farm owner, who is passionate about cooking. The school won't just teach you to cook the dishes, but will help you understand the flavors and nuances of the traditional cuisine.
Fun at sea
Cruising is yet another memorable binge! Post-Titanic suddenly everybody wants to cruise! Imagine a floating palace where the pleasures are unmatched. Where royalty, millionaires and filmstars have been known to stroll on gleaming teak decks, savouring earth's dramatic panoramas. Welcome aboard the one and only Oasis of the Seas, the largest and most revolutionary cruise ship in the world. An architectural marvel at sea, she spans 16 decks, encompasses 225,282 gross registered tons, carries 5,400 guests at double occupancy, and features 2,700 staterooms.
The cruise ships these days are getting bigger and bigger with more and more dazzle and many travel specialists are asking, where's the sky? Then there is an entire array of staff to look after you. And what looking after! These are not mere mortals, they are supermen and superwomen born with the ability to anticipate your every wish, and make it come true, even before you know you want it. Thus, they know when breakfast should be served in a hushed whisper; when a lightly scrambled egg and some fresh orange juice is all you can face: when you've bounced back sufficiently for a pre-lunch daiquiri, or when you're in the mood to party and it's going to be champagne and caviar in the Jacuzzi.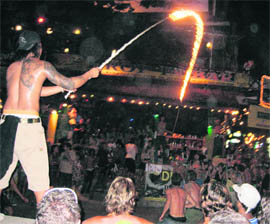 The world's biggest party happens every month on the full moon night at Koh Phangan's Haad Rin beach, Thailand
The Thai experience
Once the unrest gets over, travellers can head to Thailand, as it offers a holiday experience on a different scale. It offers gourmet beach holidays at Krabi and Koi Samui, where you are taught everything that needs to be taught in Thai cuisine. Later one can head for the "Full Moon Party" at Koh Phangan's Haad Rin beach where the world's biggest party happens every month on the full moon night. There are more than 20,000 like-minded revellers by your side with music, food, tattoos, international DJs, fire dances, firework displays and the works.
Amazing Africa
Try a green holiday in Africa where you could stay at a conservation lodge, which is well facilitated to accommodate volunteers. It has large dorm rooms, hot-water showers open to the stars and a large open air communal area, complete with a fire circle and a barbeque pit — all of this against a truly remarkable backdrop — the beautiful scenery and impressive wildlife of the Limpopo river.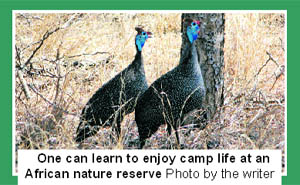 Volunteering for this project will be hard work, good fun and extremely interesting and involve moving from place to place. You will get involved in wrapping trees to prevent damage from elephants, removing alien plants and collecting scientific data on the birds and elephants in the reserve. You could even learn how to do GPS tracking of elephants and wild dogs at a South African Nature Reserve, and also learn how to enjoy camp life under the stars.
Yes, seeing things is good, but doing things makes it better. Holidays are a necessity and can be great if you plan right. Things you thought mattered simply vanish. This is what the new breed is aspiring for. As we edge wearily towards the times ahead of us, the new-age tourist is constantly in search of a simple, yet all-too-rare-formula: elegance mixed with active holidays.
Chartered wheels
Vishal Gulati
A toy train on the heritage Kalka-Shimla rail track Photo: Amit Kanwar
Planning a break this summer with your clients or staff for company? A picturesque journey in a chartered train on the century-old Kalka-Shimla rail line could be just the answer, especially for corporate honchos.
Northern Railway is running a chartered train service on the Kalka-Shimla section. Any company or individual can hire a train comprising six coaches with a capacity to accommodate up to 180 persons. "A one-way trip between Kalka and Shimla for a chartered train costs between Rs 20,000 and Rs 60,000, depending on the class you are travelling in," says commercial inspector (Railways) Amar Singh Thakur.
The added attraction while travelling on the chartered train is that the tourists can decide the number of stoppages on the 96-km-long rail track, which has been chosen by Unesco as a world heritage site. "But the journey has to be completed within the stipulated time," adds Thakur.
Shimla railway station superintendent G.S. Rajput says: "Foreign tourists, particularly from Britain, are keen to enjoy a joyride on this track because of a coal-fired steam engine. Though right now a diesel-powered engine is in use."
The steam engine-operated train runs between Shimla and Kathlighat. The fare is Rs 59,000 for a round-trip and the one-way journey between the two stations is 22 km.
"We have a 1903-made heritage steam engine but it has been sent to Amritsar (in Punjab) for repair. We are getting a good number of inquiries regarding its re-introduction," adds Rajput.
The Kalka-Shimla rail track was built by the British in 1903 to ferry Europeans to and fro to Shimla.
There are 102 tunnels on the rail line. A train takes about three minutes to cross the longest tunnel at Barog (5,000 ft). The other big tunnels en route are at Koti (2,276 ft), Taradevi (1,615 ft) and tunnel number 103 (1,135 ft), which is near Shimla.
This rail route also features in the Guinness Book of World Records for offering the steepest rise in altitude in a space of 96 km. More than two-thirds of the track is curved, sometimes at angles as sharp as 48 degrees.
Love on track
The railways has also introduced a 'honeymoon special' bogey for newlyweds on the Kalka-Shimla route from the first week of June. "A Kalka-Shimla train will again have a special bogey — Shivalik Queen — for couples from next month," adds Rajput. The service, by Northern Railway, had been discontinued for the last few months due to renovation. At least, four couples can travel in a bogey at a time and the fare per couple is Rs 750 one way
Apart from couples, there is another special bogey called Shivalik Palace that is available for family or friends, who want to travel together. The Shivalik Palace fare is Rs 4,970 from Kalka to Shimla and Rs 3,595 from Shimla to Kalka. — IANS