Master artiste
Paramjit Singh on the legendary Prithviraj Kapoor, whose
death anniversary falls today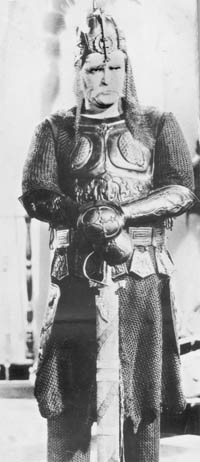 Prithviraj Kapoor's performance as Akbar in Mughal-e-Azam remains unparalleled
Prithviraj Kapoor, popularly known as Papaji, had an abundance of talent and tons of affection for his juniors. He is revered even today for his matchless performance in K. Asif's Mughal-E-Azam. Prithvi was born on November 3, 1906, to Basheshar Nath Kapoor's first wife — a deeply religious and sweet-natured woman. He studied in different schools at Samundri and Lyallpur and later did graduation from Peshawar. Six feet tall and handsome, this young man had no urge for acting.
It was while studying law at Government College, Lahore, he developed a taste for acting and soon this liking became his passion. So much so that he left his wife Rama Devi and son Raj at Peshawar and reached Mumbai to showcase his talent to the world.
In Mumbai, he had to struggle a lot until one fine day when Ardeshir Irani, owner of Imperial Film Company selected him as an 'extra'. Prithvi acted in his debut film Challenge as a junior artist. Irani was impressed with Prithvi's acting and signed him as hero for his next film Cinema Girl (1929).
The film worked wonders at the boxoffice followed by a long line of super hits like Toofan, Draupadi, Bid for the Throne, Noorani Moti, Lohar ki Beti, Dharti Mata, Namak Haram Kaun and Prem ka Daav. All these movies were silent movies but when the genre of talkies came into existence, he earned the honour of working on the first film of this genre i.e. Alamara (1931).
In 1932, he was called to Calcutta by the owners' of New Theatres to join it at the salary of Rs 450 per month. Here he scaled the peak of success as an actor and did his career defining roles in films like Meera, Daku Mansoor, Manzil, Presedent, Anaath Ashram, Vidyapati, Abhagin, Dushman, Sapera, Ramayan, Jeevan Prabhat and Milap.
In 1939, Prithvi moved to Mumbai to work for Ranjit Movietone at the salary Rs 1000 per month. His first film with this company was Adhoori Kahani, in which Durga Khote was the heroine. For the next 34 years, he served the same company and he spawned a number of hits like — Aaj Ka Hindustan, Paagal, Gauri, Vish Kanya, Deepak, Sajni, Chingari, Rajnartki, Sikander, Ek Raat, Ujala and Ishara.
After 1944, he tried his hand at mythological films and hit the bull's eye again. His constant success in films like Maharathi Karan, Devdasi, Shri Krishan Yudh, Vikramaditya, Shivaji, Valmiki, Parshuram, Prithviraj-Sanjogita, Ram-Bharat Milap, Harish Chandra-Taramati, Jahan Aara, Sikander-E-Azam, Laajwanti, Dahej, Pardersi, Paisa, Aazadi ki Raah Par, Naag Panchmi and Sati Sulochana aided him well in gathering abundant applause from the viewers. He rode the crest of box-office success with Mughal-E-Azam (1960) in which he played the role of Mughal Emperor Akbar.
In the final phase of his life and career, he did certain 'C-grade' films like Lutera, Daaku Mangal Singh, Lal Bangla, Baanke Lal, Love and Murder along with a few hits like — Ghazal, Raajkumar, Zindgi, Jaanwar, Kal Aaj aur Kal, Insaaf ka Mandir, Teen Bahuranian, Ye Raat Phir na Ayegi.
Prithviraj Kapoor remained a Member of Parliament (Rajya Sabha) from 1952 to 1960. In 1963, he was awarded Padma Bhushan and later in 1973 Dadasaheb Phalke Award was also conferred on him (posthumously). On May 29, 1972, he passed away leaving a void in every heart.