Five members of Sikh association arrested
Tribune News Service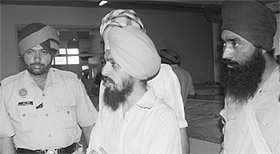 Sandeep Canadian, an activist of the Shiromani Panch Pardhani, in police custody at Mohali on Sunday. A Tribune photograph

Mohali, May 30
Anticipating law and order problem, the Mohali police today arrested five members of the Shiromani Panch Pardhani from different parts of the city. The organisation had announced to take out a march from Chhapar Chiri to Harmandar Sahib to mark the Operation Blue Star.
Before the activists of the organisation could start with the march, the police raided the residence of Sandeep Singh Canadian, Harpreet, Baljinder Siungh, Sardara Singh Mauli and Sikander Singh and arrested them. They were produced before the Kharar SDM before being sent to judicial custody.
No foul play in boy's death, says police
The Mohali police has ruled out any foul play behind the death of Gurjant Singh, a 19-year-old resident of Nadiali village.
The youth had died yesterday while coming with his friends from Baba Balaknath temple in Himachal Pradesh. While the boy's family had alleged foul play, the police, after probing the matter, said prima facie it did not appear to be a foul play.
Inquest proceedings under Section 174 of the CrPC have been initiated. "To be doubly sure, the viscera have been sent for chemical examination to Patiala," said SHO, Sohana, Mohinder Singh.
The boys accompanying the youth told the police that while coming down from Himachal Pradesh, they stopped as the deceased said he wanted to ease himself.
When he did not return after 15 minutes, the boys went looking for him and found that he was lying in a stream of water.
The boys had reported that Gurjant suffered a fit.
Theft
Guraj Singh, a resident of Phase 3B2, complained to the police that while he had gone to a bank on May 22, he found that the locks of his house were broken and a mobile phone, two watches and some household goods were missing.
The police has registered a case and is investigating the matter.
Housewives duped
ZIRAKPUR: Two housewives of Hem Vihar, Baltana, were allegedly duped of cash and gold jewellery worth Rs 1 lakh by two women yesterday.
According to the police, Jagdish Kumar, a resident of house No. 137, Hem Vihar, Phase II, Baltana, in his complaint told that his wife Sua Devi and daughter-in-law Meenakshi were alone at home when two unknown women came to them and said there was Peer Baba's curse on their home.
They also asked for some money and jewellery to release the curse. While Meenakshi gave them an oil bottle, desi ghee, a suit and Rs 2,000 in cash, her mother-in-law Sua Devi gave to them her two pairs of gold tops, two gold rings, one gold bangle and Rs 20,000.
The women, on the pretext of relieving them of the curse, took away the jewellery. Meenakshi and Sua Devi told the police that they had been hypnotised by the two women and they gave them everything against their will.
The police has registered a complaint and investigations were on.