For tough airfields, follow set rules
Vijay Mohan
Tribune News Service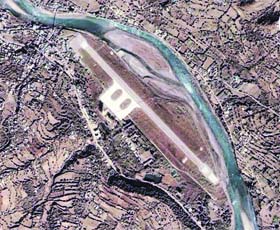 A view of the Kullu airstrip. A file photo
Chandigarh, May 30
The crash of an Air India aircraft while landing at the "table-top" Mangalore airport located atop a hill has focused attention on other airfields where operations are relatively difficult.
While a large number of such airfields, referred to as "critical" in aviation parlance, exist across India, there are three in this region, at Leh, Shimla and Kullu. Conducting flights from these places is more challenging on account of topography, size and climatic conditions. Though tricky, operations to these fields need not be dangerous as it is a matter of sticking to the book.
Shimla is a classic example of a table-top airfield in the region, with a runway length of just about 4,000 feet and steep falls into the valley on either end. On the other hand, Kullu is located in a deep valley with the Beas meandering close to both ends of its 5,000-foot-long runway. Both these airstrips cater to light aircraft only and operations are possible only during good weather.
"Weather plays a crucial role in the hills and only Visual Flight Rules apply where visibility has to be at least 5 km for operating from such airstrips," a pilot said. The direction and velocity of the wind as well as cloud formation change all too frequently and the air traffic control does not permit an approaching aircraft from entering a valley in case of clouds, he adds.
While Leh has a long runway of over 10,000 feet catering to heavy aircraft like Boeings and IL-76, it is a unidirectional airfield where landing and take-off is possible only from one direction. The approach is extremely tricky, as aircraft have to descend between high mountains into the Indus valley and approach the runway between mountains on the left and a hillock with a monastery atop it on the right. Dead ahead of the flight path are mountains again.
"In case of a unidirectional runway, once you have crossed the threshold, you are committed to land and stop as early as possible as there is no room for a go-round," an IAF officer said.
The IAF successfully experimented with using the mountain-side of the Leh runway to land small aircraft like the AN-32 a few years ago, but such landings are not resorted to. There are a number of military airfields located in the Himalayas that officer a huge challenge to aviators.
Srinagar is also a table-top airport, but its 12,000-foot-long runway and large distance from surrounding hills give aircraft a wide safety margin. Similarly, the Gaggal airstrip in Kangra, though short with just 3,900 feet of tarmac for small aircraft to land on, is not unduly affected by mountains.
"Critical airfields are not dangerous," a veteran of flying in the Himalayas said. "It is just a matter of following set procedures and knowing your capabilities and shortcoming as well as that of the machine you are flying," a pilot said.
Guidelines on operating parameters are laid down by the Directorate-General Civil Aviation. Airlines have their own policy rules on operating parameters, though they all need to fall within the DGCA rules. Before flying to a critical airstrip as pilot-in-command, the incumbent should operate from there as a co-pilot with an experienced pilot.