Holiday album
They are the decision makers of the country. But how do our politicians decide when and where to take a break?

While most of us are turning the pages of travel magazines, checking online sites, calling up travel agents, collecting pamphlets, sharing notes on best travel destinations, there is a special category of people, spread across the length and breadth of the country, trying to cook up genuine excuses for not taking their families out for vacations.

Sukhvinder Singh Sukhu enjoys a splash with his daughters

Breaking out of cubicles
Colloquially speaking, we've come a long way and have a way to go. The concept of office spaces and design was the parallel of industrialisation and confirmed just as well to Darwin's theory of evolution. Here's how.
In love with Bollywood
American actor Sarah Thompson, who debuts in Bollywood with Prakash Jha's Raajneeti says that she wants to see herself doing more Hindi movies in the future.
Sri Lanka calling

There is no change in the venue of the International Indian Film Academy (IIFA) Awards, which will be held in Colombo June 3-5, the organisers said Saturday, refuting reports of pressure from the Tamil film lobby to shift the event out of the Sri Lankan capital.


Hrithik Roshan, Sunil Shetty and Sri Lankan cricketer Kumar Sangakkara hold cricket jerseys during IIFA news conference in Mumbai. PTI Photos

Goodbye Hopper
The hellraising actor Dennis Hopper, who shot to fame after directing and starring in the cult 1969 dropout movie Easy Rider, died yesterday. Renowned for his hard living and drug-taking reputation he kept to the very end, the actor lost out to cancer.
Chic remembrance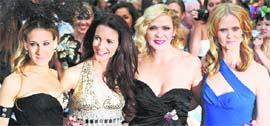 Hollywood actress Sarah Jessica Parker paid tribute to late designer Alexander McQueen at the Britain premiere of Sex and the City 2, by wearing a strapless dress from her collection.



(From left) Sarah Jessica Parker, Kristin Davis, Kim Cattrall and Cynthia Nixon. —PTI photo

No pain, all gain?
Delivering a baby in water promises to spare the mother from labour pain and the child from birth trauma. But is it really a win-win situation?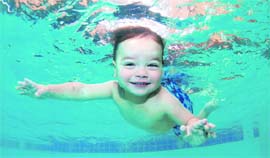 A click on the Google about underwater baby deliveries says that the method was invented way back in 1960s in Russia by Igor Charovsky, a researcher. Then in the same decade, in France, Frederick Leboyer practised it on his patients. He made mothers deliver the baby inside water. The process made it easier for the baby to adjust to surroundings gradually as the warm water felt like womb. Thus it saved the child from undergoing a birth trauma.
Pain in the neck
In today's fast paced world, a working woman in India has to do multitasking — take care of household chores, look after children and rush to her workplace in crowded trains or buses, sit in front of computers for eight to 10 hours.
Work like a grasshopper
Shalabha is a Sanskrit word. Shalabha means the locust or grasshopper. In this asana, one makes a pose that resembles the natural shape of a locust. While lying on the abdomen, one raises the legs in a manner that puts the weight of the body on to the lower abdomen.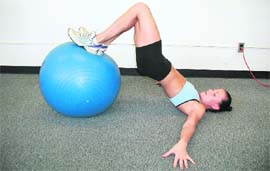 Have a ball
Every new exercise equipment which comes out in the market claims to be the best and the answer to your entire training or weight loss problems. However, most of them are not as great as stated, or safe. But there is one piece of equipment you should not miss out on and it is the stability ball. This is one new tool that is guaranteed to work, so make sure you incorporate it in your exercise regime.
Maan-made magic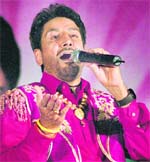 The multifaceted persona of legendary Punjabi singer Gurdas Maan, that of a lyricist, singer, actor and above all folk dancer with abundant energy, came alive at a charitable concert held at Parade Ground on Saturday. It was not just another concert for Maan as he put his soul, mind and music to create awareness for breast cancer, a noble cause already pioneered by the organisers of Rani Breast Cancer Trust, a leading NGO supported by many more institutions.



Gurdas Maan
Winner takes it all
Sometimes truth is stranger than fiction. Believe it or not senior bureaucrat Abhishek Jain, presently deputy commissioner, Hamirpur (HP) better known as the reining world champion in typewriting validates it!
Spade work
Get fresh
Make-up poses a real problem during our Indian summers. It never seems to last and should be kept to a bare minimum, especially during the day. The golden rule for summer make-up is "soft, delicate and very sparing."