M A I N N E W S
Pak withdraws objection to J-K power projects
New Delhi, May 31
In a significant development, Pakistan today withdrew its objection to construction of Uri-II and Chutak hydel power projects in Jammu and Kashmir.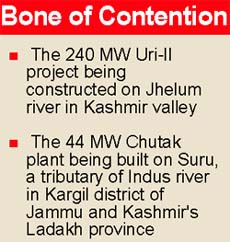 At the Indus Water Commissioner-level talks here, the Pakistani side said it had no objection to the designs of the two power projects after the Indian side provided details of these, official sources told PTI.
Pakistan had earlier raised objections over the 240 MW Uri-II project being constructed on Jhelum river in Kashmir valley and the 44 MW Chutak plant being built on Suru, a tributary of Indus river in Kargil district of Jammu and Kashmir's Ladakh province.
Pakistan had claimed that the projects would deprive it of its share of water.
The breakthrough came on the first day of three-day Indus Water Commission talks. The Indian delegation is led by Indus Water Commissioner G Ranganathan while the Pakistani side is headed by his counterpart Syed Jamaat Ali Shah.
This is for the first time that Pakistan has accepted the the designs of power projects at the level of Permanent Indus Commission, sources said. Earlier, it took a ministerial meeting to make Pakistan agree to Salal power project.
Under the 1960 Indus Water Treaty, Pakistan has exclusive right over three of the common rivers -- Indus, Jhelum and Chenab -- while India has exclusive right over Sutlej, Ravi and Beas. The two projects are in an advance stage and are likely to be completed by the end of this year.
Earlier, Baglihar and Kishenganga power projects had been delayed for long because of Pakistani objections.
On the 450-MW Baglihar project, Pakistan had even moved the World Bank, which has the role of neutral arbitrator under the Indus Water Treaty in the disputes between the two countries arising.
The project could go ahead only after the World Bank gave its clearance with suggestions for some minor changes in design of the dam. Kishenganga project is still under dispute, with Pakistan refusing to give up its objections.
During today's talks, India agreed to continue providing Pakistan with advance flood warning for the coming Monsoon season. India has been providing flood data to Islamabad since 1989 as a goodwill gesture. The flood data enables Pakistan to prepare and reduce damages in case of flash floods.
During the three-day talks, Pakistan is likely to raise certain issues regarding the Baglihar power project and the Nimoo Bazgo project of Jammu and Kashmir.
Baglihar Power Project is a run-of-the-river power project on the Chenab River in the southern Doda district of Jammu and Kashmir.
Prime Minister Manmohan Singh had dedicated the 450-MW Baglihar hydro electric power project to the nation on October 10, 2008. "There are some pending issues which Pakistan is likely to raise during the talks," sources said.
According to NHPC, the proposed Nimoo Bazgo H E Project is a run-of-the-river scheme to harness the hydropower potential of river Indus in Leh district of Jammu and Kashmir. The project is likely generate 239 Mega Units of power. — PTI