Vision for future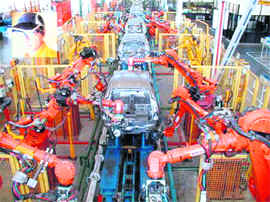 Robotics holds the promise of an exciting career for those with a scientific and innovative bent of mind, writes Fazle Ghufran
Robotics is a dynamic field involving design, functional use and maintenance of robots. These machines are being used in several capacities, including manufacturing, transportation, surgery, weaponry, safety, research and mass production of consumer goods.

Robot technology has replaced human element in several industries like car manufacturing units


Careercature
Sandeep Joshi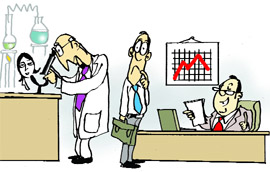 Please wait! We will have to conduct a few tests in the laboratory to gauge the exact level of truth in your CV.

Career Hotline
Ship building engineering courses
Q. Could you please help me out with the names of colleges that offer ship building engineering in India?
— Dipankar Gupta
A. If shipbuilding interests you, and if the idea of working with submarines, ROVs (Remotely Operated Underwater Vehicles), naval frigates and aircraft carriers fascinates you, then you should be looking at the following BE/BTech courses in Naval Architecture/Ship Building:
Special chance
Charandeep Singh
Our relationship with society is symbiotic. It works on a reciprocal basis. What we get from society, we need to give back to it. What better way to give it back, than to do something for physically challenged and differently abled people. "There has been a systematic neglect of the disabled in India", says Javed Abidi, Chairman of the National Centre for promotion of Disabled People (NCPEDP). Their employability is a cause of concern.
New wave entrepreneurs
A new generation of homegrown entrepreneurs has come into existence as a result of economic downturn, with one in every six people surveyed in the country describing themselves as 'self-employed' now, a survey has said. According to workforce solutions provider Kelly Services' survey of 1,34,000 people globally, including over 4,000 in India, the economic slowdown has led to the creation of a new wave of self-employed individuals.
Course chat
Patent and IP
NEW DELHI: The Global Institute of Intellectual Property (GIIP), an institute in the field of Patent & Intellectual Property Services, has announced admissions open for its diploma and certificate courses. These courses are available at the GIIP centres in Delhi and Bangalore and are designed specifically for graduates, post-graduates and PhDs in technical and legal domains who wish to build a career in the booming Intellectual Property (IP) industry.
Getting hired
D.C. Sharma
A wide variety of new careers and jobs are on offer these days with the advancement in science and technology. Along with this change the requirements of job providers have also undergone a change. Thus it is important to know the pulse of the interviewers if you want to see your name in the list of successful candidates.
Happiness @ work
Gems of ancient wisdom
For change, get out of comfort zone
At the workplace, many of us keep hankering for a change for the better. But nothing changes because all of us have found our comfort zones and are unwilling to come out of these. Through sacrifice comes happiness, said Krishna to Arjuna (Gita 4.31). While on the peace mission before the Mahabharata war, Krishna reiterated it to the Kuru elders, "For the greater good of all, each must sacrifice a little of his own. Arrest Duryodhana, make peace with the Pandavas and save the Kshtriyas from destruction."