PUNJAB
HARYANA
JAMMU & KASHMIR
HIMACHAL
REGIONAL BRIEFS
NATION
OPINIONS
LETTERS
BUSINESS
SPORTS
WORLD
M A I N N E W S

A TRIBUNE INVESTIGATION


Sukhna is dying, save it!
n Chandigarh Admn, Haryana Govt share the blame for its sorry state
n Much of lake catchment area denuded, check dams silted over
n Pernicious weed throttling Sukhna, poor rainfall another woe
Sanjeev Singh Bariana & Smriti Sharma Vasudeva
Tribune News Service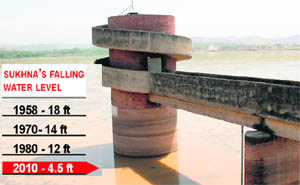 Chandigarh, June 2
You can play soccer on the drying bed of Sukhna today, the lake where the Senior Asian Rowing Championship was held in 1989, and which was famous for its rowing channel being the longest in Asia.
You really don't need statistics to tell you that Sukhna is dying - just take a walk - on it! The water level has receded from 18 feet in 1958 to approximately 4.5 feet today. In almost half the lake, there is no water at all. In fact, a senior Chandigarh Administration official, recently, conceded that the old lake was on its death bed and that the city needed to "virtually" create a new one at the same place.
A Tribune investigation reveals that the current efforts to save the Sukhna are futile, shortsighted and likely to end up in failure. The artificial lake, formed in 1958 by damming the Sukhna choe, is critically dependent on the preservation of its catchment area that falls mainly in Chandigarh and parts of Haryana.
Sukhna faces three main threats and they have to be dealt with effectively, promptly and on a long lasting basis. They are: deforestation, silt and weeds. People's efforts, while commendable, have done little to desilt the lake, and in fact, the UT Administration, too, has failed, since unless the entire catchment area is thickly planted with trees and an adequate grass cover, silt will continue to come into the Sukhna, which itself has to be simultaneously desilted.
Sukhna Lake is holding on to a life-support system of over 120 check dams in blocking the silt inflow, which is slowly, but definitely, choking it. The Tribune team found that a majority of check dams are filled up and silt is overflowing them. Any rain will only mean a flow of silt downstream into Sukhna. While around 10 of the dams are being desilted in Haryana this year so that they can block the fresh inflow, this is certainly not enough.
Even of other check dams meant to retain water, only 30-40 have water left in them. The water level, there too, is receding at a pace of 1-1.5 feet per month on an average, due to evaporation and seepage loss. The main reason is that there has been no effort to re-afforest the higher grounds in Haryana, from where a major source of water for the Sukhna flows. The UT, while faring better then Haryana on green cover, has failed to grass the area that falls under its jurisdiction leading to a continuous silt inflow.
Meanwhile, the UT's efforts to desilt the lake bed is like pouring water into a bucket with a hole. Every year new and expensive plans are drawn, as being done this year, too, only to have silt fill up all over again. Worse, thick undergrowth now covers much of the lake at the Regulator End, taking away much of the water that should flown into the lake.
Meanwhile, as the lake rapidly recedes, there is a controversy over whether dredging should be carried out on a warfooting even calling in the Army or civilian efforts using earth movers should be employed.
Worse, a pernicious weed has now invaded Sukhna and is throttling much of the lake with thick green cover. There have been major delays in sorting out the most effective way to deal with the weed. The more they de-weed the lake, the more it seems to grow back.
The Tribune is not just exposing its sorry state but starting today will also speak to a range of experts to find solutions to the main threats. The Sukhna is sick — in fact, some will say very sick. It needs critical care urgently. Will the Prime Minister Dr Manmohan Singh, who must surely remember his walks by the lake in his days in Chandigarh, also step in to restore its health?