High designs
Young designers are set to showcase their collections at Anukama 10, the annual show of NIIFT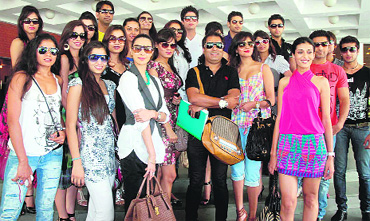 Azad Bihari, a student of Northern Indian Institute of Fashion Technology, has a story to tell. Two years ago, when he was part of the Special Task Force in Jharkhand, 16 of his colleagues lost their lives in an attack by naxalites at Bokaro steel plant. "I felt as if I had been blessed with another life, which I will not waste without telling people about their sacrifice." And Azad exactly did that on Wednesday at the announcement of 'Anukama 10', the annual design collection show of students of NIIFT.
For the record
Hear this out…ever got a haircut in less than 50 seconds (Oh! what luxury in our 24/7 packed schedules) or attended a wedding where the 'baraat' has 65 dogs, each of a different breed? (No, we are not talking metaphorically). Lets simplify things…how about passing eight kites through a needle eye or have three rooms full of promotional gifts (Okay, this we can pass of as consumer interest activity). If you go through the Limca book of records and the Global book of records, these would be some of the achievements of our 'city-wallas', 10 of whom came together to share them with us on Wednesday.
Virtual you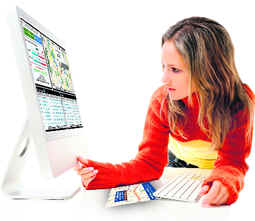 With the cyber world fast becoming an extension of us, people are getting more and more conscious of their online identities
Today when one is as active (or even more) online as in real life, one's reputation in cyber world matters a lot. A recent survey by Pew Research Centre's Internet & American Life Project, the number of people who track information about Internet identities has gone up from 47 per cent in 2006 to 57 per cent. People back home are as conscious about their online identities. A word with some city folks confirms the same.
Mind that sun
The next time you buy a sunscreen, check out the Sun Protection Factor
Scorching heat, dry skin, wrinkles, sunburns, premature ageing`85any solutions at hand? Of course, there are numerous. But, one needs to pick the best and here are a few tips on how to go about doing that. Most people are understandably confused as far making a choice on sunscreens is concerned - Lotus, Lakme, Avon, Neutrogena, Biotique, Vichy, Mary Kay, Nature's Essence, Organic, Ranbaxy, Ponds, Ayur, Olay the list of brands available in the market is endless.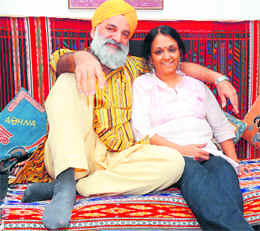 Bond Wagon
Growing together
(Harleen and GS Chani)
Relationship: Husband wife
Time together: 30 years
Same-to-same: We both do not believe in trivialities; see life straight in the eye and are restless to constantly engage in fresh ideas.
Yet different: We are blessed with different sensibilities. While I am comfortable with words, Chani has amazing visual aptitude. – Harleen
I am quite flamboyant but she is the opposite. Slow and steady, she gains a lot without even mentioning once. – GS Chani
Science of marriage
A study on divorce classifies marriages into five types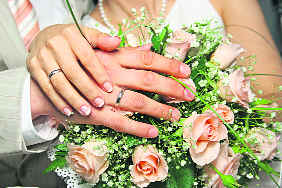 A new book has once again enlivened debate over marriage and marital life. A 30-year study on divorce in the US, by E. Mavis Hetherington, identifies five types of marriages, says the book entitled For Better (For Worse): The Science of a Good Marriage. The cohesive marriage and the traditional marriage were most likely to be stable over time. However, Hetherington identified three styles of marriage - the pursuer-distancer, the disengaged marriage and the operatic marriage - that put couples at high risk for divorce, writes author Tara Parker-Pope. The cohesive/individuated marriage had the second lowest divorce rate.
Heal thyself
I am 32-year-old single woman, and suffering from severe emotional problems. I lost my father about two years back and ever since I have not been able to recover from the shock. This has affected my behaviour towards everyone around. My friends seem to be avoiding me and my colleagues at work are also rude and unreasonable. My work is affected and my boss has just called me to warn me that if I continue like this any longer they will not require my services. I do not seem to be able to pull myself out of the situation. Please help.
Get animated
Guess which career has many takers after cricket and Bollywood? Animation and no prizes for guessing! Whether it is our Indian Hanuman, Roadside Romeo or the loved Shrek , animation indeed is the new buzzword.
Play on
Sony India expands its Walkman MP3 player collection with the launch of Walkman W & B series. Advancing its revolutionary design, the new W series is now water resistant and washable. Sporting a new metallic look, B series offers a more intuitive user experience with booming bass that will resonate with young music lovers.
Cool it!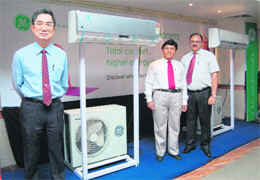 GE Appliances has come out with nine different models of split ACs, which will be available to consumers from Wednesday at leading multi-brand outlets in the region. GE Appliances has appointed Delhi-based Shelka Marketing Private Limited as its distributor for the Northern Region. According to Ranjan Damodar, General Manager and Managing Director, GE Appliances, Asia, "For more than 100 years, GE Appliances has been recognised by consumers around the world for innovation, quality and energy efficiency. It is exciting to bring that record of success to such a vibrant and growing country. We introduce a wide selection of split ACs for consumers looking for style, innovation, reliability and quality."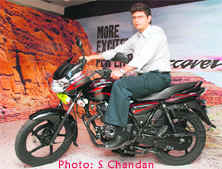 Power packed
Riding high on the success of 100cc Discover DTS-Si and to strengthen its presence in the commuter segment, Bajaj Auto launches the new Discover 150 motorbike. With the promise of 'More Excitement per Litre', this new model is all set to thrill riders with its exciting features as well as good mileage. The Discover 150 is the first bike in the 'Commuter Sports' segment that offers the utility of a commuter bike combined with the performance, style and features of a sports bike.
Many facets
Actor Parvin Dabas is set for multitasking — he has turned producer by launching the movie Sahi Dhande Galat Bande under his own banner Very Fishy Films. He will also direct and act in it.
Facing the heat
Hollywood star Jessica Alba felt alienated on the sets of new thriller The Killer Inside Me as the cast and crew refused to talk to her over the gory make-up. The Sin City star, who plays a woman who is beaten beyond recognition by a psychotic killer, played by Casey Affleck, admitted her co-workers avoided her before she filmed the graphic scene because her make-up was so disturbing.
Britney's bad behaviour
Pop star Britney Spears had a public fight with her boyfriend Jason Trawick in Los Angeles. "Britney was rude to the waitress and then started arguing with Jason, saying she'd had enough. He was trying to calm her down but she wasn't in the mood," nypost.com reported quoting a source.
Still wondering!
Hollywood star Johnny Depp says he struggled with nightmares while he was shooting for Alice In Wonderland. The 46-year-old actor admits creating such an oddball character as the 'Mad Hatter' left his mind buzzing at the end of the day and dark thoughts would haunt his sleep.
No labels
Shrek star Antonio Banderas doesn't consider himself a sex symbol. "I don't believe it. Come on!" a publication quoted Banderas as saying during an interview at a Beverly Hills hotel. "When you get to my age and look in the mirror, how can you think that? "I don't believe in those labels. There are a lot more guys more handsome than me. All that stuff is just a game."
Bat an eyelid
Turn heads with just one flutter of your long eyelashes as Avon launches its new 'SuperExtend Mascara' that thickens and defines your eyelashes giving you a perfect look. Super Extend Mascara makes your eyelashes look 55 per cent longer with each stroke. Its water proof formula makes it an apt choice for summers.
Miss you, baby!
Hollywood actress Katherine Heigl says she is missing her newly adopted daughter while working away from home for her upcoming movie Life As We Know It.