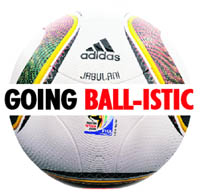 The FIFA 2010 World Cup ball, Jabulani, kicks up a debate even as its Brit designer promises tips on the winning style
The World Cup ball's British designer Dr. Andy Harland has promised to give insider tips regarding the ball to the Three Lion's stars, which could give them the edge over their rivals. The Adidas Jabulani has come in for a volley of criticism from players, but Dr. Harland reckons that is just because the England players are not used to it. "I'd happily tell Fabio Capello everything about the ball. It would probably give him and the players a slight advantage in South Africa, there's no doubt about it. It could be the difference between winning and losing," The Mirror quoted Dr. Harland, as saying.
Banking on young blood
The upcoming Asia Cup will be an acid test for the senior cricketers, especially in view of the bright show by some younger players in the Zimbabwe series
Abhijit Chatterjee
The Asia Cup, to be played in Sri Lanka from the middle of June, could well turn out to be the acid test not only for skipper Mahender Singh Dhoni but also for quite a few players who, till some months ago, were counted to be among the regulars of the Indian squad. True, it will be inappropriate to equate India's performance in the just-concluded World Twenty20 Championship with a 50-over game, but the pressure on the players will be tremendous even if India are occupying the second spot in the ICC's one-day rankings, and would be expected to do well.
| | |
| --- | --- |
| Beauty and the beast | Somethin' fishy about football |
| | |
| --- | --- |
| A group of chimpanzees play with a football in the colours of the German national flag at the Serengeti-Park in the northern German city of Hodenhagen ahead of the FIFA 2010 World Photo: AFP | Blue palett surgeon fish and orange sea-perch pick at a fishbait football, in a football field decorated fishtank at the Hakkeijima Sea Paradise aquarium in Yokohama, suburban Tokyo. The new attraction is for the upcoming FIFA World Cup in South Africa. Japan (blue team colour) will play against The Netherlands (orange) in the first round of the event Photo: AFP |