In search of identity
Reviewed by Charandeep Singh
A Break in the Circle
By Sharmila Kantha.
HarperCollins.
Pages 208. Rs 250.

AS the title of the novel suggests, it is a break in the monotonous and mundane circle of Anu, the protagonist, once she develops an online contact with a professor in America. Interspersed with Bhojpuri dialects, the novel is set in Patna, which is though urban but not so cosmopolitan at the same time.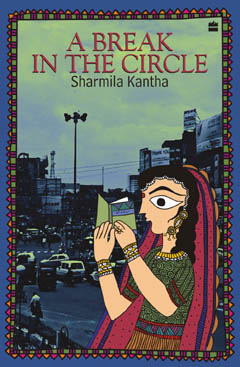 A Break in the Circle gives us a vivid picture of the social settings in which the protagonist leads her life. The first two chapters transport the reader back to the mid-90s era, where the cell phones had just become popular and the Maruti 800 had replaced "Hamara Bajaj" as the insignia of urban middle class prosperity.
The novel is all about insipid social labyrinth, woven around Anu, in which she has to charter different roles and perhaps is expected to execute them with panache. On the one hand, she does her job of the homemaker with dexterity and on the other, she has to strike a balance with her husbandís relatives who are visiting her place to find a desirable matrimonial match for their daughter and an equally interfering her own mother. All these daily activities leave Anu a little time for self-introspection.
Surrounded by so many characters, Anu doesnít let the protagonist let go for a second. Nevertheless, each character has a distinct identity. Each one of them is in sync with the basic storyline and one doesnít get lost in the hustle and bustle of other characters.
Anuís life revolves around boisterous Kallu Chacha who is staying with her family to get his daughter married; an understanding and compassionate husband, Parnab; their naughty son, Arnab, and adolescent daughter, Radhika. Some surprise interjections are there in the form of Srijina who buys a goat with some monetary help from a women self-help group, and Gautam and his educated wife Megha who land up in Patna to adopt a baby.
Meanwhile, an online contact with a Sociology Professor of America, who was Anuís husbandís teacher, makes a paradigm change in her thinking. It makes her more aware as to where the world has moved and removes ambiguity about his reasons to leave Patna but at the same time makes her believe that though people are different, yet they are part of the same community. After this interaction, a reality dawns upon her that creating her own identity is very important. The novel is a good case study of identity crisis, which we all go through at some point in life, especially the Indian women who face it more than often.
Sharmila Kantha, a fourth generation author, has an easy style of narration. Though not very riveting, it makes for a good Sunday afternoon reading. The minute we think the plot begins to loose hold, the author pounces back connecting all the sequences and narrations, driving it towards a befitting end. One of the major revelations of the novel is that oneís own life is a consequence of oneís own actions. The end is quite sequential where all the beads get interwoven to form a rosary.