Pritish Again
Pritish Nandy, who has donned multiple hats — of a painter, filmmaker, columnist, journalist — has brushed up his rusted knack of poetry and has after ages come out with a book, for which he gives all credit to his friend and Oscar-winning lyricist Gulzar.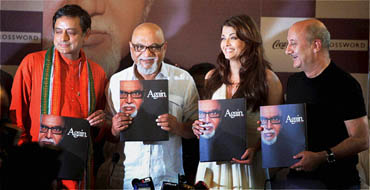 Journalist Pritish Nandy (second from left) at the launch of his new collection of poems Photo: PTI

"Every time I met my friend (Gulzar) he kept telling me why am I not writing another book. Finally, I wrote this book," said Pritish at the launch of his book Again at Crossword recently. He had stopped writing poems after publishing 32 books of verses, before he left Kolkata and came to Mumbai to became a journalist.
"I left Kolkata, the city where I used to live and where I wrote poetry because I could not make a living from my writing. I left it to come to this city to be a journalist. When I joined journalism, I found that there was a clear difference in the way a poet deals with language and words and the way a journalist deals with language and words," he said.
"In journalism you write as it is. Poetry is tentative, it's about vulnerability, poetry is about not knowing what the next word should be, poetry is about escaping the clich`E9s. When I became a journalist, I succumbed to the clich`E9."
Gulzar, who was present on the occasion, said: "In the mid-70s, when I used to go to Kolkata, I used to visit a book shop in Park Street and pick up books on Bengali poetry and that is where, for the first time , I discovered this poet called Pritish whose book I bought then. I picked up those books in the 1970s and got it autographed in 2009, last year.
"All this time, the books were in my collection, they are still there. I didn't know him. I never met him personally. But I looked for this poet because the writings were in English, though I was sure there must be some Bengali poem by this poet because of their temperament. They were progressive and there was an aggression. The poet is still alive. Welcome to his poetry again through his book Again."
Former minister Shashi Tharoor, who knows Pritish since his teenage years in Kolkata, reminisced, "Pritish published some 17 books between the late 1960s and 70s. They were really extraordinarily good poems. He was a young poet but a poet with a tremendously original voice. I can tell you he inspired an entire generation of young people in Kolkata. One of the most striking things about him was the originality of his voice. I am glad that he has come back to his poetry once again."
Actress Aishwarya Rai Bachchan read a few lines from a couple of his poems. Actor Anupam Kher and writer Chetan Bhagat were also present. — IANS