Daredevils & dirt tracks
From roads to rivers, there are many frontiers that the adventure-loving
'Funjabis' are crossing and conquering, writes Mehak Uppal

WHAT comes to mind when you think of typical Punjabis? High on spirit, physically fit, rough and tough, risk takers, go-getters, and so on. In keeping with this popular perception, it made sense to explore what adventure action the fun-loving Punjabis are up to this season. And, needless to say, we were not left disappointed.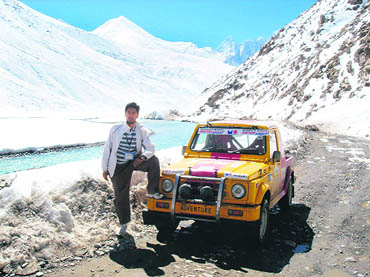 Rallyist Jagmeet Gill feels that sponsors for adventure activities are hard to come by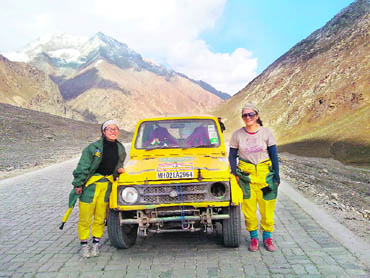 Part of one of the first all-women car rallying teams, Shuchi Thakur (R) with her navigator Molona Wati Longchar

A quest to explore and the high they get from the sudden rush of adrenalin clearly has many of them ready to conquer the rough and rocky. Simply put, the 'Funjabis' are living it up and that, too, in full style.
An interesting example of 'where there is a will, there is a way' is that of the Chandigarh Adventure Association, which was founded way back in 1989 to pursue motor sports. Kulbir Singh Gaba, president of the 500-member club, started the journey when people did not even know the basics of it all and has now travelled to international destinations. "I am very glad that from a humble beginning, our outfit is now slowly going global. We went to Thailand last December and next on our itinerary is China. We also indulge in water sports and other such activities."
In fact, realising the great potential that has largely been left unexplored, Rahul Soni has gone one step forward and imported ATVs (All-Terrain Vehicles) and dirt bikes to start an adventure company named Xtremeways. He has introduced his mean machines on a luxury farm tourism resort, near Hoshiarpur, named Citrus County. "The response has been very encouraging. The guests are enjoying this big time and it has only made us hopeful that more people will use our services in future." Rahul provides the machines on rent and takes care of the entire process, from their transportation to setting up the area for their use. Knowing the Punjabi's love for grandeur, we won't be surprised if we were to spot them at one of the farmhouse weddings very soon.
All said and done, what about the risk factor involved in following this passion for adventure? "We take all precautions possible and strictly follow the safety guidelines. In India, people tend to overlook a basic requirement like wearing helmets. For this very reason, we have not made available dirt bikes to the public and they are only at the disposal of our trained staff," says Soni with a sudden change in tone, indicating the gravity with which he treats the matter.
Gaba, on his part, opines that with proper safety measures in place, it is safer to pursue adventure sports than to travel on road. "It's all in the mind ji," he adds with a laugh.
Considering the physical stamina involved, one would think that it must be one of those male- dominated areas. Think again. Women from the region are equally, if not more, participative in all the thrill and action, that, too, without a reserved quota. Soni quips, "I think Punjabi women are much better than men because they listen to the safety instructions carefully and then follow them diligently. So, women are not just doing it but doing it the perfect way."
Man or woman, one needs funds to indulge in it seriously and consistently. So, how do people rake in the moolah to pursue all this action? Apparently, it's not all about fun and enjoyment, as there is not much support coming forth in India, as sponsors are hard to find. Even Reena Kaushal Dharmashakthu, India's first lady to go to the South Pole last year to mark the Commonwealth's 60th anniversary, had to take a loan from a bank and borrow from the friends.
Shares Jagmeet Gill, a car rallyist who has been pumping in money at his own level just to do what his heart says, "Parental support along with money from my own pocket has kept me going. I might find some sponsors now, as I move into the professional category, but so far, it was pretty tough to sustain oneself. Also, I can never think of taking it up full time as a profession for the same reason."
It was all the more tough for Soni, who imported the SUVs only to realise that the land rates had sky-rocketed, making it impossible to buy the large piece of land required for his kind of venture. "It's not just about the land; we keep facing new kinds of roadblocks in our unconventional work. For example, we used to transport our machines on a Maruti Gypsy till date, but the vehicle has now gone out of production, so we are now looking for an alternative!"
In spite of the hardships, it is heartening to see city people not just finding a way to enjoy these challenges, but even winning accolades. Gaba and his team have made it to the Limca Book of World Records by being the largest team (87 members) to have reached Khardung-la, the highest motorable pass of the world situated in Ladakh, for three consecutive years (2001-03).
Jagmeet has also done the city proud by coming second in Desert Storm 2009 and third in Desert Storm 2010, both in the Ndure category.
Seems if we have our heart set on something, the mind surely finds the way and we end up giving it our best. This is the reason that from trekking to rock climbing to paragliding, to rafting and paint balling, you name it and these Punjabis have done it. The adrenaline rush is clearly the new in-thing and who cares if there are no funds, sponsors or technical support. After all, it is the spirit that matters and that these daredevils have in abundance.