Egg treasure
The designing of eggs has, for centuries, caught the fascination of
many an artist. Man Mohan traces the beginning of this art form

IN France, from the 16th century onwards, it became customary to exchange elaborate surprise Easter eggs. Fabulous egg-shaped treasures were created in the 1860s by the imaginative goldsmith of Russia, Peter Carl Faberge, and his meticulous artists and craftsmen. In 1869, he sold the first pieces to the St Petersburg Hermitage.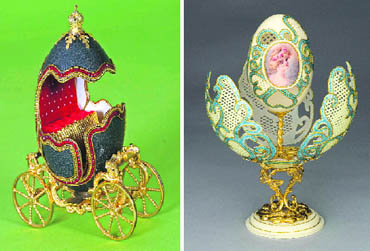 A chariot (left) and a photo frame by Farha Sayeed, Indian egg artist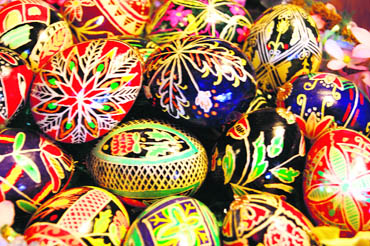 The intricate and beautiful Pysanky eggs are Ukrainian expressions of faith and friendship

Peter Carl Faberge soon became the Court Supplier to the Czars and had the honour of using the family crest of the Romanovs in his company logo. In 1885, Faberge produced the first imperial egg. It opened up to reveal a yolk, which contained a golden hen, which, in turn, inside had a diamond miniature of the crown and a tiny ruby egg.
The egg was a gift to the Czarina Maria. It reminded her of home and each year, thereafter, a new egg was commissioned by the Czar and created by Faberge for the Czarina. The eggs became elaborately more jewelled, conveyed historical meaning and had a hidden surprise.
The Czar gave his wife an egg every year during the Russian Orthodox Easter festival. From 1895 to 1916, his successor, Nicholas II, gave two Easter eggs each year, one to his wife and one to his mother.
In Ukraine, the tradition of egg decoration began as early in 988 AD, long before Christianity came to that country. Though many European immigrant groups brought egg-decorating traditions with them to the Pittsburgh area, none is more intricate and beautiful than Pysanky, Ukrainian expressions of faith and friendship. "The Pysanky eggs are one of the most beautiful and intricate pieces of art," says noted Farha Sayeed, Indian egg artist.
The Persian culture also has a tradition of egg decorating, which takes place during the spring equinox. This time marks the Persian New Year, and is referred to as Norouz.
Ostrich eggs have played an important part in tribal rituals, mainly in Africa. In Bori ritual, ostrich eggs are wrapped in leather and hung above the door to ward off evil spirits and, at Kaiama, an ostrich egg is placed on the thatched roof of the chief's palace even today.
Ostrich eggs had different connotations in different societies. In medieval Islamic societies, these symbolised faith and patience. In African societies, these were considered as symbols of fertility and purity and were generally kept in a room where there were pregnant women. But gradually these began to be kept all over the house.
Mystique of egg art in India
Ostrich eggs have been particularly associated with some beautiful mosques and dargahs or tombs of Sufi saints in India and other countries. In the dargah of Sayyad Zain-ud-Din, a Muslim saint, built in 1370 AD, near Aurangabad, the grave is richly embroidered, with a string of ostrich eggs suspended above it. In the great tombs of Hazrat Nizamuddin and Amir Khusro in Delhi, ostrich eggs are hung from the iron polycandela of the tomb.
In the 16th century Sultan Ahmed Cami Mosque in Istanbul, light lamps were covered with gold and ornamented with gems incorporating ostrich eggs, luster and crystal balls. The 19th-century Great Mosque in Djenné, Mali, in West Africa, is a beautiful example of Muslim architecture. The front of the mosque includes three massive towers, each topped with a spire capped by an ostrich egg. Mesopotamia also made ostrich eggs into cups and eggs found in Etruscan graves, and in those at Mycenae, suggest that they were articles of trade in early times.
The eggs were sometimes blown and hung in churches, as ornaments where all kinds of legends came to be attached to them. In the middle ages, it was usual to place a coloured egg in the representation of Our Lord's tomb on the altar amid the ritual greeting: "Christ is Risen."