Flying high
Vikramaditya Motwane, creator of Udaan, is the latest addition to a new breed
of globally clued-in Mumbai filmmakers, writes Saibal Chatterjee

IT was in 2003 that Murali Nair's Malayalam feature Arimpara, based on an O.V. Vijayan story, premiered in the Un Certain Regard section of the Cannes Film Festival. Its impact was low, and the applause that the film received was at best grudging.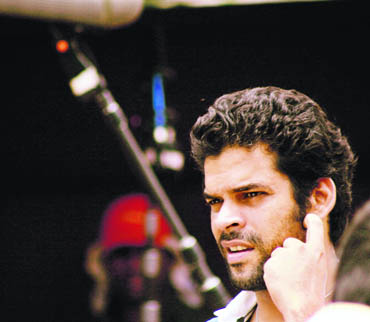 Vikramaditya Motwane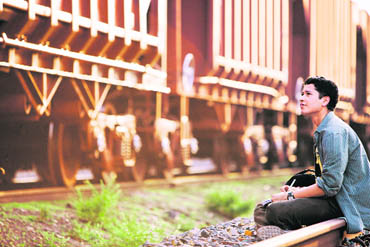 Rajat Barmecha in Udaan

Seven years on, in the 63rd edition of the famed film festival, another Indian film, debutant Vikramaditya Motwane's Udaan, was screened as part of the same section. The section, which was introduced in 1978, presents a score of films with all kind of visions and styles; "original and different" works which seek international recognition This time around, the response was markedly different: the intense, well-crafted coming-of-age drama, set in small-town India, drew a near-full house and was greeted with sustained applause. Indian cinema made a new beginning.
In Cannes, life for 33-year-old Motwane, a Mumbaikar of half Sindhi-half Bengali parentage, came full circle. It was here, in 2002, that his directorial ambitions were first kindled. In the seaside town as part of the Devdas entourage, he caught Ken Loach's Sweet Sixteen, a drama about a troubled teenager who sets out to raise money for a new home.
"The film left a deep imprint on my mind," Motwane recalls. It set him thinking: why couldn't a similar film about a youngster be made in India? He tapped into his own life and environs to come up with a screenplay that revolved around a fractious father-son relationship.
The Udaan narrative is set in Jamshedpur though initially it wasn't meant to be. Says Motwane: "I wanted to shoot in one of the satellite towns around Delhi — Ghaziabad or Meerut. It was my friend (filmmaker) Imtiaz Ali who recommended his hometown. I went down and had a look. I instantly knew Jamshedpur was just right for Udaan."
What struck Motwane about Jamshedpur was the pronounced contrast between the well laid-out TISCO area and the bustling, chaotic industrial township of Adityapur. "You cannot miss the schizophrenic
quality of Jamshedpur," the writer-director says. "It is an amalgamation of diverse
cultural influences." Indeed, the town emerges as a character in the film, reflecting the yawning gap that separates the young protagonist from his insensitive father.
The taut, well-acted film narrates its somewhat bleak but eventually uplifting story with a fine balance of compassion and temperance. The lead actor, first-timer Rajat Barmecha, is a revelation as a boy who clings on to his dream of being a writer even as his repressive dad is bent upon forcing him into a life of drudgery.
Motwane was understandably surprised when Udaan was selected for Cannes. "It was a shot in the dark," he says. "The film was ready by February, so we submitted it for consideration. We never thought it would make it." When it did, it triggered a whirligig of activity for the unit. With only a few weeks to go, the post-production process had to be hastened and the film had to be subtitled in English and French.
But the sleepless nights were well worth it for Motwane. "Being in Cannes with a film is personally satisfying. I feel a sense of achievement but the real victory would be if the domestic audience responds positively when the film opens in July," he says, emphasising that Udaan has essentially been made with Indian audiences in mind.
Udaan isn't an arthouse film, he asserts. "It is an emotional family story that revolves around a troubled father-son relationship. It is a new age, independent, middle of the road film," he points out.
The strength of his film, he says, lies in the screenplay. "We worked really hard on the script," he says. The first draft was written in 2003. "In late 2003, I gave Anurag Kashyap my screenplay. He read it in an hour and returned it, and went right back to what he was doing. He told me that one day he will produce this film and that nobody else will. I wanted to smack him then but it turned out that he was right."
Motwane began his career as a production assistant to his mother, Dipa De Motwane, during the making a television chat show, Teen Talk, hosted by actor Jalal Agha. He then worked with Sanjay Leela Bhansali as an assistant director on Hum Dil De Chuke Sanam and Devdas. And as he waited for his first independent screenplay to attain fruition, he worked on scripts of films like Dev D and Goal.
Motwane, who spent the first six-seven years of his life in Nashik, where his father owned a factory, was weaned on a staple diet of Manmohan Desai and Prakash Mehra films before he discovered the work of the great auteurs of world cinema, including Stanley Kubrick and Akira Kurosawa.
Udaan came to fruition after several aborted attempts. "The producers would ask me to make alterations to the screenplay. They would say that the film did not have mass appeal," says Motwane.
His persistence paid off. In March 2009, Kashyap, who had by now established himself at the forefront of a new kind of Bollywood cinema, and a friend of his, Sanjay Singh, raised enough funds to green-light the flight of Udaan. "Once the shoot began, there was no interference from any quarters. They backed me all the way to make the film I always wanted to." The Cannes breakthrough, says Motwane, will make sense only if it is sustained over a period of time. "Commercial, star-driven films are a deterrent for independent cinema. But I think the scenario is changing. It's definitely getting better for younger filmmakers. It would be crucial for us as a group to deliver quality films consistently so that this turns into a full-fledged movement." he says.