At peace
In the city, Shamita Shetty talks about the role of spirituality in her life & much more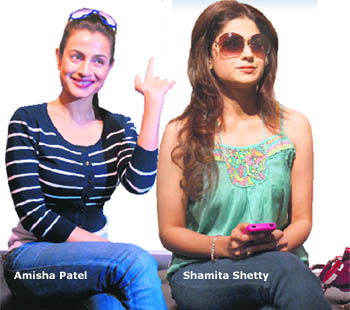 I am reading some scripts these days. I don't want to do just about any movie. As an actor, I want to experiment with roles…ask any actor (not the happening ones, of course) about their upcoming projects, these are the standard answers that 'invariably' come up time and again.
Fashion her way
No matter what brand she sports, no matter what designer outfit she flaunts, no matter how she does her hair, what accessory she carries, Amisha Patel's design sense never seems to go down well with the fashion critics. However, this does not deter this gossamer skin actor to wear her heart on her dresses.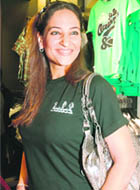 Of many facets
Handling celebrities and their tantrums is not an easy task
First it is modelling, then veejaying, then television and finally movies. This is the standard route every celebrity eventually takes. But exceptions cannot be overlooked and a little deviation in this route is acceptable. Television actor Rakshanda Khan too has taken a detour. Instead of the natural progression from television to films, she has taken up a different path and a new role - she is busy handling work of her event management company 'Celebrity Locker'.

Rakshanda Khan

Changing hues


Nowadays, exotic flowers are a hot favourite as gifts for your loved ones
We all like the pretty flowers blooming around us. Remember that tree laden with yellow flowers, which hang like a bunch of grapes? But how often have you wondered that these can be an excellent choice as gifts rather than the roses and carnations?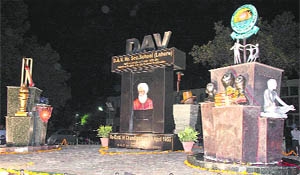 Sculpting history
The fourth pillar of the sculpture is a little more significant than the rest. Through various symbols, it speaks about the sacrifice of martyrs who at some point of time were associated with the school.




A sculpture - Shubh Aarambh Chowk - marks the 125th birth anniversary of DAV School-8.

Musical bonanza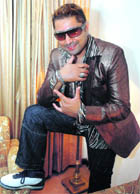 Popstar-singer-songwriter Taz - Stereo Nation is ready to set the stage on fire with his new album
Twist & Shout is very peppy-contemporary in style and encompasses a very soulful rainbow of vocal styles. It's all set for yet another milestone in Taz's history and repertoire. With exciting collaborations with Rap Star Bohemia , UK Bhangra Dj/Producer Mixman Shawn, DJ Sanj and many more - the album is a wonderful experience in Indi-popdom. Taz sustains the formula Stereo Nation is famous for by way of continuing to write songs that have evergreen sustainability, strong melodies, catchy hooks and lyrics that touch the hearts of everyday people.
Wait 'n' watch
Nikhil Dwivedi rubbishes 'bare' rumours
Two-film-old Nikhil Dwivedi has shunned rumours that he bared all in the forthcoming movie Raavan as 'only speculations'.


Off the court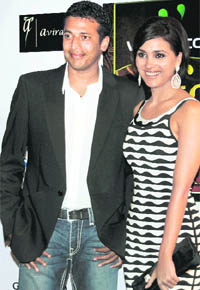 Bollywood actor Lara Dutta along with Tennis player Mahesh Bhupathi at the IIFA Foundation Fashion Rocks in Colombo. — PTI
Against all odds
Hollywood actor Orlando Bloom struggled for stardom due to his continuing battle with dyslexia, unable to read scripts and learn his lines.
Horror tales
Actor Mugdha Godse, who will been seen in horror flick Help opposite Bobby Deol releasing next month, says she is a firm believer in ghosts and supernatural elements.
Self love
Although it's a new experience for her, Hollywood actress Jennifer Love Hewitt is enjoying her single status.
Picks & piques
REALPOLITIK
Prakash Jha's much-awaited Rajneeti is in the theatres and hopes are flying high already. Kites has become an almost forgotten chapter and it's now time for the new release on the block to prove its mettle at the box office. The alleged Rs 63 crore price tag for the film will, in fact, be a major hurdle to cross. Initial trailers have generated audience interest though. The path is clear of all obstacles, yet will the single horse run away a true winner? Only the audience can tell for sure. As far as aesthetics go, Rajneeti is a commendable effort and needs to be seen!