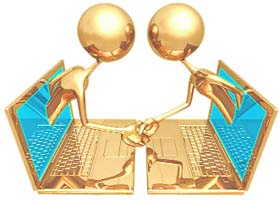 Thrive on NETWORKING
Usha Albuquerque
Networking is a phrase that is used a lot these days, more so when one is trying to build up a network of friends and social contacts through websites that connect you to thousands of people at the press of a few buttons. But more than social networking, it is the physical network of computer that has allowed you to connect, not only with other computers, but also the rest of the world.
India Inc battles attrition now
S.C. Dhall
Improved business climate has set the ball rolling for top executives to go after more lucrative job opportunities as more and more senior level executives are switching jobs. A large pool of executives wants to try their hand at something new and innovative and is looking for challenging assignments.


Careercature
Sandeep Joshi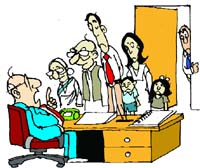 When I said show me a good reason to raise your pay and perks, I didn't mean this.

food for thought
Love what you have
Not having a job/career of your choice should not become a sore point in your life. Learn to see the silver linings, writes I.M. Soni
When you can't get what you like, you have to like what you get. This is true where your daily work is concerned. You may long to do something artistic such as writing brilliant short stories or designing wonderful clothes, but as long as circumstances tie you to a job that you would rather not do, and there are no immediate prospects of a change, it is as well for you to cultivate a liking for that job.
Study Abroad UK
Tackling visa frauds
R.M.S. Atwal
Now with stringent student visa laws in place for studying in the United Kingdom after some education providers gave a 'No IELTS' call for admission to some colleges, conveniently flouting the country's immigration laws, the UK overseas education seems to be back on the track after the 'winter of discontent' of our boys and girls.
For a good cause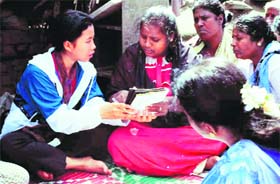 Social Sector is an emerging career field for management graduates
Sanchita R. Mitra
A growing number of young Indians are seeking to build a career in the social sector today, forsaking more lucrative corporate career opportunities. And this is not without a good reason. India is home to several non-profit organisations and there cannot be a feeling of greater job satisfaction than the one you get by doing philanthropic work.
Flexi routines, healthy output
Researchers have found that telecommuters balance work and family life better than office workers and can even squeeze in extra work each week. Researchers from Brigham Young University analysed data from 24,436 IBM employees in 75 countries, identifying the point at which 25 per cent of employees reported that work interfered with personal and family life.
Happiness@work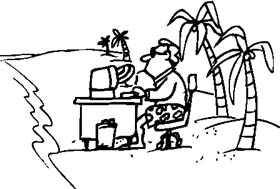 Gems of ancient wisdom
Separation helps
Just as a pause in work could help get a fresh perspective, so could the moving away from the arena of work. Better decisions can be made away from hectic activity. The tumultuous sounding of conchshells, bugles, trumpets, drums and horns on both sides bewildered Arjuna and he requested Krishna to draw the chariot between the two armies to assess his task ahead.
Career Hotline
Pervin Malhotra