Chill-out zone
Want to eat out without caring much for the attire or etiquette? City lounges are the places to be in
A stylish yet casual ambience, relatively light menu, friends in absolutely casual gear plonked on vibrant, smart and jazzy chairs, cracking jokes, some nice music floating in the air or a live band playing in one corner…the lounges in the city breathe of informality and no strict mannerism.


Zinc Lounge & Himani's Vertigo Lounge
Picture perfect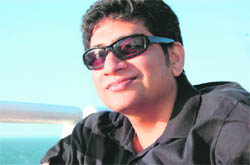 In the city, Bollywood cinematographer Attar Singh Saini shares his experiences
Amid grand applause from elite stars and celebrities at the annual ITA awards in Mumbai, Bollywood cinematographer Attar Singh Saini (43) walked up to receive the award in the "The Best Videography" category for the TV serial Kashmir in 2003. Since then, he has never looked back.


Attar Singh Saini

Hitting right with Hitler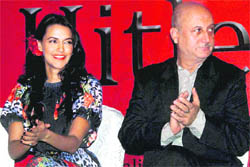 Bollywood actor Anupam Kher admits that playing the role of Adolf Hitler in the upcoming film My Friend Hitler would be challenging. Addressing media persons in a press conference, Kher said, "For me... I already have an image, I am a known actor, so it will be doubly hard work for me to take away that image, and an actor likes taking challenges," said Kher.


Neha Dhupia with Anupam Kher
Knot enough!
Hollywood couple Scarlett Johansson and Ryan Reynolds are planning to renew their marriage vows to celebrate their second wedding anniversary later this year. "They have already sent out invites for the ceremony, which will take place on their wedding anniversary," said a spokesperson of Scarlett Johansson.


Kiss me not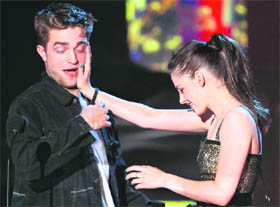 Actors Robert Pattinson and Kristen Stewart (R) accept the award for Best Kiss as they attempt to kiss at the 2010 MTV Movie Awards in Los Angeles – Reuters
Tutor torture
Teen sensation Miley Cyrus will be relieved of her bothersome tutor when she graduates from high school.The 17-year-old actress is followed around the world by a private tutor to ensure that she keeps on top of her studies and she cannot wait to finish her education, as she is in a hurry to work in Hollywood without permission.
All-round performer
'I had to learn to look like I could play violin, piano, banjo, guitar. Plus karate and skateboarding! And I've never ridden one in my life. There is a unicycle and juggling. It was a lot of stuff and I had two weeks to learn them all, apart from a card trick - a really complicated one," said Weisz.

Moore memoirs
Hollywood actress Demi Moore is all set to go public in a memoir with details of her three marriages and show business career spanning three decades. HarperCollins said on Monday that it had bought world rights to a memoir by the actress that will cover her life and career.



Demi Moore
Revival story
Haryanvi cinema set to take a big leap with Muthbhed — a planned encounter, its first big budget movie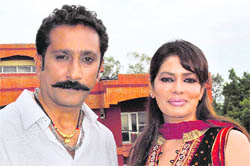 In a time when Punjabi cinema is growing bigger and better with each release, its sibling Haryanvi cinema is lost in the world of big budgets, glamorous faces and star names. But here's a breather, or call it a new beginning.The Haryanvi cinema takes its first big leap with the movie Muthbhed - a planned encounter that tries to cover all that has been missing till now. Produced by Kumar Mangat and Sanjay Sharma, the movie has actor Mukesh Tiwari aka 'Jagira' from China Gate and singer Poonam Jhawar as lead pair.
Eye for it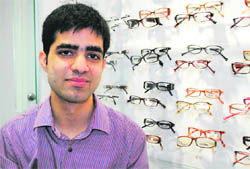 Titan Eye Plus launched an exciting new scheme, which offers customers a flat discount of 25 per cent on exchange of old, eyewear for new spectacles or sunglasses. This scheme, which will be available at all Titan Eye Plus outlets across the country.During the offer, Titan Eye Plus will display a wide assortment of fashionable and stylish collections from Titan, Eye + and Dash collection of prescription eyewear. Titan Eye Plus also offers a wide range of International brands such as Prada, Armani, Gucci, Police etc.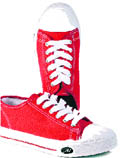 Footloose
The casual wear brand Numero Uno has unveiled a new collection of canvas footwear for men and women. This exciting collection of canvas footwear has on offer, both high top and low top styles, in racy colors and contemporary designs.This collection of trendy canvas shoes provides a combination of exceptional comfort with fashionable styling. If you are mad about funky fashion, show off your elegant side with these retro cool canvas shoes!Numero Uno's range of "Canvas Footwear" for men and women is casual, versatile and maintenance free. This collection is crafted from durable canvas uppers that enable ventilation and sweat absorption making it an ideal choice of footwear for this season.

(Spec)tacular
Gucci, Armani, Valentino, Hugo Boss, Diesel, Oxydo, Levis, Polo D&G, Versace, Prada ... do these brands take your attention to the new range of clothing in the market? Wait a second because we are actually talking about the latest trendy spectacles available in the city.

During those 'not so interesting' lectures in college, students don't mind having some light-hearted fun
Just when the lecture on trigonometry is on, perhaps there's an itch to draw the crooked flower. A careless scribble, random cartoon, flowers, unfocussed drawing, a sketch, casual shape, an abstract figure….just doodle it!During the lectures, in between the rough margins, last page of the school notebooks, during the telephone conversations; for some, it's a reflex action on spotting just a spare pen and a rough paper.

Early to bed
Children who have a regular bedtime do better academically; claims a new study, giving another reason why parents should ensure their children go to bed early and at the same time every night.

Read on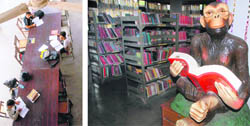 State library, Sector 34, is a preferred place of many avid readers
The conventional picture of a library goes like scores of books stacked together in countless shelves, index running into infinite rows and columns; where locating a book is as much of a science as reading it!State library, Sector 34, makes it to the description yet stands detached from its ilk: Courtesy, space. Neeru Naresh Gupta, library head, doesn't miss the point either, "For readers there's lots of open space here. Rather our library easily accommodates 200-250 readers at a time, it's almost always occupied."
Children's angels
They've been on with the project for quite a while now. AIESEC, apart from the exchange programs, that allow graduates the opportunity to live and work in another countries and territories, has been contributing its bit to the cause of underprivileged kids through the initiative Balakalakaar. Balakalakaar, an initiative taken up by the local office of AIESEC, brings yet another endeavour with the aim of providing underprivileged children an opportunity to discover their creative side. Through event they intend to bring underprivileged children from Tricity on a common platform wherein they are provided an opportunity to explore and showcase their creativity through art expression.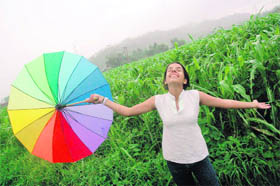 After a long, enervating summer, this girl seems to be enjoying every drop of rain that lashed the city on TuesdayLifestyle photo:Vinay Malik
Blind date
Men and women are greatly influenced not only by what their friends think of their potential fling or relationship partner, but also by the opinions of complete strangers, says a new study. "We might think that searching for mates is a process best done individually, that we can best gather the appropriate information by ourselves. But humans, like many other animals, also pay attention to the preferences of others," said Skyler Place, a researcher in Indiana University's Department of Psychological and Brain Sciences and lead author of the study.