Bonds beyond borders
It's not just inter-caste, but inter-country marriage. A few share their experiences with Manpriya Khurana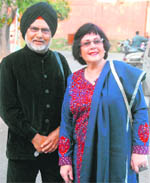 Gisela with husband Shiv Singh
It's a scenario where wedding invitations map out the Atlas instead of addresses. It's inter-caste marriage, rather inter-country or may be inter-continent! It's literally a reverse brain drain where you hop much more than the seven seas and acclimatisation goes miles beyond jet lag. A brief tête-à-tête with Chandigarh residents married to foreigners still seems to be minus flipside.
For Michaelangelo Francis, art & photography teacher, it didn't really involve a second thought (or a second's thought) before tying the knot with a Peruvian. "I was very sure, there was absolutely no apprehension," he declares and adds, "Marriage is anyways all about adjustments, but when there's bonding, these things don't really matter. But yes, obviously, there's endless comparison, everything is different." In enter, the food, culture, customs, and societal differences. And opposites need not be always odd.
Shares Gisela, better half of noted sculptor Shiv Singh, "Before I met my husband, I was already a part of an Indo-German association back in Germany, so I had some sort of idea about India and was already interested in it." Laughs Erin Chechi, an artist and a yoga instructor from Seattle who married a software professional from Chandigarh, "I considered India like this land of saints and Himalayas and mystery, I had a very fantasy-like idea of India. An inter-continent marriage brings in a lot of variety and spice into your marriage, I'd recommend it to everyone."
As for the cross-culture comedy, incidences galore. Particularly true of unsaid, Indian rules. As Gisela says, "After our marriage we visited this distant relative and I kept addressing my husband by his name. When I was told how in India they don't do it, my first reaction was like - Then why did my mother-in-law give a name to my husband, if I can't address him by his name?"
Recalls Erin, "I remember when we had this really big fat Indian wedding in this village, I was dancing like anything and they told me that Indian brides don't dance at their weddings." That's not it. She adds, "Right now, we're in Manali and everywhere I'm travelling people think he's my guide. It's funny." Let alone culture, not knowing your spouse's language could be boon rather than being a bar for communication. Laughs Michaelangelo while talking of his wife Kelly, "She speaks Spanish and I know her language. I keep worrying her a lot but any wrong word in Hindi and she understands it. She may not know its meaning but she gets it."
Finally there's a blurring of differences till they fade into oblivion and are no more visible. Then living in Cambodia or California is normal, like it's always been. Randa Singh, Alliance Française teacher, from Beirut, Lebanon, has been married to Gurpreet Singh for two decades now. She says, "I've been here since 1993 and have been married for 20 years. Now nothing seems strange or odd, it's all a part of life."
Meanwhile Kelly's, loving and living up the India experience, having watched Shah Rukh's DDLJ 17 times, included. "It's completely different for my culture but I'm loving it." While Gisela struck a balance with the best of both worlds. "Somehow you remain in between, give up a lot of earlier culture while retaining other things. At times, it's an advantage; I kept good part of both cultures."
The charm of the unknown, of a territory hitherto unfamiliar, remains. Shares Gisela, "I think it takes a lifetime or longer to discover the other person, I see it as a challenge…And I think, given a chance I'd do it again." Quips Michaelangelo, "It's fun, there's a lot of initial inquisitiveness and by the time you know each other, 10-15 years have gone by." Need anyone spell more?
manpriya@tribunemail.com