Not a chance to throw away
India hope to pick some medals in the CWG throw events, walks, distance running and triple jump, though the competition will be extremely tough
M. S. Unnikrishnan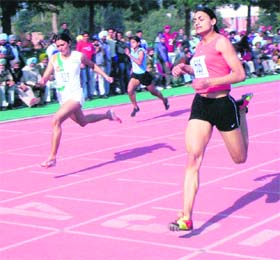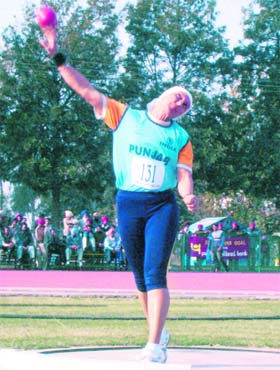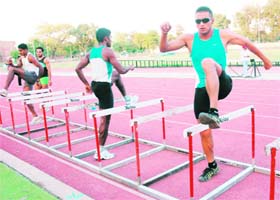 (From top)
Runners like Manjeet Kaur, right, are capable of anchoring India to a medal;
hopes are also pinned on thrower Harwant Kaur;
and triple jump is another event India are looking at for a win
Photos: Rajesh Sachar
Athletics is the blue-riband event of any multi-sport competition, and India expect a star-spangled field in the 2010 Commonwealth Games in Delhi, to be staged at the state-of-the-art Jawaharlal Nehru Stadium. India's record in the Commonwealth Games Athletics Championships is nothing to crow about, as they have not been able to repeat the golden feat of Milkha Singh in the 1958 Cardiff Games, where he blazed the track to canter away with the 400 m gold. The Flying Sikh, getting over the pangs of Partition, was in roaring form, as in the same year, he had also won the Asian Games gold. But since then, India have not won a gold medal in the Commonwealth Games. In fact, India's display in athletics has been dismal, barring an odd silver or bronze here and there. Anju George picked up a bronze in long jump and Neelam Jai Singh heaved the shot put for a silver in the 2002 Manchester Games.
In the last edition of the CWG at Melbourne in 2006, India lifted two silver medals through Seema Antil (discus throw) and the women's 4x400 m relay squad. But this time around, India expect four-five medals in the throw events, walks, distance running and in triple jump, though the field would be extremely tough.
"We have very good chance of winning some medals in the throw events, for both men and women," says national coach Bahadur Singh. He says the hosts are also pinning hopes of medals in the women's relay, 20 km men's walk, triple jump and, perhaps, in distance running.
Former national coach and Dronacharya Award winner Joginder Singh Saini echoes Bahadur Singh's views as far as India's medal chances are concerned. Saini, who is part of the think-tank of the Athletics Association of India (AAI), says India has a very good women's 4x400 m relay team, as runners like Manjeet Kaur, Mandeep Kaur and Tintu Luka (trainee of P.T. Usha), Chitra Soman and Sini Jose are capable of anchoring India to a medal. Saini adds that triple jumper Ranjit Maheshwari, who is the national record holder, could also figure among medals if he could raise the bar of his performance, as in the run-up to the games, he has been doing pretty well.
Another athlete on whom Saini has put his faith is shotputter Om Prakash of Haryana, who had been clearing distances of 19.70 metres. He did 20 m in the US recently, where he has been training at the World Champions Academy under the guidance of S. Dhillon. Discus thrower Vikas Gowda, who has also been training in the US, has been posting distances of 64, 63 m and is considered as a medal hope. The athletics field is expected to be dominated by world-class performers from Australia, England, Kenya, Jamaica, and some other African countries, hence India's chances look dim, barring mainly in the throw events. Bahadur Singh says national record holder Babu Bhai could also fancy his chances for a medal in the 20 km walk, as he had done 1:23 minutes in Poland recently and 1:24 in the World Championship at Belgium, which was a new national record.
Former Asian Games champion and Olympian Gurbachan Singh Randhawa, who is a national selector, also opines that throwers like Vikas Gowda, Om Prakash, Krishna Poonia, Harwant Kaur and Seema Antil are capable of winning medals in the Delhi Games. Randhawa says Gowda had recently done 63.22 m while winning the discus title at the Okhlahoma State University meet. This was a commendable feat as through the whole of 2009, Gowda had to sit out with an injury, and the US meet was the 26-year-old's first after coming back to competitive mode. However, his Indian record stands at 64.96 and he is ranked 16th in this year's list of best throwers, headed by Olympic champion Gerd Kanter of Estonia (71.45 metres). Besides Gowda, the list contains only one other Commonwealth athlete — Australian Ben Harradine (64.01m). Gowda had finished fifth in the last CWG at Melbourne with a throw of 60.08 metres.
Krishna Poonia is at present training in the US under former Olympic champion Mac Wilkins, and recently recorded a personal best of 63.69 at the US Olympic Centre meet at San Diego. Thus, the Doha Asian Games bronze medalist is deemed a strong medal prospect.

Fitness mantra
Tiffin treats
Sunita Bhatti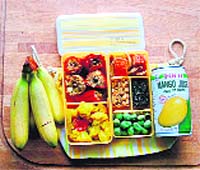 SINCE the schools will reopen soon after vacations, this is the right time to think about some interesting and innovative recipes for packing a healthy tiffin box for your child, which can fulfill the nutritional requirement of at least one meal. Here are some better ideas and options for the same.
When your child goes to school, you have to keep a track of many things, right from his books and uniform to his tiffin box. After all, having a nutritious meal is as important as having books in the bag. Just like your mind needs knowledge, your body needs a healthy and nutritious diet. But due to early morning school timings, children can not eat a proper breakfast. So, their nutrition deficit can be compensated with a nutrition-packed tiffin.
Children don't know the importance of nutrition, thus they love to take junk food. But, as a parent, you need to ensure that your child remains healthy through nutritious meals. So, what you need to do is as follows.
First of all, form healthy eating habits from the early years of life so that he/she does not have problems later.
Introduce such food items which contain all five food groups (cereals, pulses, milk and milk products, fruits and vegetables, nuts and oil seeds).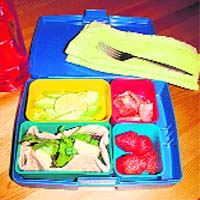 Add more variety foods, as children do not like to eat same food everyday. Monotonous foods can be quite unappetising.
Due consideration should be given to the likes and dislikes of your child while packing the tiffin box so that it does not come back untouched or half finished.
Packed tiffin food should be pleasantly (mild) flavoured, as children may not like strong flavoured foods.
Children mostly like coloured preparations. Yellow coloured rice pulao can be prepared by adding a little food colour or a sandwich layered with mint chutney (green colour) and tomato sauce (red colour).
The food should be packed attractively in aluminium foil or clean paper napkins.
Seasonal fruits and vegetables should be considered a better option. Cut fruits and vegetables in an attractive manner and different shapes.
The amount of food packed should be as per the requirement of the child. Actually, nutrient-dense food should be packed in such a way so that the child can finish it within the recess period. Two small stuffed mix pranthas (whole wheat flour, besan, vegetables), or two sandwiches stuffed with vegetables, paneer/ boiled egg, little roasted til or one bowl of pulao (soya chunks can be added) or poha (rice flakes, roasted peanuts, vegetables) are sufficient to meet the essential nutrient needs of breakfast and midmorning meal for children 7-12 years' old.
It is a challenge to come up with different dishes for kids' tiffin boxes, especially if you want them to be healthy. The nutrients which are more important for growing children are energy, protein, calcium and iron and vitamins. So, our target is to provide all these nutrients through the diet so that they do not have problems later in life and can lead a healthy life.
Packed pleasures
You can easily pack a balanced and nutritious tiffin by paying little attention to some healthy tips:
Plain parantha/ chapatti can be replaced with stuffed mixed parantha with curd to meet energy and protein requirements.

Rice pulao or poha instead of plain rice, along with coconut chutney, can be one of the options.

Sprouted dal chat along with half lemon is sufficient to obtain adequate amount of Vitamin C.

Fermented foods (idlis, dosa, uttpam, dhokla) can be introduced to obtain Vitamin B and for easy absorption of nutrients.

Sandwiches stuffed with vegetables and paneer/ egg of different shapes is one of the good options for kids.
Nutritious tikki or samosa can be made by filling mashed vegetables, paneer, soya granules or sprouted moong/chana instead of boiled potatoes.