PUNJAB
HARYANA
JAMMU & KASHMIR
HIMACHAL
REGIONAL BRIEFS
NATION
OPINIONS
LETTERS
BUSINESS
SPORTS
WORLD
Sunday, June 13, 2010, Chandigarh, India
Updated at 3:00 am (IST)

Photo with Modi annoys Nitish Kumar
Fallout: Cancels dinner for BJP leaders
Patna, June 12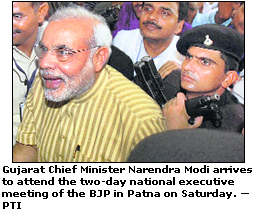 Bihar Chief Minister Nitish Kumar's strong outburst on a full-page advertisement displaying him and Gujarat Chief Minister Narendra Modi holding each other's hand, carried by the leading Hindi dailies of Bihar on the day of BJP national executive meeting here today, has brought the 14-year-old alliance of JD (U) and the BJP under strain.
Modi stars at BJP's Patna meet
Hindu Hriday Samrat's image makeover for 2014 poll begins
Patna, June 12
Posters, banners and saffron flags of the Bharatiya Janata Party's dotted many roads of the Bihar capital as its two-day National Executive meeting began today amid tight security at the Maurya Hotel here.
CAST YOUR VOTE
Should the execution of Ajmal Kasab's death sentence be put on fast track?

EDUCATION
JOBS & CAREERS
HEALTH & FITNESS
SCIENCE & TECHNOLOGY
REAL ESTATE

SPORTS & WELLNESS
Bhopal row
Moily blames then CJI
'Centre did its job, tragedy reduced to car accident by SC'


New Delhi, June12
Union Law and Justice Minster M Veerappa Moily on Saturday defended the Central Government's stand on the Bhopal gas tragedy and blamed the judiciary for delaying the case and letting the then Union Carbide chief Warren Anderson get away.
Moily slams Alexander over Rajiv statement

Sachin Pilot defends Rajiv
Will seek Anderson's extradition: FM
Kolkata/Washington, June 12
India will demand the extradition of former Union Carbide CEO Warren Anderson from the US, Union Finance Minister Pranab Mukherjee said here today. "We would request the US government for the extradition of Warren Anderson, Union Carbide CEO at the time of the Bhopal gas tragedy," said Mukherjee.
UNION BUDGET 2010-11
RAILWAY BUDGET
2010-11
NDA 60 Glorious Years
1857 The First Challenge
E - Revolution 2005:
A Two-day IT conclave
Assembly Elections - 2005
Turbans
Chandigarh is 50
125 Years of The Tribune
India: The Tasks Ahead
India at Sixty
A Tribune Supplement
EARLIER FEATURES
On Sundays
On Saturdays
Senior Cong leader tells Arjun Singh to clear the air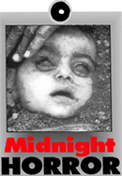 New Delhi, June 12
Suffocating from the Bhopal gas leak verdict, the Congress is trying to draw some fresh air by directly targeting then Madhya Pradesh Chief Minister Arjun Singh. With the aim to absolve the then Rajiv Gandhi government of any responsibility in the episode, senior Congress leaders like Satyavrat Chaturvedi have joined the chorus, asking Arjun Singh to break his silence.
Gill takes up Pakistan Sikhs' cause
New Delhi, June 12
Union Sports Minister and Rajya Sabha MP from Punjab MS Gill today expressed his deep anguish at the delayed grant of visas to Sikh and Hindu pilgrims from the Frontier areas of Pakistan. (Details on Nation page)
World vows to rein in child labour by 2016
New Delhi, June 12
It's the World Day against Child Labour today, but for millions of needy children across the country the occasion hardly held any significance. (Details on Nation page)
Elusive Water – II
Punjab's agri prospects recede...
...as groundwater level declines
Patiala/Sangrur/Bathinda, June 12
Sohanjit is a harried man. In between giving instructions to his team, he is continuously taking calls and also making notes in a pocket diary. The owner of two deep borewell digging rigs, he is pursuing the trade of his father, not with the same enthusiasm though.
Cong in tizzy as Bhopal row rages
June 12, 2010

Five held with RDX, heroin in Amritsar
June 11, 2010

Tamils will get their due, says Rajapaksa
June 10, 2010

The blame game is on
June 9, 2010

Keshub, 7 others convicted
June 8, 2010

Army suspends Major in fake encounter case
June 7, 2010

Post-regret, Canada has little new to say
June 6, 2010

Obama to keep his November date
June 5, 2010

Krishna pitches for access to Headley
June 4, 2010