Reality bytes
Reviewed by Parbina Rashid
Braking News
By Sunetra Choudhury.
Hachette India.
Pages 310. Rs 350.

ONE bus, two girls, 15 thousand kilometres, 715 million votes—adventure, misadventure; agony, ecstasy; breaking stories, flop shows; every reporter's dream and worst nightmare. This is what NDTV reporter and anchor Sunetra Choudhary's Braking News is all about.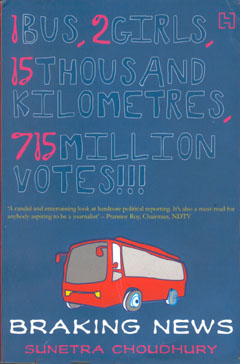 It is no longer breaking news that Sunetra and her colleague Nagma Shahar hopped on a slick all-equipped red bus just before the general elections in May 2009, travelled through the length and breadth of the country and beamed out live programmes for 60 days without fail, nevertheless her book enriched with the experiences of her journey, partly into different demographic set-ups and partly into her own self, makes for an interesting read, oscillating a reader between those early days' sense of adventure derived from Enid Blyton's Mallory Towers and a young professional's (especially a journo's) burning desire to make a difference.
Talking about burning desires, as someone from the same fraternity, I could understand Sunetra's willingness to accept an assignment that would require one to step out of an air-conditioned newsroom to the field in the hot summer. And her confession, "In the end, I suppose it was probably a blinding desire to be on air", was honest enough to substantiate my own thinking. However, as a reviewer, I could not help but look for signs of self-projection through that honest veneer. A suspicion, which soon faded away because Sunetra could retain that level of honesty throughout the book, in her successes, in her failures, without being pompous or overbearing.
Part election special, part travellogue, the book presents the face of real India—right from the temple that serves as the meeting point for young people in Bharatpur to the giggling women in Dausa, the worst affected area during the Gujjar agitation, to the budding designers of Agra, who look up to Rakhi Sawant for her sexy-ness, and to the impressive palace of Maharana Arvind Singh of Mewar with all his royal splendour and royal stubbornness. There are aspirations all over—the boys of Jharkhand who could speak up to six languages and want to learn English or those young men from Sundardih, a village in Orissa that lacked basic civic amenities like electricity and drinking water, but who had the confidence of achieving "as much if not more" if they were given the same opportunities as their metro counterparts.
India voted and how! The outcome not just proved the astrological calculations of the head priest of the Kanakshi temple in Kanchipuram who had predicted that L. K. Advani would be the next Prime Minister, wrong, but it threw the writer off guard, too, who was "in there" wherever action was taking place.
But mercifully, Sunetra spares her readers from boring political analysis or any expert talk, only her observations as an ordinary citizen in the epilogue. After all, despite so many differences like in language, culture or food habits, the collective inspiration of the nation still remains the same—a better life, better job, a better governance and of course, a clean loo!
Wish we knew if the office gossip about NDTV selling off the 'Red Bus' for Rs 6 lakh was true or false or if Sunetra managed to raise enough cash to buy it finally, but one thing is for sure, more and more media houses should invest in such 'Red Buses', if not to change the destiny of India, then to encourage their journalists to leave the confines of their air-conditioned offices and be out there where the action is, with dirt in their fingernails and dust in their hair!