Mythical drama
Based on a videogame and full of razzle-dazzle and the special effects' dose of escapist entertainment, Prince of Persia: Sands of Time is a visually satiating entertainer


TIMED for the end of the sizzling hot summer vacation Prince of Persia: Sands of Time is yet another Hollywood doomsday saga replete with clashing of swords, swirling of sandstorms and copious portions of magic brew. But the prime requisite is to leave your brains (that is those who think they possess that rare gift) behind and take in all that razzle-dazzle, special effects dose of escapist entertainment.
Whoever heard of Persia today but the ancient kingdom comes back to life with the mystical dagger being the focal point of the drama because all are bent upon getting their hands on that object. When Persian king Sharaman picks up Dastan (Jake Gyllenhaal) from the streets for his act of bravery and takes him as his son, he is not aware of his meteoric rise in the Persian royal scheme.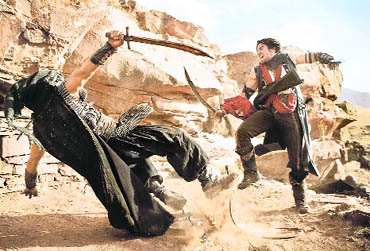 The film is based on a videogame that
hit the market in 2003

He grows up with his two foster brothers Seso and Garsiv in the lap of luxury till they are sent by their uncle Nizam (Ben Kingsley) to plunder the beautiful city of city of Alamat ruled by the feisty Princess Tomina (Gemma Arterton). What transpires is a nefarious plot of intrigue and treachery centred on the mystical dagger, which has immense destructive powers and yes, the power to advance doomsday. Expectedly, the fun and games begin, that is for those who have opted for this near-mindless fare. But there's romance too with sparks flying, a typical Hollywood formula.
The film is actually based on a videogame that hit the market in 2003. All this plus Alfred Molina, who is leading a band of gypsy-like mercenaries and the cup of possibilities if full to the brim. But it is the team of talented performers that is able to give some kind of credibility to the mumbo-jumbo action.
British director Mike Newell, known for his skill in delineating characters, doesn't have much scope in Prince of Persia: Sands of Time. It is visuals that dominate but he is able to handle them with panache.
Jake Gyllenhaal has never been so playful and acrobatic before and neither has he been given top billing to the best of my memory. And he is matched by an oriental bombshell Gemma Arterton, who exudes oomph and sexiness in her every breath. Then you have Kingsley and Molina, who exercise restraint in this frivolous fable. John Seale's sweeping camerawork that completes this visually satiating entertainer. But don't forget to leave your brains behind.