M A I N N E W S

The Last Word


Sunil Bharti Mittal
A Whole New World — His
Girja Shankar Kaura
Tribune News Service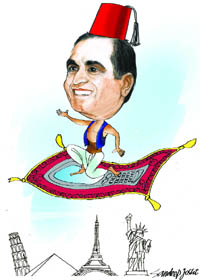 New Delhi, June 14
He is an entrepreneur at heart, the biggest telecom player in India and the fifth-largest in the world. Attribute it to his being born in the entrepreneur nursery of Ludhiana, his starting business in the city with a borrowed Rs 50,000, or shrewdly grabbing every opportunity he ever got, Sunil Bharti Mittal has carved out a success story that has few parallels.
He is driven to be No. 1 and reels off a string of firsts — the first push-button, the first cordless, the first answering machines, the first fax machines and now, the first Indian telecom company in the world's top five.
When Sunil first started Bharti Enterprises, he was fresh out of Chandigarh's Panjab University and set up a small bicycle business in partnership with a friend in Ludhiana. The route to being a telecom tsar meandered through importing and selling portable generators from Japan, manufacturing landline sets — specifically the modern push-button ones that phased out the antiquated rotary phones — and international trading.
This 52-year-old telecom wiz has taken Bharti Airtel to dizzying heights with his sheer persistence and vision. With the acquisition of the African assets of Zain Telecom at an estimated Rs 48,000 crore, Bharti today has grown gigantic.
The African continent is now opening up and Bharti is there for its share of the pie. "Getting a large foothold (15 markets) in Africa in one go is a real big event in the life of the company. It definitely feels great. More than becoming the fifth largest telecom company in the world, what is important to us is the future potential of Africa as a telecom market," the soft-spoken Sunil says, sitting in his wood panelled, neatly arranged office in the company's Corporate Office nestled in the shadows of the Qutub Minar.
And he is right. With a penetration level of just around 30 per cent, there exists a huge upside in growth of telecom in the African continent. This is for the first time that a major Indian brand will be entering foreign markets and Sunil is eagerly looking forward to the challenges that the diverse markets of Africa could pose.
Never shy of forging alliances with international partners, Sunil Mittal's first push into telecom was a technical tie up with Siemens AG of Germany to manufacture electronic push button phones. Gradually, he expanded his business and by early 1990s, he was making fax machines, cordless phones and other telecom gear. In 1992, when the Indian Government was awarding licenses for mobile phone services for the first time, Sunil clinched the Delhi license in collaboration with the French Vivendi.
In 1995, he founded Bharti Cellular Limited (BCL) to offer services under the brand name AirTel. Soon, it became the first telco to cross the two-million subscriber mark. Bharti also rolled out the country's first private, national and international long-distance service — IndiaOne. In 2001, BCL entered into a joint venture with Singapore Telecom International for a $650-million, India's first undersea cable link connecting Chennai and Singapore.
How did Bharti become a middle name? Sunil's parents, Sat Paul Mittal, a prominent Punjab politician and MP, and Lalita's inter-caste marriage created brouhaha at that time. So they took on 'Bharti' as the family name till Sunil reclaimed 'Mittal' much later.
Asked whether he would like to follow in his father's footsteps, Sunil said: "Maybe, it was a possibility five years back. But I am placed differently in life today. Business continues to be the pivot around which life revolves."
Sunil, 52, is married to Nyna and they have three children —17- year-old Eisha and twins Kavin and Shravin, 13. He attributes his success to the ability to aspire to reach the top and do things that have never been done in India. Rather than just being a trading house, he wanted his company to be a corporation and wanted to prove that even with meagre capital bigger things could be done.
It is widely known that that there are three brothers behind Bharti. However, there is no employee-owner situation. Everybody is a co-owner and owns stock. It's a very enabling environment.
The one company Sunil Mittal really admires is Tata. As an organisation, the Tatas have never comprised, he says, and wants a similar image for Bharti. Sunil believes in meditation and also chanting mantras. He does a little yoga and exercise in the morning. For him, spirituality is being good to people and having a positive frame of mind, something that has helped him make a virtue of extremely bad situations.
Sunil is not a man to rest on his laurels. Whenever the next big revolution is happening, he is there, busy being part of it. He seldom gets ruffled and is very down to earth, besides being very confident of what he is doing and remains very cool headed even in adversities. His rivals feel that it is his ability to take decisions amidst uncertainties, reading the customer's mind, predicting future trends and changing with the market that has helped him attain success.
And how did he rise to the challenge of turning around the company? Colleagues attribute it to the quintessentially Indian solution of outsourcing and standing it on its head. Egged on by his CFO and a core of in-house technology specialists, Sunil resolved to give away his network.
In 2004, he signed contracts worth $400 million to hand over operation of Bharti's entire phone network to Sweden's Ericsson, Germany's Siemen's and Finland's Nokia. The deal meant Bharti no longer had to worry about buying and maintaining equipment. Instead, it paid European vendors a fee determined by customer traffic and the quality of service the firms provided.
That same year, Mittal signed a 10-year, $750 million contract with IBM farming out the bulk of Bharti's information-technology services, including billing, management of customer accounts and even operation of Bharti intranet. The IBM contract was a revenue-sharing arrangement, but the objective was the same as the deal with the European equipment vendors: freeing Bharti to do what it does best —marketing, devising new services, and searching for new business opportunities.
Rivals say that Sunil's entrepreneurial acumen, his ability to think big and execute flawlessly, deep faith in himself and an aptitude to rope in big players with deep pockets has done wonders for the company on its way to becoming an institution.
How does Sunil relax? "I used to play golf; now sometimes I play tennis. But I thrive on my work. For me, work is love, not stress." He is superstitious about the number 23 —he was born on the 23rd and got married on the 23rd. He stops eating meat before a big venture and stayed vegetarian during Zain negotiations. He owns a fleet of cars but his favourite is his black S500 Mercedes that he also drives to office.
Ask Sunil Mittal about his biggest achievement in life and he says: "I feel truly blessed to have been in a position to make a positive difference to society through business. More than the success in businesses per se, it's their transformative impact that is the true source of gratification."
The telecom tsar likes to pursue this objective beyond the different domains of business through the Bharti Foundation and the group's CSR arm. The foundation is running 236 village primary schools for over 29,000 students across six states. He has also given Rs 20 crore to IIT Delhi for building the Bharti School of Technology and Management and dreams of sending India's football team to the 2018 Olympics.
Besides telecom, Sunil's company has also branched out. "We have diversified over the past five-six years with businesses in front-end retail, cash and carry in partnership with Wal-Mart, financial services in partnership with Axa of France and processed foods with Del Monte Pacific."
"I have a dream..." says this boy from Ludhiana. He achieved it, and aspires for more, just as any entrepreneur would.