Past forward
What is it about the 'retro look' that makes it a hit forever?
There is something about those blinding colours, polka dots and broad glares that refuse to go out of fashion. Retro look has always been a part of Bollywood flicks though in an odd-song sequence such as in Dil Chahta Hai, Om Shanti On, Rab Ne Bana Di Jodi, or a little more in recent films like Love Aaj Kal. And two more films set in the 1970s - Vipul Shah's Action Replayy and Milan Luthria's Once Upon A Time In Mumbai - are in the pipeline.
| | | |
| --- | --- | --- |
| Akshay Kumar and Aishwarya in Action Replayy | Preity Zinta in a song sequence in Rab Ne Bana Di Jodi | 1970's came back with a bang in Om Shanti Om |
Stage managed
Event management as a profession has grown by leaps and
Back then, when it was a fledgling field, managing an event meant ensuring the speakers and the stage in place; revolved around the venue and the visitors, at maximum long list of invitees passed for publicity. That was then. Half a decade later, post a couple of social catalysts, the offbeat passion's become a profession, the trend a phenomenon, the field, an industry. And the industry stands redefined.
Right moves
Mumbai born computer science graduate Snighda Srivastav has been delivering consistently on the small screen and maintained her status quo. Snighda, who turned to acting with famous soap Kyunki Sas Bhi Khabhi Bahu Thi has managed her career well and is one of the well-known faces in Tollywood . She is pretty and unassuming and just right for the role of the lead character Kanku. She lives on the sets of Jai Mehta Productions for Sahara One Television Shor. Lifestyle caught up with the actress on her brief visit to Chandigarh.
Bollywood Rocks!
We just love Bollywood films", says Danish pop group Michael Learns to Rock, who are visiting India for the third time. The band, which consists of Jascha Richter, Mikkel Lentz and Kare Wanscher and also known as 'MLTR', had toured the country in 1995 and 2005.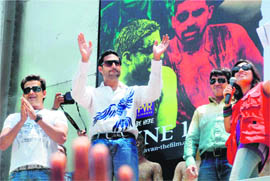 Beera Bandwagon
Bollywood actor Abhishek Bachchan weathered dusty winds and rains to lead an entourage of Royal Enfield-borne look-alikes of Beera — his character in the upcoming film Raavan — in the capital Sunday, leaving fans craving for more.
Actors Abhishek Bachchan and Ravi Kisan (L) wave to the fans during a promotional event for their upcoming film Raavan in New Delhi. — PTI

Khiladi turns chef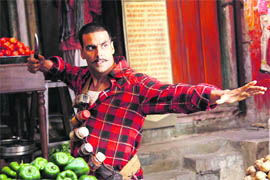 After his breath taking stunts in Khatron Ki Khiladi, Akshay Kumar is all set to display his culinary skills in a cookery show called Master Chef India on the small screen. The show will go on air later this year on Star Plus, Star India CEO Uday Shankar told reporters while unveiling a red star, which is the new look of the channel. He denied that the show has been planned to counter Khatron Ke Khiladi season three on Colors, which will be hosted by actress Priyanka Chopra.
Sun struck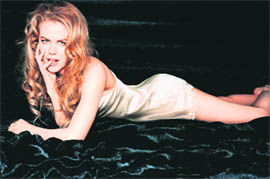 Hollywood beauty Nicole Kidman goes to great lengths to avoid a tan and she was shocked to see good friend Jennifer Aniston peeling off to catch some rays. The Oscar winning actress is known for her porcelain skin and during the shoots for her new movie Just Go With, she advised co-star Aniston to cover up against the sun. The actresses have become firm friends while making the new movie on the Hawaiian island of Maui and the Friends star had been spending her time between takes topping up her tan, much to Kidman's dismay.
Marilyn's most priced
Marilyn Monroe's pink gown, considered to be the most important dress of Hollywood, has earned a whopping 213,000 pounds (about $312,000) at one of the biggest auctions in tinseltown. The size-14 pink satin gown, which Monroe wore in the song Diamonds are a girl's best friend in the 1953 movie Gentlemen Prefer Blondes, beat its expected price of 170,000 pounds (about $248,000).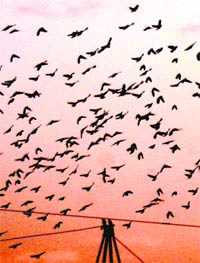 CRIMSON GLORY: A panoramic view of the city outskirts with birds retreating in the evening. Photo: Pradeep Tewari
Two hot to handle
Bollywood's dusky siren Bipasha Basu will be seen romancing Hyderabad sensation Rana Daggubati in Rohan Sippy's next Dum Maro Dum in which Abhishek Bachchan is the male protagonist.
Fair trial
Actors are a hungry lot with an appetite that takes a lifetime too feed and flavours that need to change with each serving. Sarvar Ahuja is no better. In fact, he belongs to the most eager ones of the lot, grabbing at the right opportunity and trying out a different recipe of success every time.
Write talk
Any native writer of democratic ethos always defines the country's psyche and symbolises the deepest desires of the people. That is why writers of wider acclaim have been eulogised across centuries," maintains noted author and bureaucrat Shiv Raman Gaud, DPR Haryana, while indicating at the formation of a "Gyan Aayog" (Knowledge Commission) in the state during a 'ru ba ru' session with prominent women authors at the Haryana Niwas on Sunday.
Spade work


As green as it gets
May be it is at the cost of repeating a few tips but forced by readers repeated queries I will give final tips on planting of grass and also types of grasses generally available for planting. I will tell about the merits and demerits of each. Choice is yours. First about varieties. Normally the gardeners had been planting Calcutta grass supposed to be very hardy, it forms beautiful turf. It is very vigorous in growth especially during summers and monsoon and needs repeated mowing.
Get fresh naturally
Come summers and you have people using deodorants to suppress body odour caused due to perspiration. But what most people are not aware is that constant and indiscreet use of deodorants can harm one's skin.