M A I N N E W S
Costly power shocks Punjab industry
Duty hiked to 13%; Business threatens to pullout
Tribune News Service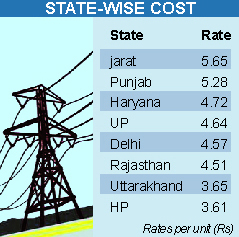 Chandigarh, June 16
The recent hike in electricity duty from 10 to 13 per cent has made power in Punjab the second-most expensive in India. Registering protest against the hike, members of the Apex Chamber of Commerce and Industry (ACCI) today threatened to shut down their factories and move to other states.
Though most of the industries in the state have been affected by the hike, the worst hit are power-intensive industries, including over 200 induction furnaces, 300 rolling mills, mini steel plants and scores of textile units.
"Induction furnaces in Punjab are operating at 50 per cent the capacity despite the fact that power is now available. It is not economically viable to run units at full capacity anymore. There is no way Punjab can compete with the industries in Uttarakhand and Himachal Pradesh," said KK Garg, the president of the Induction Furnace Association of North India.
Addressing mediapersons here today, ACCI president PD Sharma said the increase in electricity duty was the final deathblow dealt out by the state Finance Minister Manpreet Badal to the industry.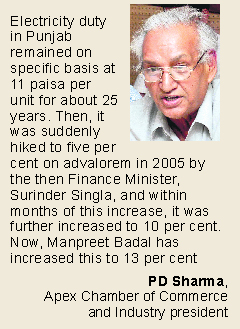 "Electricity duty in Punjab remained on specific basis at 11 paise per unit for about 25 years. Then, it was suddenly hiked to five per cent on advalorem in 2005 by the then Finance Minister, Surinder Singla, and within months, it was further increased to 10 per cent. Now, Manpreet Badal has increased this to 13 per cent," said Sharma.
ACCI members pointed out that in Punjab each unit of power to the industry was now costing Rs 5.28. This was as low as Rs 3.61 in Himachal and Rs 3.65 in Uttarakhand.
"Gujarat is the only state where the cost of electricity is more than Punjab at Rs 5.65. But, Gujarat also has the advantage of a port and availability of natural resources locally. We are a landlocked state and the transaction charges are very high," said Amarjit Goel of Modern Steels, Mandi Gobindgarh.
The chamber has demanded that electricity duty be made VATable so that it does not reflect in the cost of production. "The steel industry is feeling the pinch the most as over 70 per cent of the cost is of power. We have moved from being on the margin to generating losses and in another one or maximum two years, we would be forced to shut shop," said Mahender Gupta, the president of the Mandi Gobindgarh Induction Furnace Association.
The industrialists also demanded abolition of octroi on electricity. "Punjab is charging a separate octroi on power. For all other goods, octroi has been merged with VAT. We continue to pay a double tax. When we are paying VAT why should we pay electricity octroi separately?" asked Rajnish Ahuja, ACCI member from Ludhiana.
RC Ralhan, a hand tool industry owner from Ludhiana, said before Parkash Singh Badal came to power he had promised the rollback of electricity duty, but nothing of that sort happened. Moreover, he approved a hike in the duty, he added.
When contacted, Principal Secretary, Industries, SS Channy said the industrialists had not approached the government in this regard. "We can request the finance department to review the decision of hike in electricity duty," he added.