M A I N N E W S

Bhopal Tragedy


GoM may seek more relief for victims
Anita Katyal
Our Political Correspondent

New Delhi, June 17
The reconstituted group of ministers (GoM) on the Bhopal gas tragedy, which is holding its first meeting on Friday, is expected to take a fresh look at a pending proposal asking Dow Chemicals to pay for the clean-up at the abandoned Union Carbide site and for extra compensation being contemplated for the victims.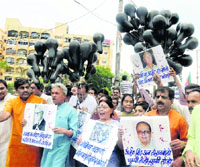 BJP activists raise slogans against former Union Carbide chairman Warren Anderson and ex-CM of MP Arjun Singh in Bhopal on Thursday. — PTI
The GoM is also likely to consider the possibility of filing a curative petition seeking enhanced punishment for the culprits who were handed out a paltry sentence of two years by a Madhya Pradesh trial court and examine issues pertaining to relief and rehabilitation, remediation of groundwater and removal of toxic waste from the abandoned Union Carbide site. Given a 10-day deadline by Prime Minister Manmohan Singh, the GoM, headed by Home Minsiter P Chidambaram, will meet over the next two days in an effort to submit its report by Monday.
On the eve of its meeting, the nine-member ministerial panel received petitions from civil society groups demanding that the Centre and the Madhya Pradesh government press Dow Chemicals to pay up as tons of toxic wastes are still lying at the site, posing a serious health hazard to the people of Bhopal. In her letter to Environment Minister Jairam Ramesh, Sunita Narian of the Centre of Science and Environment (CSE) has asked the government to pursue the matter of liability of Dow Chemicals which bought Union Carbide in 2001.
She also said it was important that the government recognises the problem of dangerous contamination of the factory and an urgent need for remediation which should not just stop at removal of the toxic wastes but also include the cleaning of the entire site.
Dow Chemicals has so far refused to pay on the plea that it could not be held responsible for the gas leak and that the Indian government had assured them that it would not be asked to foot the bill for clearing up the toxic waste at the factory site in Bhopal.
The Ministry of Chemicals and Fertilisers had sought an initial amount of Rs 100 crore from Dow Chemicals in 2005 but the matter is still pending in the Madhya Pradesh High Court. The Centre had been going slow on this matter for fear of loosing potential foreign investors. However, the GoM on the Bhopal gas leak is expected to reopen the case in view of the public outrage over the release of Union Carbide chief Warren Anderson in 1984 and the the light sentence awarded to those responsible for the world's worst industrial disaster.