Cheer leaders
Football players from the region are not only getting a kick out of all the FIFA frenzy, but are even motivating other Punjab de puttars to take to the game
Kusum Arora



Players from leading football clubs like Churchill Brothers-Goa, JCT-Phagwara and Air India-Mumbai during a practice session at Lyallpur Khalsa College, Jalandhar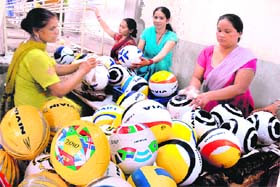 Women workers busy washing footballs at the sports goods unit — Photos: Malkiat Singh
AMID loud cheers for their favourite football greats, a group of I-league players along with the young soccer enthusiasts of Jalandhar are busy celebrating FIFA World Cup goals, feeling the frenzy right here. And why not? Soccer fever has gripped one and all.
Players from leading football clubs like Churchill Brothers, Goa, Air India, Mumbai, and JCT, Phagwara, are back home during the off-season, and looking forward to the soccer season ahead of the Santosh Trophy coaching camp, which would be held at Guru Nanak College, Phagwara.
Harpreet Singh, a Jalandhar-based I-league player from Air India, Mumbai, says that football a game that you cannot enjoy minus the cheering, and so, they ask their locality lads to come and enjoy the matches with them. "I have been watching the FIFA matches with my friends. We discuss the moves of the strikers, and keenly observe the sharp reflexes of the players", he adds.
While the evenings promise a great deal of action, the players ensure that they get some original soccer kits, too. "Though I already have my soccer kit of Churchill Brothers, I am looking for an original jersey of either England, Spain or Italy. I am supporting my favourite team, Spain, this time. The star players from Spain have been exhibiting great fitness and wonderful performance on ground," he adds. Despite being back home in the off-season, the players also ensure that they involve the local school and college boys in the game. "We have a small seven-side football ground, where we enjoy some action once in a while. This also ensures that the local boys stay away from anti-social elements, too."
A defender, Harpreet played for JCT, Phagwara, East Bengal Football Club, Mahindra United Football Academy, Mumbai. Then, he was picked up by Air India, Mumbai.
Another Jalandhar-based player, Warundeep from Churchill Brothers, Goa, says, "While states like Maharashtra and Goa have a football culture, we, in Punjab, lack that spirit for the game. However, we play along with the college boys to ensure that more and more youngsters take up this game as a profession." He has been playing with Churchill Brothers for the past four years, while earlier he played for the Tata Football Academy, Jamshedpur. "When I took up this sport, there was no active support from any quarter. In fact, there was no one to provide any assistance. But back home, I ensure that budding football players get maximum guidance," he adds.
Warundeep is quick to add that he, too, keeps motivating budding football players to take up the game. "If a football player plays the game in a disciplined way and maintains himself well, nothing can stop him from reaching the top football clubs of the country. And what could be better than enjoying your game and making a profession out of it,", he quips.
And the likely winner in this World Cup? Prompt comes the reply: Brazil. "I am supporting my favourite team, Brazil. In fact, I am searching for an original Brazil jersey, which would costs around Rs 3000 plus," he adds.
In fact, the I-league players from Jalandhar held a friendly football match at the local Lyallpur Khalsa College with the college team around the beginning of the World Cup in South Africa. The players, a majority of who are from Khalsa College, say that the game promises good money as compared to many other sports in the country.
Rakinderjeet, another midfielder from JCT, Phagwara, maintains that as a country, we have miles to go in this game. "The fact is that even the foreign coaches swear by the physical fitness and endurance of the boys from Punjab. But the game cannot pick up in this region until we have good football clubs," he says. However, for these players the soccer fever is here to stay. "Our evenings are packed with the FIFA schedule. And we are planning to enjoy the finals together in a big way on July 11," they add.