Salute to sepia songstress
Chetna Keer Banerjee
Much travelling and unravelling went into the penning of Vikram Sampathís
My Name is Gauhar Jaan!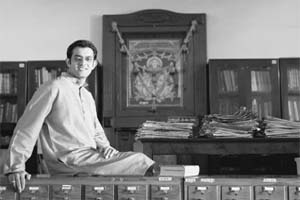 WITH a degree in electronics and a masterís in mathematics, engineer and management professional Vikram Sampath turned writer with the Splendours of Royal Mysore: The Untold Story of the Wodeyars. Tracing the 600-year-long history of Mysore, its royal family and culture, this book has been widely acclaimed across India and termed as Ďone of the most definitive accounts on the Mysore royal family in recent times.í
Recently, this Bangalore-born and based professional came out with an ode to a yesteryear empress of Indian melody, My Name is Gauhar Jaan! ó The Life and Times of a Musician.
With the book having been launched in the Capital and elsewhere recently, he tells about revisiting the musical legacy and more:
In recreating the story of a woman about whom so little has been documented, how did you straddle the worlds of fact and fiction? And how did you juggle the narrative between being a biography and a historical retelling?
The book is entirely based on facts that I painstakingly unearthed about Gauhar. It is largely factual, though the style makes one feel it is fiction. I struggle to classify it in the usual fiction-nonfiction straightjacket and I think it blurs somewhere in between.
The court papers from Kolkata and Benaras, her letters and other documents in Mysore, the memoirs of Gaisberg, her recording expert and her mother Badi Malka Jaanís book of poems formed the template to build her life story around. Since the sub-title of the book also reads as The Life and Times, I needed to set her in perspective not only in the world of Hindustani music, but also in the era and times that she lived in. Hence, it is set in the background of the historical upheavals that she witnessed, be it the fall of Oudh and the rise of Calcutta, the British Raj, the anti-nautch movement etc.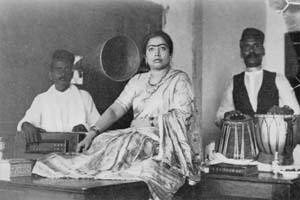 In rebuilding the times and travails of this gifted singer, which persona emerged as the stronger: that of Gauhar the musician or Gauhar the woman?
I think Gauhar the woman certainly did steal a march over Gauhar the musician. Of course, she was praised as one of the greatest women singers in khayal and thumri by the likes of Pandit Vishnu Narayan Bhatkhande and Maharaja Hari Singh of Kashmir. The fact that she disregarded the threats and superstitions with regard to recording and went ahead and pioneered the template to record Indian classical music does speak of her musical ingenuity. But then, when one sees the ups and downs of her life, one is amazed as to how she managed to take so many knocks in life and yet move on and maintain her sanity and creative juices. The fact that she had to prove in court that she was indeed her motherís daughter and not an illegal offspring, face a series of humiliations, yet remain confident, shows that she was a woman of steel.
With the book having seen launches across the country, how diverse has the response been in, say, up North and East (in Kolkata) as compared to down South?
It has been overwhelming. In just 2 months, the first print is already sold out and the book is entering the second edition. Kolkata was certainly a very special launch since it was her hometown. We had several Bengali zamindar families, who came dressed in traditional attire. That added a touch of nostalgia; as also did the fact that an actress came dressed as Gauhar Jaan!
Chennai, too, was a revelation and the Madras Book Club that hosted the launch was surprised to get one of its largest gatherings ever for a book-release function. I knew the city was very passionate about Carnatic music, but was pleasantly surprised to see a book on a Hindustani musician, too, elicit such a positive response.
How have our present-day music maestros taken to the book on Indiaís first singing empress, seeing that some of them have launched it or given messages in it?
Luckily, it has been very positive. Pandit Jasraj, Ustad Amjad Ali Khan and Pandit Arvind Parikh have very kindly given their messages to the book. Jasraj ji has been so self-effacing and kind so as to say that he has learnt so many things which he didnít know about Gauhar and Hindustani music/musicians from the book and I take that as a great blessing coming from a living legend like him. Girija Devi ji, too, was very appreciative, when I met her in Kolkata during the launch and even asked me to ensure a play and a film is made on her. Shubha Mudgal has decided to actively push the sales of the book through her website of Underscore records.
Would you like it to be made into a film, and any offers in this regard so far?
Certainly! I think her life has all the elements for a nice, sensitively made film like Umrao Jaan (the Rekha version). I do wish someone picks up the idea to make a film on her life based on the book.
Tell us about the research and travel that went into writing it.
It was a difficult task balancing my regular office work and travels for research and subsequent writing. For someone, who was a celebrity and a rage across the country, whose pictures appeared on postcards and matchboxes manufactured in Austria, who was Indiaís first voice to be etched on the shellac disc ó Gauhar is today almost unacknowledged and unsung. It is largely raconteurs and spicy gossip generated with little substantiation that is available on her.
So, I was keen on unearthing actual documents related to Gauhar. I have tried to back the general template of her life with supportive documents that were very tough to procure ó her birth certificate, her parentsí marriage certificate, the details of her stay in Mysore, the documents of court cases that she fought in Calcutta etc. In addition, I had to make several trips to places like Kolkata, Benares, Mumbai, Mysore, Darbhanga and other places where Gauhar lived.
Any interesting encounters you had in the process?
Among all my travels, Rampur stands out very vividly in my memory. It was initially a frustrating experience there. Gauhar had stayed there for varied periods of time in her life and was very close to Nawab Hamid Ali as well `85 but the Rampur records had whitewashed all references to her. I thought I had made a wasteful trip in the peak of summer and an impending parliamentary election to this little town in UP. That was when a friendly employee of the Raza Library there directed me to the house of Mahapara Begum. But Mahapara ji was not willing to talk much. It took a lot of pleas that ultimately made her open up and she narrated incidents of Gauharís stays at the zenana in Rampur. Also memorable was my sojourn to Mysore, where I went to locate her grave (much to the chagrin of my relatives who found out later).