Take on luv
In city, Imran Khan and Punit Malhotra talk about the mush quotient of I Hate Luv Storys


Lights, camera, action…enter Imran Khan and Punit Malhotra. They settle down without taking much time and before beginning with the interaction, a trailer of their upcoming flick, I Hate Luv Storys (IHLS) is shown. Then comes the first line from Imran, first time in the city with Punit, the first time director to promote the film on Saturday, "The trailer is over. Please clap, Punit needs support for his first film. It wasn't that bad " It certainly wasn't. In fact, it sounds rather interesting, a story of a girl who believes in love, played by Sonam Kapoor and a boy called Jay (Imran Khan) who doesn't believe in love.
For better ties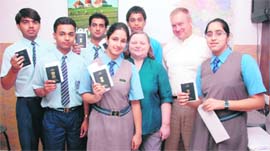 It's an excited exchange of notes— All the best, Bon Voyage—coupled with apprehension and advice, generally accompanied with cross country trip, as six school students from Chandigarh leave for Germany for a three week exchange programme. Just before the departure, the excited bunch of six, share the details of the Summer Youth Camp at Max Mueller Bhavan.

Students with Evelyn Singh and Clemens Kroll
My dad, my star
There is something special about 'father daughter' bond. This Father's Day, daughters share what makes it so..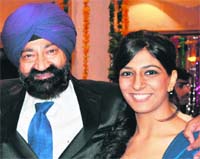 Certain is it that there is no kind of affection so purely angelic as of a father to a daughter. In love to our wives there is desire; to our sons, ambition; but to our daughters there is something which there are no words to express," wrote famous writer Joseph Addison.





Raabiya with dad Jaspal Bhatti
Picks & piques
All that glitters...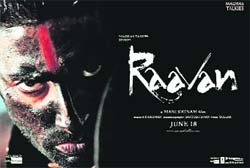 Mani Ratnam's much-beleaguered Raavan has finally hit the screens and it's merely a true feast for the eyes. The troubles that haunted it right throughout - its shooting schedule - has left its indelible mark on the cohesion and coherence of the film. First cinematographer V Manikandan begged-off due to unspecified reasons and ace Santosh Sivan was brought on board, then came Mani's health scare mid-way through the shoot followed by several other niggling incidents plaguing the film. And it all shows right through the film.
Calling it quits
Veteran actor Anupam Kher has walked out of the movie Dear Friend Hitler to respect the feelings of his upset fans. However, the film's director, producer and screenwriter insist the film will not glorify the dictator as reported by the foreign media, but will instead show Mahatma Gandhi as a hero.
Role model


Superstar Shah Rukh Khan feels that both parents have very different roles to play in a child's life and fathers can not be like mothers. "A dad is the mess-maker, rule-breaker, risk-taker and the opposite of mom who is usually seen as the creator and nurturer," the 44-year-old actor said in message on Father's Day which would be celebrated on June 20.

Shah Rukh Khan
Time out
Though Hollywood directors courted her with roles in their films, Bollywood actress Aishwarya Rai says she could not take up the offers because of scheduling problems.
Bollywood Going places
Abhishek Bachchan, India's leading actor, has said that it is Bollywood, not Hollywood, that leads the world's film industry. Bachchan was speaking at the world premiere of his latest movie, Raavan, at London's British Film Institute.
Writer's den


'There are very few writer publishers who rise above individual and commercial considerations. They create and disseminate quality literature through their writings or publications. "Acclaimed litterateur Raghubir Singh Sirjana, editor publisher of 40 years old Punjabi magazine Sirjana is one who leads this brigade," said Varinder Singh Walia, editor Punjabi Tribune, chief guest at a ru ba ru with Raghubir Singh Sirjana, recipient of the Shiromani Punjabi Sahitak Patarkar 2009 on Saturday.

Raghubir Singh Sirjana
Designer Duo
After an overwhelming response of LAVA A9 and mesmerising the Indian market with its design and looks, LAVA International Ltd., one of the leading companies in Indian mobile industry is again all set to freeze you with its new launch M23.
Sip & feast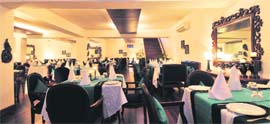 A well-laid out bar, some nice lip smacking fresh veg and non veg kebabs, and an equally soothing ambience, the newly-opened Siona bar cum lounge in sector-35 promises to be a combo with a classic change. The objective behind the bar cum lounge is to provide customers with an array of choices in terms of best spirits, wine and liquor.
Tarot Talk
ARIES: The Hanged Man shows confusion and misunderstandings may ruin the romance. However, you should be able to resolve this with tactful communication and lots of affection. Travel would also, be a part of the week, and it would be quite enjoyable, if done on Wednesday or Thursday. Lucky colour: Black. Tip of the week: You need to cultivate understanding and humility.