Small, with big impact
It's no more just a family thing, the small cars have become sturdy, steady and stylish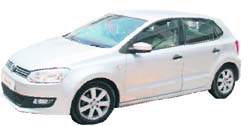 Now that's called driving yourself crazy! Zooming, screeching, extreme flips and jumps…a drive down the same old roads turned into a high adrenaline affair like that on a racing track, of course, while away from the madding crowd. And guess what? Your best bet may not be a rugged SUV but a small, 'family' car. What? It doesn't match the standards? Think again, or be a witness to the crowd pulling live demonstrations of some of the most anticipated luxury cars in smaller segment.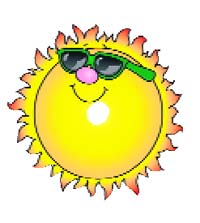 Day to pass by
It's June 21. So, how do you plan to spend the longest day of the year?
Summer solstice, is a term derived from the Latin words sol and sistere meaning…oh well, how does it matter. The fact of the matter is the Earth's axis is tilted towards the sun, the moral of the story is, today's the longest day of the year, which means the sun will set late. So eat, snooze, play, pray…whatever it is that can be done in a day.We're talking India here! The worldwide interpretation of the annual event has varied connotations in each culture.
Inspirational tale
Mayank Mishra pays his father a tribute with his book Karma Ka Pujari
Phool murjhate hain, alfaaz nahin murjhate, Duur jaana hai, bazurgon ki duayen le jaa…" As mentioned in our old epics, seeking the blessings of parents at any auspicious occasion is considered propitious for any generation and does not depend on the recently coined Father's day.
Jewel deal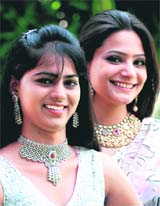 In order to serve their customers better, Aggarwal SS Jewellers have relaunched themselves at a new address with an unprecedented range of ornaments from gold hallmark jewellery to diamond, Kundan, Polki, Jadau and Minakari."Ambala is a place where most customers from the region come for wedding shopping and in order to serve them better we have relocated ourselves from Sarafa Bazar to near Aggarsen Chowk," says Anish Aggarwal, SS Jewellers. The new place spread over 4000 square feet is more approachable and offers hassle free parking."We have added diamond polki to our existing range of jewellery. Our diamond jewellery in shapes of marquis and princess promises to be unique in its style and making," says Sachin Aggarwal. Aggarwals have been in business for last 70 years.
Summer finale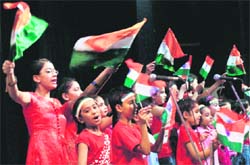 Saturday evening at Moti Ram Arya School auditorium was full on excitement as some 100 students presented the skills that they learnt in four-week workshop by Eurokids.Kids in the age group of three to 13, presented musical play Summer Fun with Bal Krishna brought out all that kids learnt - art and craft, pottery, puppetry and dance.Lalit Chandra who prepared Mission I am Possible along with Amrik Singh had kids act out various elements of nature - water, air, and plants.

Kids at Summer Fun

Monsoon magic
With dull gloomy weather casting its spell on the city, Esprit sprinkles a riot of colors infusing joy and vibrancy through its bright and fresh Monsoon collection.
Spice up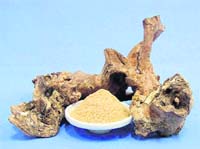 Beauty care
Turmeric (haldi) is a part of our traditional beauty aids and has been in use since the ancient times. In fact, it has become a part of Indian wedding ceremonies and other rituals. During the ancient times, turmeric used to be added to body packs or 'ubtan' due to its skin beautifying and antiseptic properties. It also helps to soften and brighten the skin. Used over a period of time, it also helps to remove tan and lighten skin colour.
Dark deep desire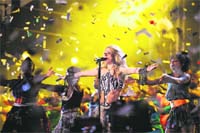 Columbian pop star Shakira says she is so obsessed by chocolate that she constantly dreamed of the sugary treat while she was on a diet recently.The 33-year-old pop star admits she only realised how strong her cravings for chocolates were when she woke up tearful after dreaming of it while dieting to get in shape for a music video, a website reported. "I love chocolate. I'm addicted to it. Do you know when I realised that? Shortly before we started shooting the video for She Wolf," Shakira said.
Of first impressions
Bollywood actress Kangana Ranaut says she has surprisingly found a lot of common things between herself and actor Ajay Devgn. "He (Ajay Devgn) is a superstar and a veteran actor and the best thing is that I can relate to him in so many ways.
Screen test
Film director Kunal Kohli is keen to be a reality show judge once again on the small screen. "I enjoyed being a judge on reality shows. (Though I) Haven't got a good offer to be on one (reality show) of late.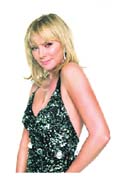 Egyptian queen
Sex and the City star Kim Cattrall has said that she is set to receive an honorary doctorate from the University of Liverpool. The British-born actress will be given the doctorate at a ceremony later this year at the university in North West England and she can't wait to don the traditional cap and gown."I was born there and have a lot of family there. I can't wait to get into a gown and wear one of those caps. Very sexy," said Cattrall. The 53-year-old actress is set to spend more time in Liverpool this autumn when she stars in a production of Antony and Cleopatra with Jeffrey Kissoon at the city's Everyman theatre.
Past and present
She may have moved on to a new man but singer Amy Winehouse has still not gotten over her ex-husband Blake Fielder-Civil, as she has commissioned a painting, which depicts them in an embrace. The Grammy winning singer who recently went public with her new boyfriend, film director Reg Traviss, after cancelling plans to remarry recovering drug addict Fielder-Civil.
Knot so soon
Rocker Joel Madden has denied reports that he is set to tie the knot with his fiancée Nicole Richie this month. The Good Charlotte star has laughed off stories mentioning he and Richie will walk down the aisle in June since they 'haven't even started' planning their nuptials reported a magazine online.

Hottest dad
British actor Jude Law's character in 2006 film The Holiday has been voted the Hottest Film Father, beating the likes of other on-screen dads like Will Smith, Bruce Willis and George Clooney.In a survey conducted by the company Lovefilm to mark Father's Day this year, 1500 of its members voted for their most desirable movie dads, with Law's paternal portrayal as widower Graham in the romantic comedy earning him top position and 16 per cent of votes, reported Femalefirst online.
Wizarding World
Harry Potter fans can now visit the Hogwarts School of Witchcraft and Wizardry and enjoy rides on the steam-belching Hogwarts Express train at a magical theme park at the Universal Studios.
Spiritual Pitt
Hollywood superstar Brad Pitt is reportedly seeking marriage guidance from a psychic to help handle his relationship with wife Angelina Jolie.The 46-year-old actor is being counselled by self-styled 'spiritual adviser' Ron Bard, known as The Bard.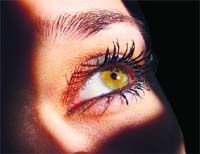 Watch out
It's important to apply and remove the eye make-up the right way
Beauty experts might criticise the heavy make up look for they can cause reaction but a study by French scientists suggest otherwise. As per their study published in the journal, Analytical Chemistry, "The make-up that contains lead salts produce nitric oxide. It in turn helps better the immune system that guards the eyes against any infection causing bacteria.
BODY wise
Be positive
Healthy weight loss should be a gradual and steady process. We simply cannot create a lean and toned body within weeks. If you want a healthy life and want to maintain a healthy weight, you need to be willing to change the way you live.
On a roller coaster
Welcome to the flip side of new-age living, When you have less time and more work, feel constantly pushed and monitored and hardly relax. Your emotions play truant and the result is mood swings, a bug that's biting everyone, from children and youth to executives and homemakers.
Detox diary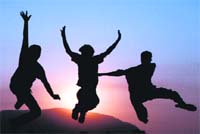 "Come, let's have a beer!!" Alcohol, cigarettes and all the other toxic temptations are also a part. And when you are a party animal, chances are that you live, eat and drink merry to these temptations.And this doesn't stop at alcohol, cigarettes and drugs. In fact, the list also includes caffeine in form of coffee, carbon dioxide in soft drinks and more.Diseases are increasing all over the world and the reasons are linked to the toxic things we end up with. We are continuously put on a self-destructing diet and lifestyle, with the mention stuff.